There was no denying that one of the biggest box office draw-cards at the latter part of 2018 was Aquaman from Warner Bros. Pictures.
Based off the DC Comic series, Jason Momoa plays Arthur, Aquaman with a stellar support cast.
Toy manufacturers, Mattel produced a line up of companion toys to the film, but at this stage only five figures in Series One.
All come very well bubble packaged and feature comic-like artwork on the rear of the packaging aswell as a mention to at least two other figures in the series.
Starting off with Aquaman, the detail to the body face has had a lot of love added in. The life-like expression, the colouring to the hair is totally top shelf stuff.
Aquaman comes with only his trident as an accessory. The trident is okay, but lacks the details that we see on the figure itself. It is almost a plastic straw with a pointy end.
Nonetheseless, Aquaman is the namesake for the toy line – we thought it would be the most popular and hardest to find, but it wasn't, that medal goes to General Murk, but more about him later.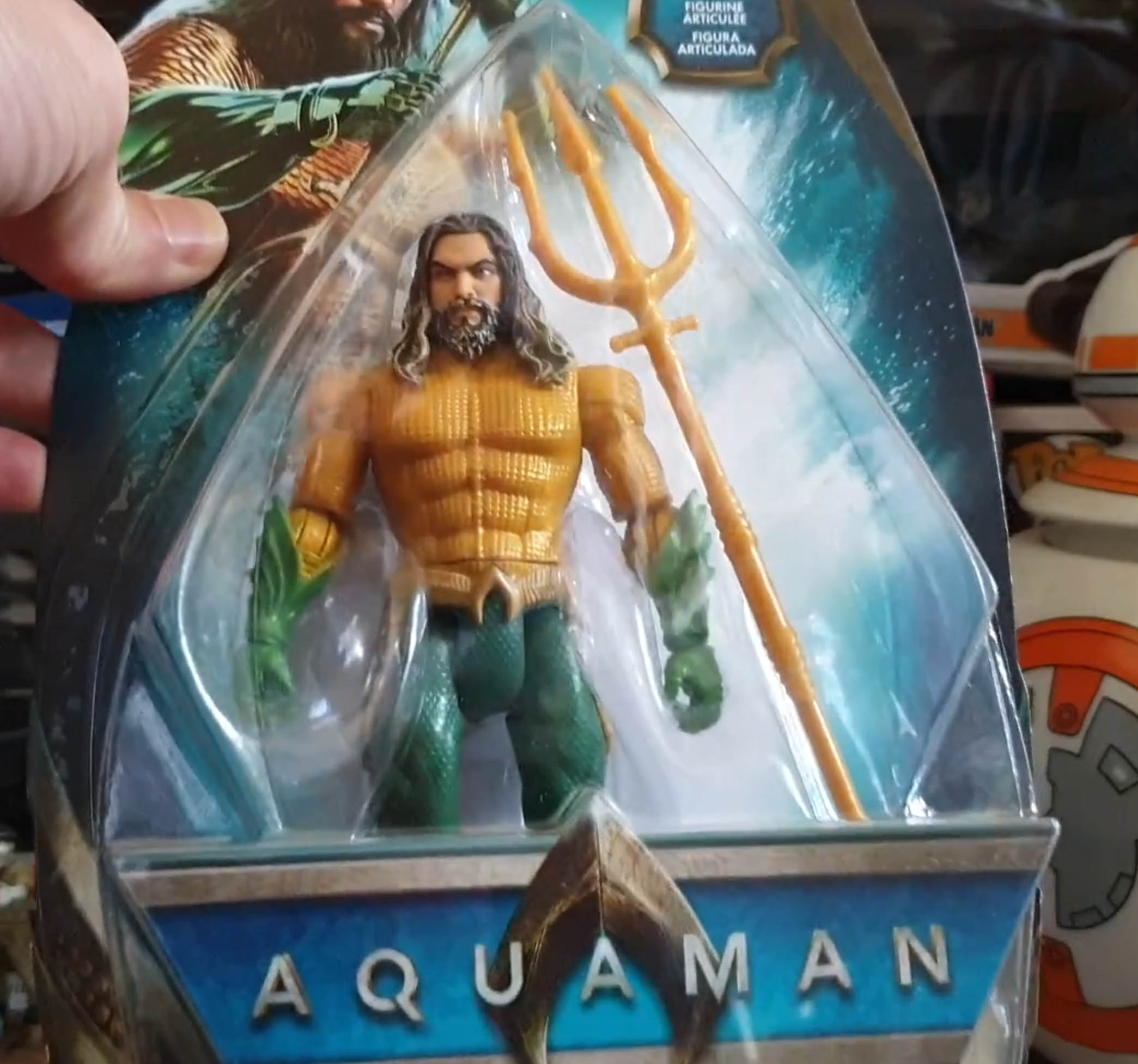 If, like me you love intricacies when it comes to collectibles, Black Manta, which is one of two fully suited action figures in Mattels Aquaman line does have alot going on with his body work.
The piping or hoses that keep his suit compressed protrude from the body, as they would in real life and as they do in the film.
Mattel have done well here – alot of toy manufacturers take shortcuts and I feel that Mattel really went all out on Black Manta, they could have easily had the piping or hoses as plastic molds as a part of the overall figures body.
Black Manta is the only one on the line up to have a few accessories with him.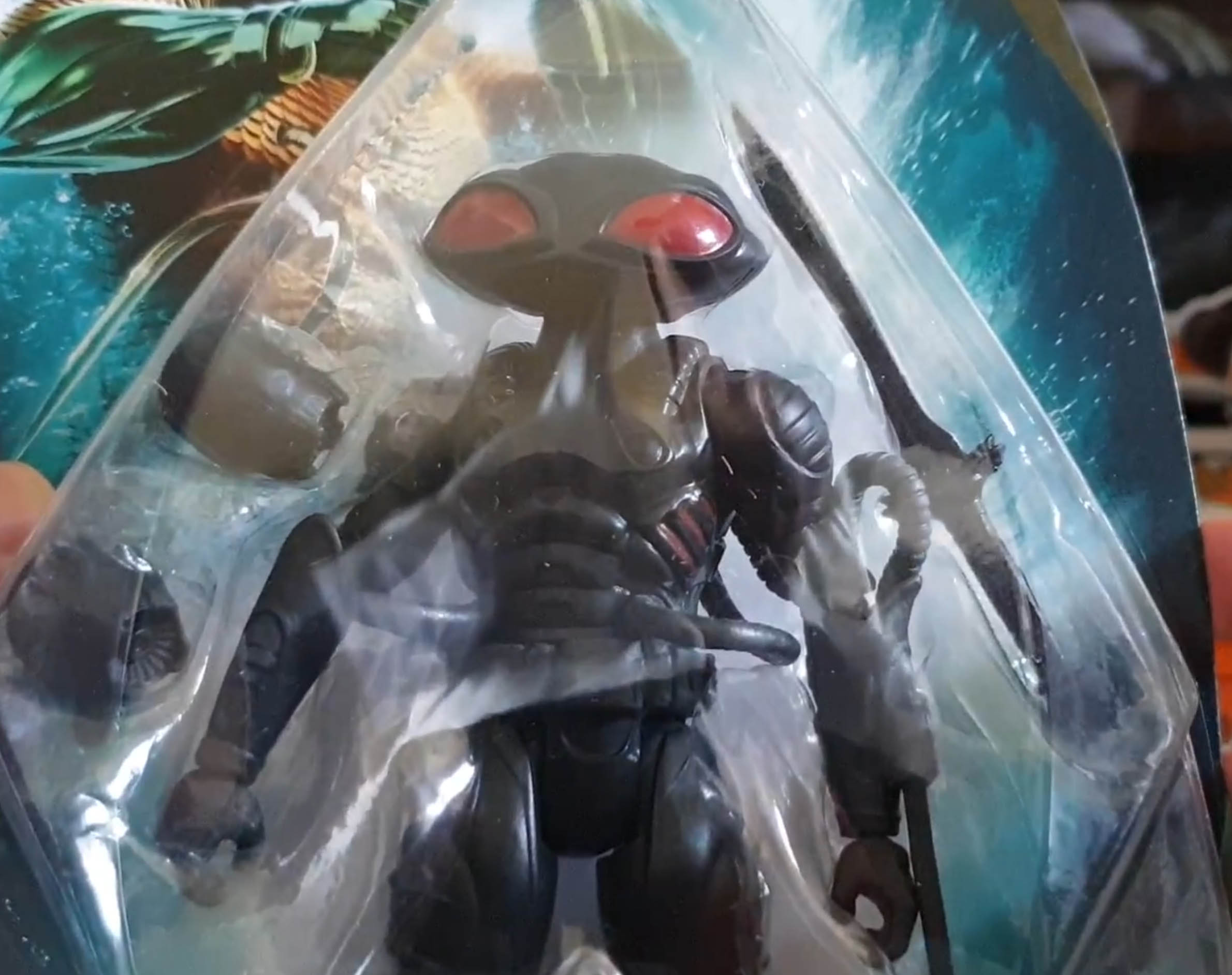 Orm is very similar to the Aquaman figure. Differences here are of course the colouring of his suit as I quite liked the silver on purple and how this over lays on the figures body. Orm has a scaled body, similar to Aquaman's but as he does in the film, Orm has a cape. The cape is not fabric, sadly, it is a soft rubber or plastic.
Again, like Aquaman, Orm comes with only a trident.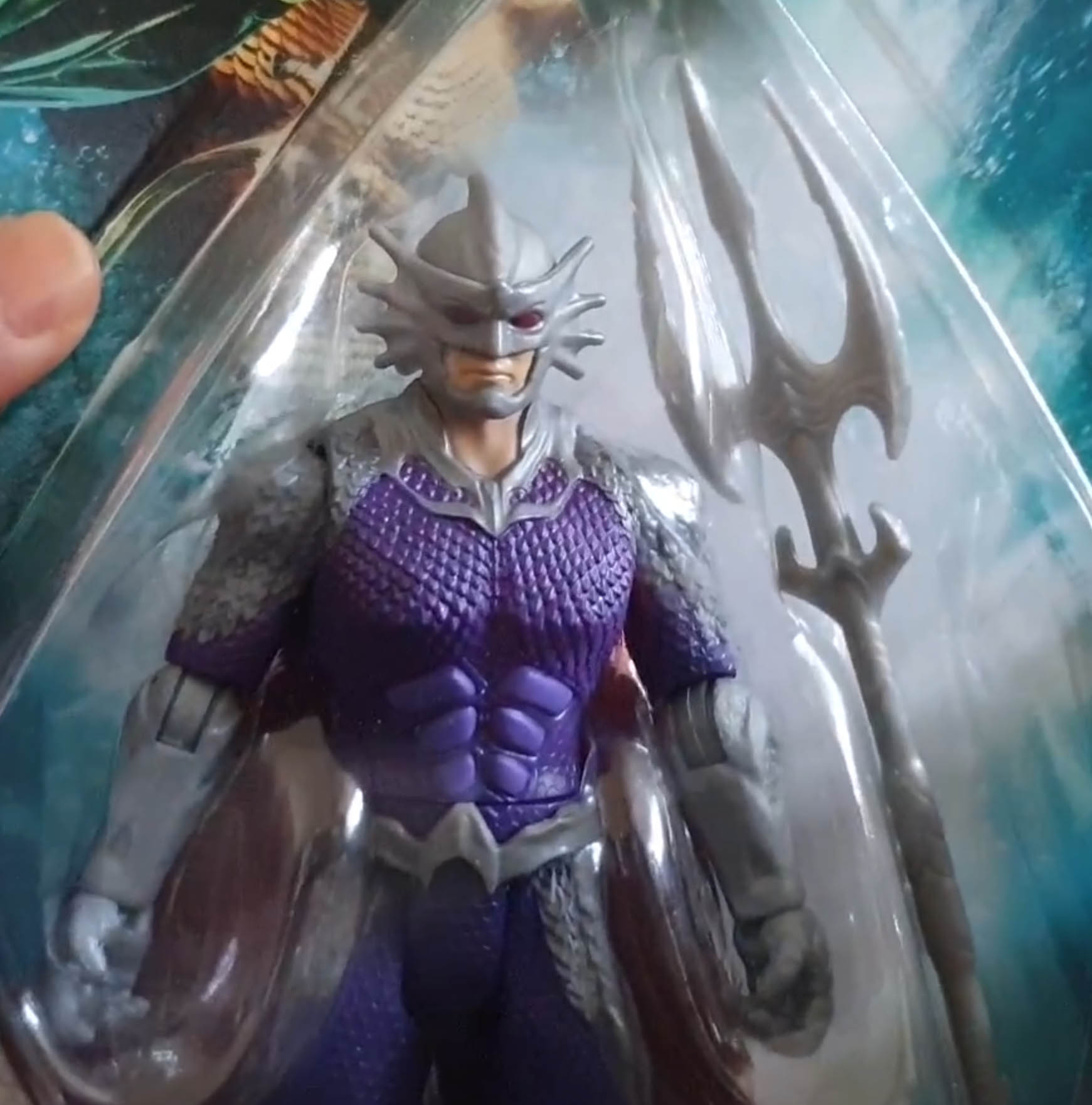 Mera's best feature is the face. For it encapsulates her personality, a no nonsense heroine from the film. Her hair is a soft plastic, rubber like, I suspect that synthetic hair was not used, not only to keep costs down but also to make sure that the Hera figurine appealed to boys aswell as girls.
She is a basic figure though, scaled body, and slimmer when compared to the rest.
Mera comes with two accessories that we see from the film – as they are made of ice both are semi translucent and do not have alot of detail to them.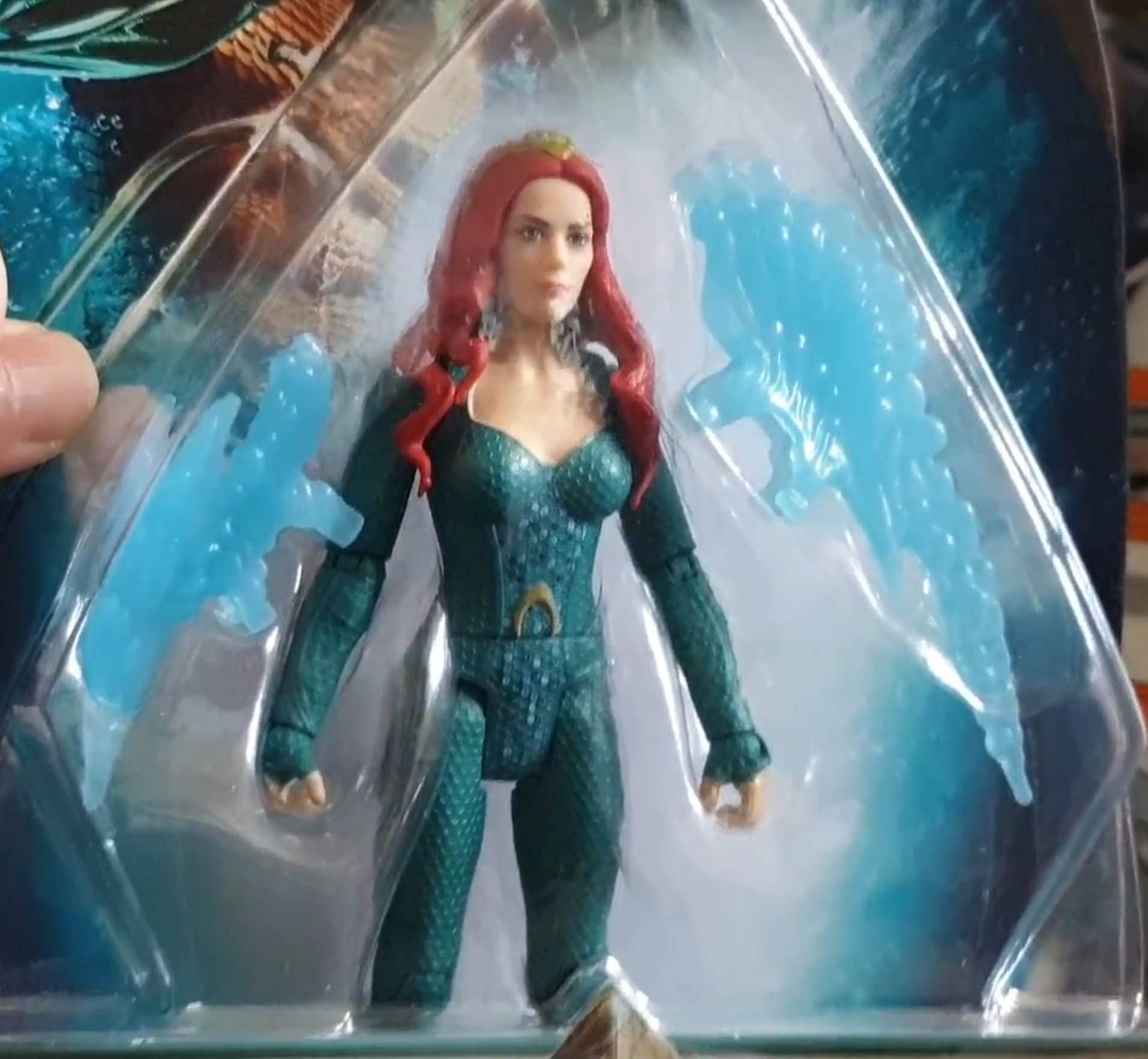 General Murk seems to be the favourite in the series. Extremely hard to find. As he is the second figure in the series to be fully helmeted which is not removable, I would have thought he would be sufficiently detailed.
He isn't, not really. The body is very bland asides from the minute detail around the neck just under the helmet. He comes with two accessories. And to be fair, he is rocking some mega gauntlets.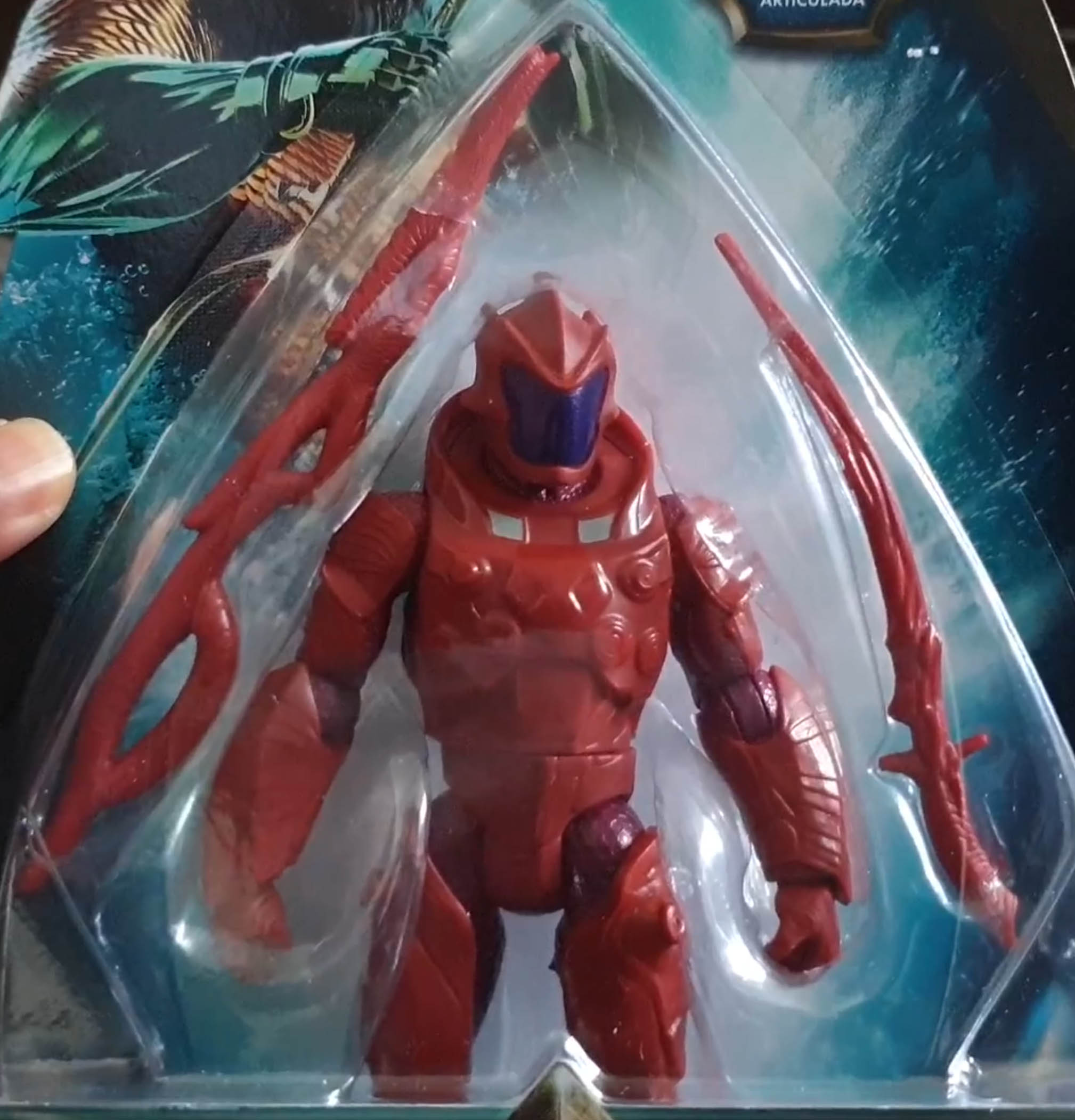 All of the 6 inch figures are fully articulated. For the likes of Aquaman and Orm, their suits get in the way though.
Arms are multi-jointed, there's the shoulder which has the swivel as you would expect, elbows have both joint and swivel and there's even some movement around the hand joints.
Leg and pelvic movements are good and solid but you will find that when first unboxed you'll need to loosen the joints up a bit.
I was very pleased to see each figure was able to grip onto the their accessories tightly. I have experienced time and time again loose grips when it comes to a brand new action figure straight from the box.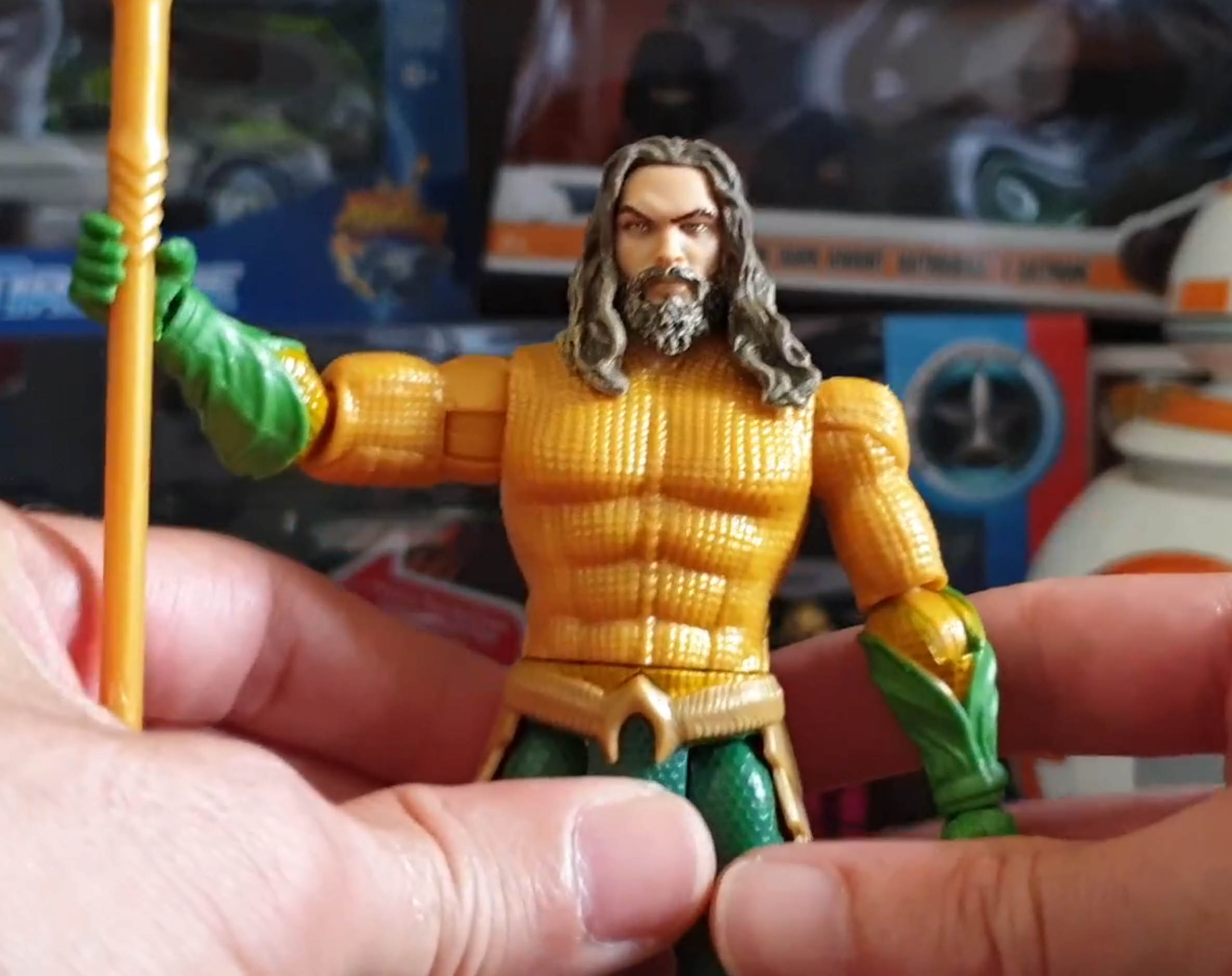 With only a handful of action figures in the series – it is an easy one to pick up and get the entire set, however, you may need to search around abit for General Murk.
Mattel have done the film justice with the Aquaman toy line and personally I'm hoping to see a bit more in the series. Would be great to have some of the giant Seahorses or similar as 'vehicles' to go along with the release of Series One.
But who knows, perhaps that is something in the works to come out with a second Aquaman film…
In all a top shelf series of figures to own and you can see our video review above.
Details
Released: December 2018
Material: Plastic
Genre: Film
Licensed: Mattel
The following two tabs change content below.

First playing Pacman and Astro Wars Shane then moved to Nintendo's Game & Watches and the mighty SEGA Master System II. He has owned every major gaming console in the past 30 years of gaming and been in the Video Gaming industry for over a decade. He is also a diehard fan of all things horror and any Jim Carey movie aswell as anything gadgety and with blinky lights. He tries to convince others that he has Super Powers. He doesn't.