Have you ever wondered what would happen if all of PlayStation's past and present characters were thrown into a singular Arena in a free for all, tag team fight to the death?
Well, wonder this no more with All Stars Battle Royale on PS3 and PS Vita.
The likes of Kratos, Drake, Pa Rappa, Fat Princess, Sackboy, Ratchet, Jak, Sly Cooper, Sir Daniel and more bring their personality into a game that ensures only the fittest will survive.
In all 20 Characters are on the Menu from over the past decade of PlayStation franchises and each of them not only have their select skill bases as reflected from their original games but also bring their themes in the way of Arena's that you will duke it out in.
Jak & Daxter's Sandover, Ratchet & Clank's Metropolis, Kratos sees us with Hades, Sly Cooper takes us to Paris, Uncharted's Stoaways Level, Franzea from Loco Roco, even Sackboy puts us into a creative world. In all there are 14 Arena's all dynamic with optional in-game hazards.
Whatsmore the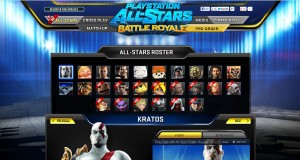 Arena's will mashup randomly with other ones during play. For example, it's not uncommon to be within the depths of fiery Hades, when all of a sudden Patapons start singing and the walls of Hades crash down to reveal a mountainous Pataponian region.
Even a Buzz scenario gatecrashes a said Arena where Quiz Questions start being fired away at you.
The coolest of all is the Bioshock Infinity Arena, for the yet to be released title.
It's also fairly common for 'other' PlayStation characters to suddenly appear and start wreaking havoc in any given Arena during play.
It can quite frequently become difficult to find your character on screen and see the goings on as four characters are running, punching, kicking and shooting in an environment where the Level itself keeps changing.
Combat is fairly easy as both the PS3 and Vita version undertake alot of button mashing.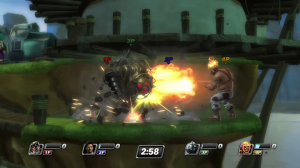 You have a three tiered Leveling system, where once you are at the first Level, you can opt to kill your opponent(s) with a powered up move. However, if you can and if you are patient, letting your gauge get up to Level 3 ensures a rather explosive, semi animated killer move that no one can escape.
There are also in-game pickups that will aide your Level meter or provide you with a Projectile weapon.
almost all games are Tag Teamed, or at least have more than two characters slogging it out to the Death.
You are scored by how many deaths you inflict and how many you don't receive, for every Level.
Dying, is a pain, it works against your score and you lose a few seconds of gameplay as you regenerate.
Playing both single and multiplayer, trying out every character (and yes – every character also comes with their own storyline) I found that with the exception of Big Daddy who is painfully slow and clunky, all of the characters' strengths and speed were similar and winning a Battle really depended on how good you were with your button bashing abilities.
Modes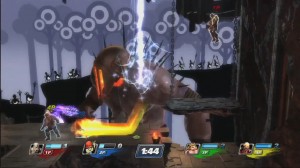 of Gameplay are the tried and true.
Solo Mode offers the Tutorial, Arcade and Trials, whereby you are assigned tasks within any given bout.
Tournament Mode can be either a full on Ranking Match or a Quick Play. It's also here that the Leaderboard is kept.
Offline and Online Multiplayer is found within Versus Match, allowing upto 4 players.
For Vita, you use either Wi-Fi or Ad-Hoc for Vita to Vita play.
To play online though you do need an Online Pass from the PSN.
All characters are Customizable, be it their Backgrounds, their get ups, Icons, Titles and you can even acquire a Minion. To get all of this cool stuff you will need to win battles to unlock them.
Extra's lists all of the character's Bios.
All Stars Battle Royale features cross play with the PS3.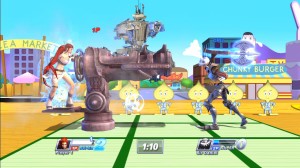 This is one of those games that friends and I used to joke about, where we would be playing God of War and say, 'hey, wouldn't it be funny if Sackboy made a sudden appearance and started hurling things at Kratos from his Poppit'.
Well, that literally happens.
Is this the best fighting game out there at the moment? It sure is.
The only grumble I have is I wish that more Arena options were included and the cast of characters was a bit more expansive.
If you own a Vita, this is one of the better titles for a start and stop play-a-thon.
Battles are timed for three minutes each, so ideal for that coffee break, lunch break or when you need to escape the freaks on your local public transport system.
All Stars Battle Royale is a must have, a must play and a definite one to own.
[jwplayer config="STG Player" mediaid="2429″]
Platform: PlayStation 3 / PS Vita
Publisher: SCEE
No. of Players: 1 – 4 + Online