The mighty and classic Worms are back, again, pretty much as you remember them but fine tuned to glorious Full HD and of course, maximum strategic carnage.
Worms Battleground has a very robust and extensive single-player campaign with 25 story based missions and 10 "Worm-Ops" time-attack Levels which are set across five cartoonishly awesome environments; Inca, Viking, Feudal Japan, and Industrial Revolution.
There is even a new day to night lighting transition added.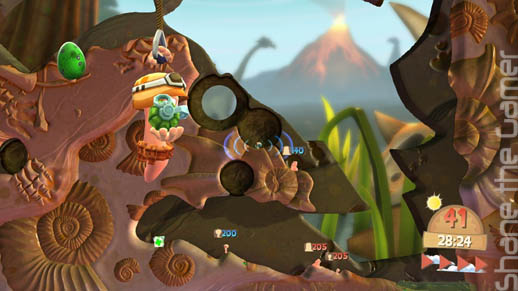 Multi-BAFTA award winning writer Dean Wilkinson provides the script for the single-player story campaign whereby a wealthy ancient treasure hunter enlists your help to take down an evil Worm overlord.
Voiced by Katherine Parkinson perhaps best known for playing Jen in The IT Crowd, it's somewhat amusing, but totally pointless.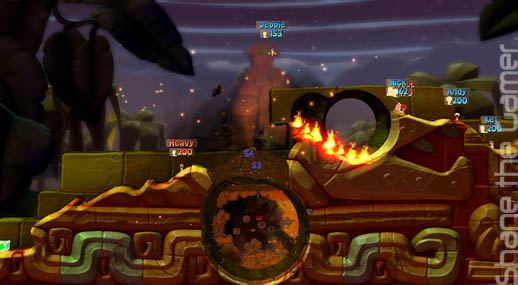 The usual plethora of weaponry is available via a grid menu, as we have seen before, however for some Levels, you are only able to use specific gadgets or death delivering carnage.
While Single Play is great against the unforgiving and ruthless A.I. Worms has always been best played in Multiplayer.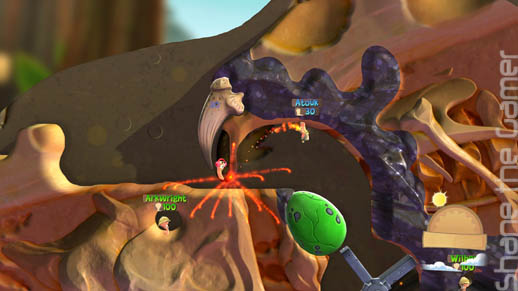 There are both local and online multiplayer battles for up to four players where you can choose from different game modes: Deathmatch, Forts and Classic and / or either a predefined or customized game settings.
Worms Battleground also features Clans.
Basically create your own clan and choose your own clan emblem, or simply join another existing clan and take part in League Matches. All of which gives you community points, which in turn allows your clan to level up and grow larger.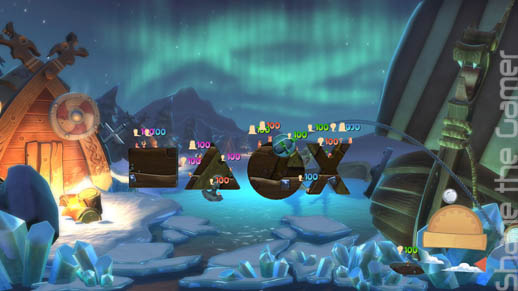 The Level editor makes a welcome return with the Landscape Editor. This allows you to create your own maps to play on. Draw out your landscape, place any hazards (mines, barrels), physics objects, and contraptions, then challenge your other players to undertake a battle upon your creation.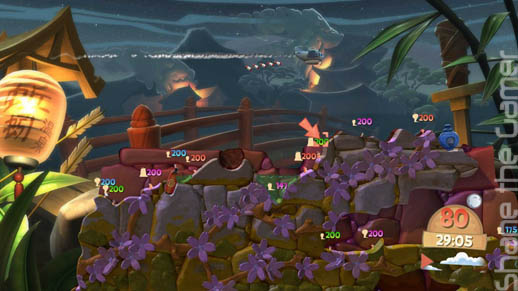 From poison to Super Sheep, Grannies and Donkeys, Worms has mostly been an enjoyable experience from it's early 90's debut on the PC.
After a brief error in the franchise where it went totally 3D (and awful to play) the original developers; Team17 are still behind the helm and keeping it 2D.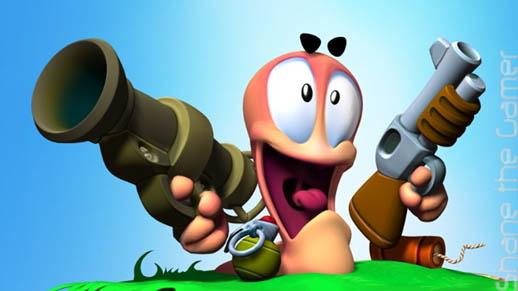 Worms Battleground is a DLC game from either the Live or PSN store and will offer excellent, lengthy and hellishly competitive play.
[jwplayer player="1″ mediaid="8182″]