NOW CLOSED. Gears of War: Judgment delivers the most intense and challenging "Gears of War" game yet, with a campaign that takes you back to the immediate aftermath of Emergence Day —the defining event of the "Gears of War" universe.
For the very first time and tests your mettle in highly competitive new multiplayer modes.
With a riveting Campaign set years before the events of the previous "Gears of War" trilogy, Judgment centers on Kilo Squad, a troop of soldiers led by Damon Baird and Augustus "The Cole Train" Cole. They are joined by newcomers to the Gears series, Sofia Hendricks and Garron Paduk, as they attempt to save the besieged city of Halvo Bay from a terrifying new enemy.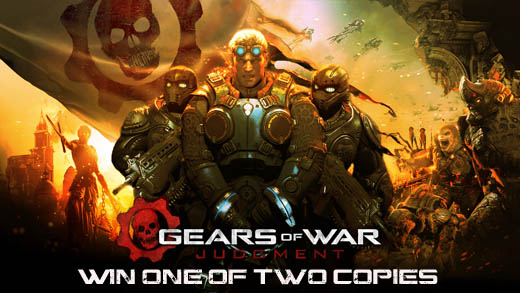 To Enter – Tell Us why YOU are the biggest Gears of War Fan.
You can do this by Commenting below, Leaving a comment on our Facebook Page or Email Us
[jwplayer config="STG Player" mediaid="3123″]
You must be 18 years of age or older to enter this competition.
Gears of War: Judgement is Rated 18+.
*Winners will be randomly selected from those that post / Facebook Comment / email in accordance with the above question. Winners will receive a Full Copy of Gears of War: Judgement game for the Xbox 360. Competition ends the 21st of April 2013.