While I have never played a table top game in my life (and to be honest – have no desire to) but I have always been a fan of the Warhammer saga and played the stuffing out of Warhammer 40,000: Space Marine when that released on PS3 and 360.
From developers; Roadhouse Games comes a tablet version as a 2D platformer action title at creamy console quality.
To begin with there are three differing Space Marines to choose from with their own unique classes and you will start short destruction filled Levels, running through screaming hordes of enemies in this fast-moving, high powered, action side-scroller.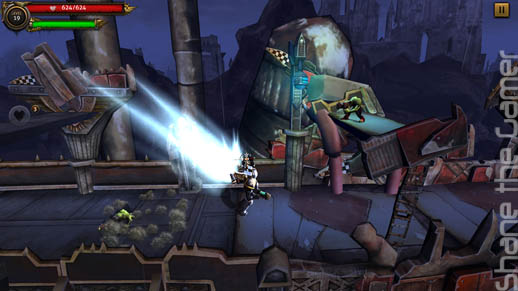 With a Boltgun in one hand and a carnage-inducing Chainsword in the other, obliterating hordes of Orks you will suit up your Space Marine and inflict untold damage to all in your path and buy upgrades either with in-game credits that you earn at the end of each Level or with real word money.
Asides from the increasing Level difficulty, gameplay is relatively basic. Jumping over gaps, annihilating enemies and leveling up, aswell as collecting pick ups.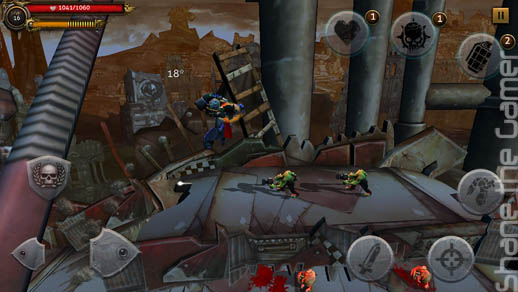 Different areas are accessible via a Map so past Missions can be replayed. This is good if you are just going for rewards, replay the earlier Levels to get closer to an in-game Reward, which will aide you in the harder ones.
It's also at the Map screen where you can opt to select or change your Space Marine; Ultra Marine, Dark Angel which is a newly added update or Blood Angel which requires a lengthy play to unlock enough Stars for.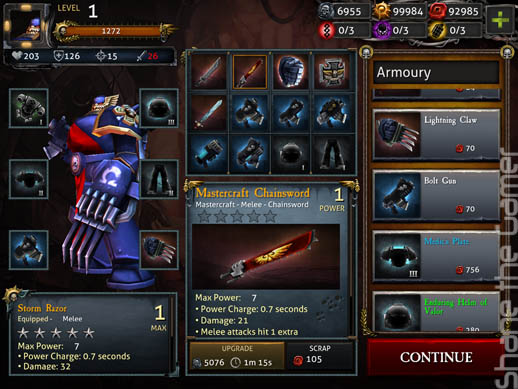 It's true to Warhammer, for us gamers that have played previous chapters in this franchise.
Graphically being at near console quality, but there are a couple of improvements that could be made within the gameplay itself.
The selection of buttons to the right of the screen correspond with weapons and Jump but instead of adopting a vitual joystick, the developers have used arrow buttons.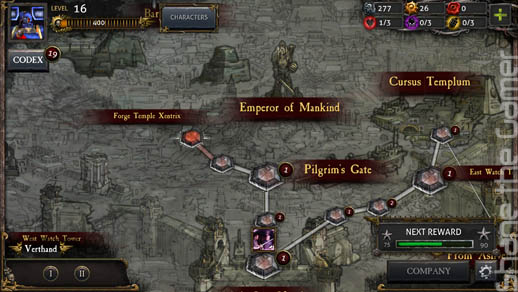 I can see why, as this is a side scroller, but when being set upon by hoards of Orcs, it's easy to miss the left or right arrow, and that can be a deadly error.
I reviewed this on the newest iPad Air, and also encountered slow loading times and caching warnings.
A couple of times the game totally crashed.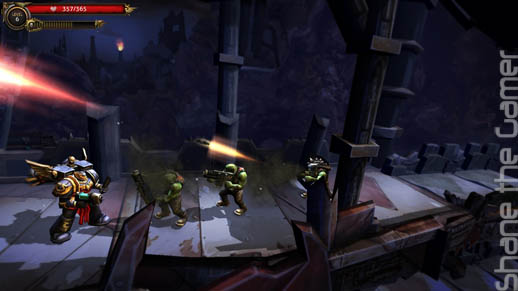 I suspect that this is an issue that developers will eventually iron out and despite the couple of issues, Carnage is top in its genre.
Best played on a tablet, but still an all rounder for a quick bout of Orc slaying carnage. There is also Social media and multiplayer interconnection by way of taking on Fire Team missions which will earn you rare and exclusive ore.
Warhammer 40,000: Carnage is a game that I am still playing and will replay for a very long time and I'd recommend it to not just those familiar with Warhammer video games, but anyone who likes to destroy stuff and slaughter Orcs. One of the best iOS / Android Games out there.
Available for later model iOS and Android tablets and phones.
[jwplayer player="1″ mediaid="8641″]