I have a love hate relationship with point and click adventure games.
I love the genre's gameplay and the stories that can be crafted and told in creative ways. On the other hand, I hate obtuse and obscure puzzles that feel like you fluke your way to a solution rather than using your skills and knowledge to beat. My Brother Rabbit has handfuls of both to tell a tough story.
A family is having a rough time thanks to a child's severe illness, but with her and her brother's combined imagination, a beautiful new world is opened for you to traverse, as a rabbit. This creates a story that jumps between the game world and a serious overworld story, which isn't uncommon in games these days, but can still tug on those heart strings.
The outside world shows the family trying to help their daughter, but the imaginary world is a colourful world where a rabbit is trying to save a plant. These two symbolise the brother wanting to save his sister, and is a beautiful wee story, though the problem with this genre and telling stories like this is if you get frustrated at a puzzle, it can kill the momentum of the narrative. It doesn't detract from the game as a complete work but does stop the story nailing those emotional hits as well as it deserves.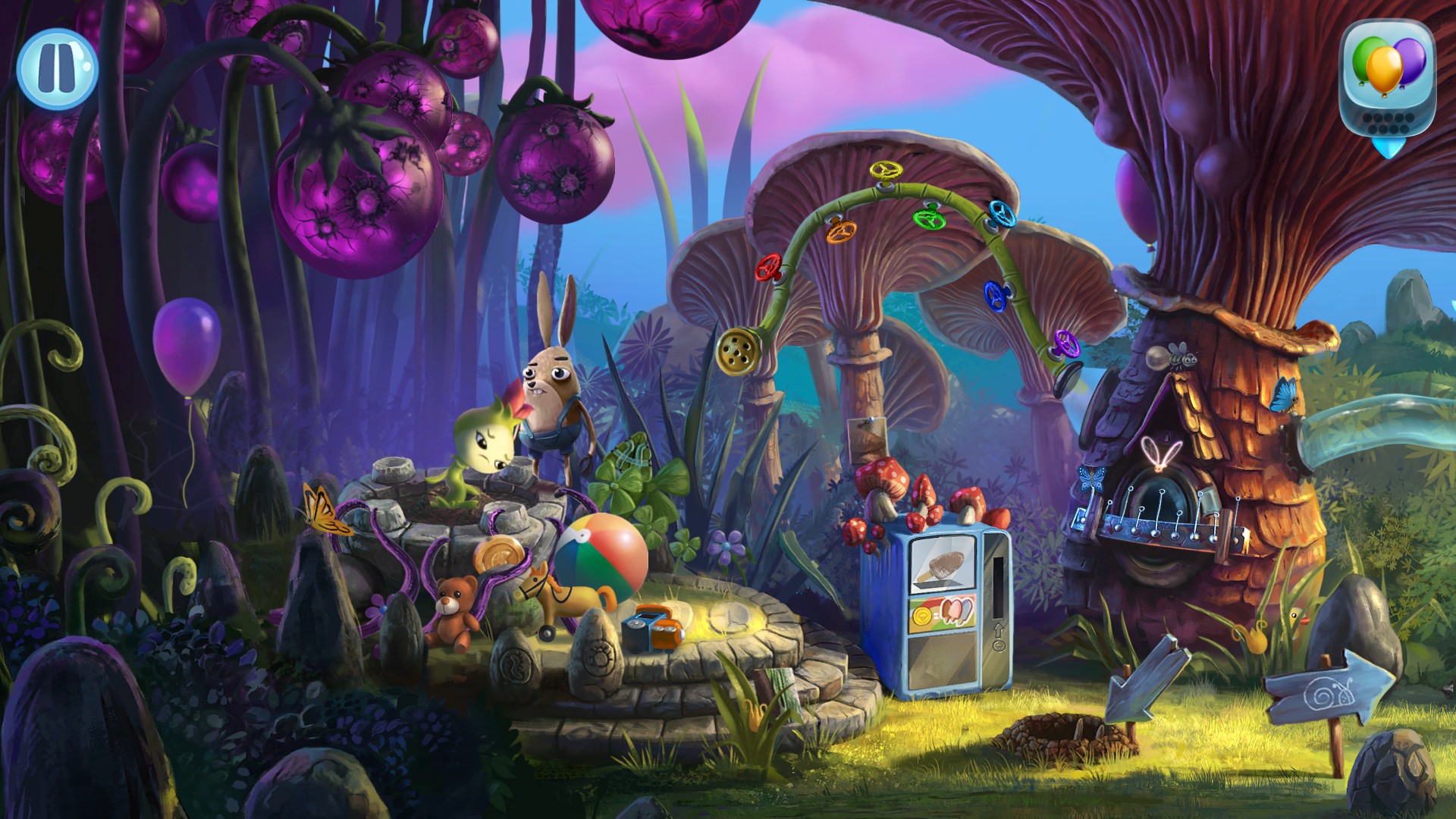 In general, the puzzles weren't too hard, but some get obtuse. It's not that I want to be handheld, but once a game becomes about clicking everything to find out how the game is going to present me an object, or to see if something is hidden, it feels more like scratching an Instant Kiwi lottery card where you just scratch everything and hope something is behind it.
This isn't helped with playing a point and click adventure game on a console in the first place, because you must move a cursor around the screen which always feels clunky. On top of that there were multiple times I would click things, and nothing would happen so I would move on, to only find out later when I was getting over the puzzle that I had clicked the right thing in the first place but must have been off it's target box by a fraction.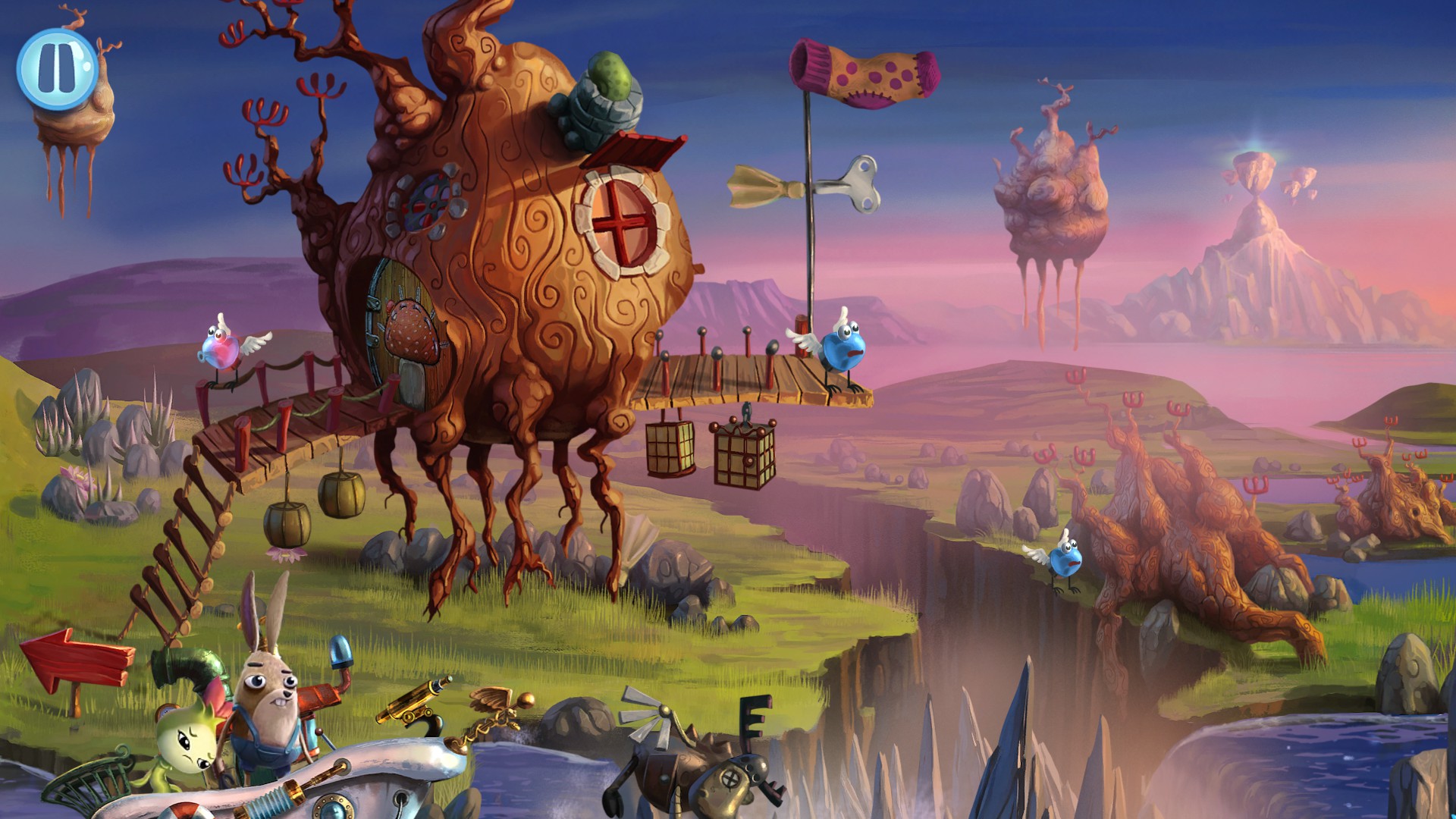 It's tough, because my frustrations lie with the flaws of the genre, or at least my perception of these flaws, but I didn't want to be annoyed by these in a game that is so damn good in every other way, the most notable of this is the stunning presentation.
I always say that if you are going to make a game frustrating, you can win me over by at least making it good to look at, and My Brother Rabbit delivered exactly that. The beautiful imaginary world uses bright colours and haunting design choices like a creepy eye on a door that makes staring at the same screen for 15 minutes only a little bit annoying. I can't quite describe it in a way that does any kind of justice, so look at the screenshots to be amazed.
My Brother Rabbit is a beautifully told story, presented in a stunning way. If you like the genre and don't mind the frustrations then it is well worth checking out, and if you get frustrated the same way I do with the genre, it's worth having a closer look because there is a lot to be enjoyed here for any gamer.
[rns_reactions]
My Brother Rabbit (Switch) Review
Game Details
Released: October 2019
Rating: G
Platforms: Nintendo Switch
Genre: Point and Click , Adventure
Developer: Artifex Mundi
Publisher: Artifex Mundi