Once you've tackled day one of E3, you feel more prepared for what's to come. You can approximately scope out where you want to go next and you can give yourself more of a plan if you chose randomly the day before. Of course the queues for media and industry still made the arrival just as chaotic as the first day
Today's first game was Wolfenstein: Youngblood.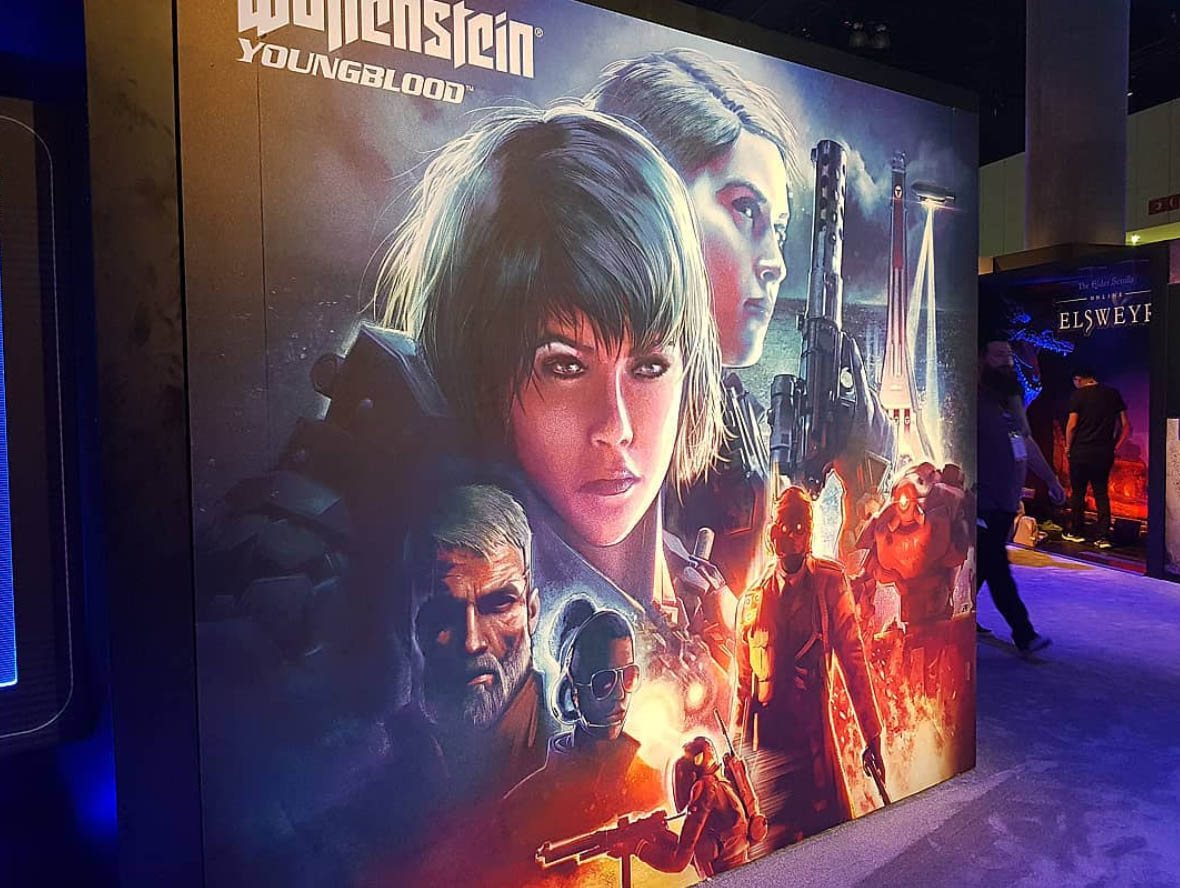 I managed to slot myself into one of the first sessions of the day. I became very immersed instantly and loved the co-op aspect. Next up, the Watch Dogs Legion booth with a demo presentation. Watch Dogs Legion has an interesting aesthetic and concept. The futuristic London has you able to recruit and play as literally anyone in the world and take them on the story journey with you. The goodie was an enamel pin of the game's logo and a rubber pig mask as seen in the advertising. I opted not to take the mask with me though. I didn't think it would look good in customs…
Tom Clancy's Ghost Recon Breakpoint had a representative play the game with you. Having someone know what they're doing in a group as opposed to winging it or not having a pleasant experience with a team member who doesn't want to listen, was very smart in my opinion. Although my group didn't get very far, we got the opportunity to explore the game mechanics and understand the importance of working as a team. The goodie was a velcro patch designed to sit on the clothing as a military patch.
Star Wars: The Skywalker Saga made me want to get into the Lego game universe again. The game looked gorgeous and if you're wondering how a Lego game can keep up with the continuous growing development of better graphics or rendering, than worry no more. Plus I want to give a shout out to the booth's practicality. The cue featured a television clearly outlining session times of the day and a countdown timer from the current session time. It was a shame for them when a power surge happened though, when I was in the queue, as it put the booth out of action for a bit. The goodie was Lego figurine of Finn.
Man of Medan was an interesting one I wanted to try. The lines weren't very long but the wait time still a bit. There actual location wasn't very practical though as I had the light shining on my screen the entire time with music and voices blaring in my ears around me. Meaning I couldn't really see the screen or hear what the characters were saying. I would have liked to have had a demo that showed off a bit more of the game though as I felt like I spent 10-15 minutes walking in the same setting. The goodie was a Man of Medan t-shirt.
UPDATE
Today, it was time to take on the E3 Coliseum.
I'd stayed away from it for the first two days because there was so much to see and do in the Convention Centre that there really wasn't enough time to venture over there and justify the time spent. Day three had a few talks that I really wanted to see though. I was lucky that it tied in with day three because this was the only day out of all of them that gamers could attend the Convention Centre at the start of the day, like everyone else. That of course equaled chaos.
The first panel I attended was hosted by Troy Baker and discussed narrative driven games in VR. Narrative driven games are my favourite too so it was interesting to see how these would be developed in VR and just general conversation around storytelling and relationships in stories. The second panel was with Elon Musk and Todd Howard. They talked about video games, space, technology and the future and it was much funnier than expected. Elon mentioned such things that he probably wouldn't have started programming without video games, he played Fallout 3 and 4 heaps and that the future of video games would lead to the end of the world or video games will become so close to reality that you won't be able to tell the difference.
Sort of like the Matrix effect.
It ended with a Q&A that was mostly a wasted opportunity as people asked pointless or no questions but rather requests.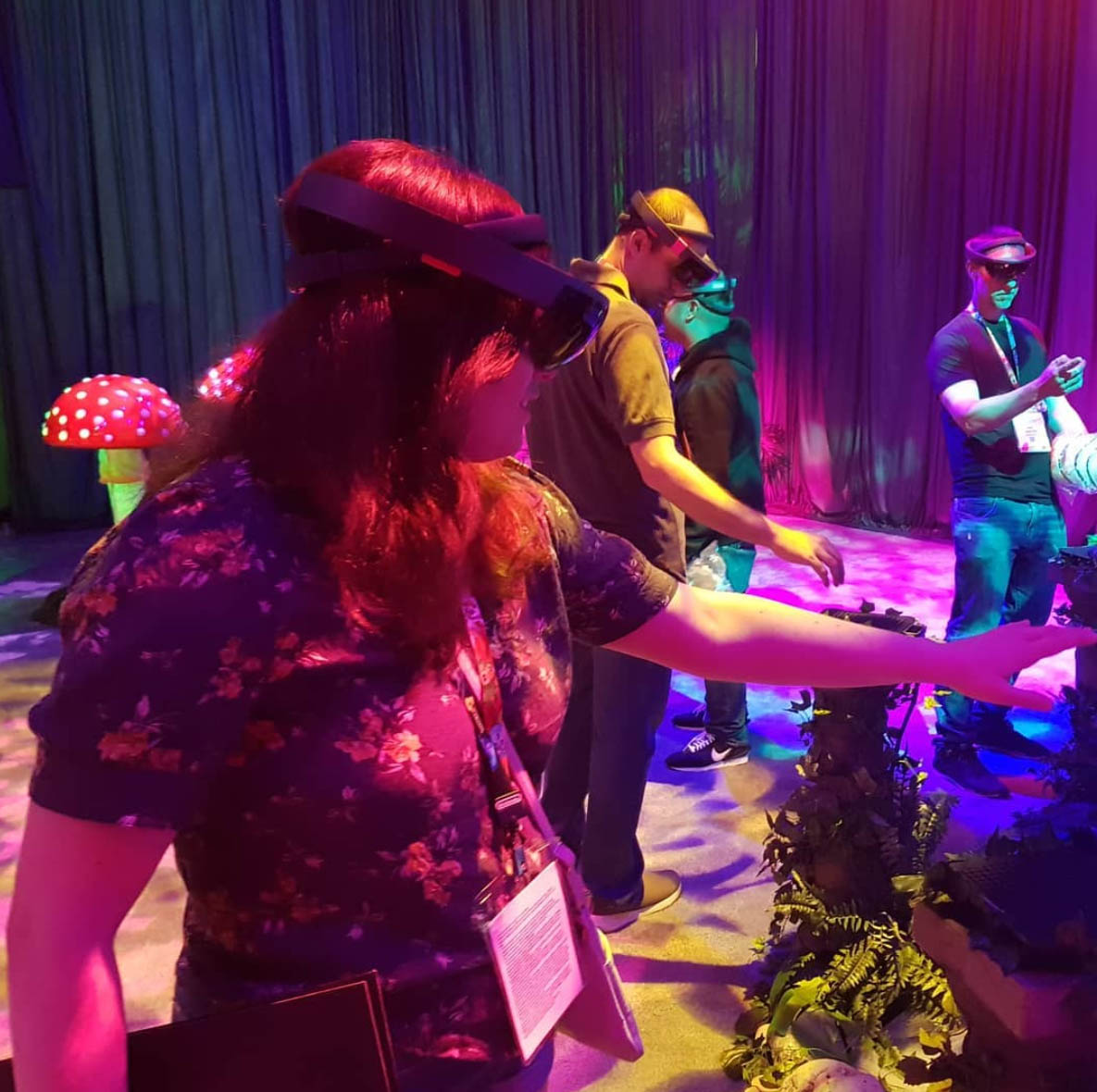 I went along to my appointment for Square Enix's upcoming Avengers title in the afternoon. It's been in development for a few years now and I'm definitely looking forward to it. Headphones in, we all got a taste of the first twenty minutes of the game and what's on offer. Its hard to picture other voices / faces in iconic Avengers roles thanks to the movies but at the end of the day they are comic book characters and anyone can play them! The goodies were a confidential dossier that featured detailed info papers about each character and a themed lanyard with the words VIP.
The Unreal Garden at E3 was the last thing I tried at the Convention. The augmented reality setting combined the surrealist and fantastical environment with augmented nature and fantasy. Although I was a tad disappointed it only worked in an small rectangle portion of my view, I understand that technology can take time and I'm fascinated by the concept.
I can't believe my E3 2019 experience is over. It went so fast and yet gave me enough time to experience it fully. Highlights for me included narrative games Cyberpunk 2077, Wolfenstein Youngblood, Watch Dogs Legion and Avengers. Who knows what the rest of the year will hold for video games!