Eidos-Montréal a part of Square Enix Europe and the studio behind the critically acclaimed Deus Ex: Human Revolution, announced that Deus Ex: Mankind Divided the next chapter in the legendary franchise, is in development.
It will be releasing for the PlayStation 4, Xbox One and Windows PC.
"For 15 years, Deus Ex has been a point of conversation across the games industry and beyond, whether the topic is the franchise's unique gameplay or topical narrative focused on advanced biotechnology and human augmentation," said David Anfossi, Head of Studio, Eidos-Montréal. "What began with Deus Ex: Human Revolution goes to a whole new level in Deus Ex: Mankind Divided, diving even deeper into this discussion and, in turn, offering fans an all-encompassing experience, one which will challenge their skills as players and emphasize decision-making based on real world topics."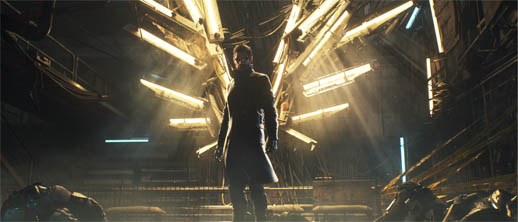 Deus Ex: Mankind Divided takes place in 2029, two years after the events of Human Revolution and the infamous 'Aug Incident' in Panchaea that resulted in the death of millions at the hands of those who had installed augmentations.
This event has created a huge divide between those who have augmentations, and those who do not. Amongst this emotional turmoil are various factions looking to manipulate the public by twisting public opinion of augmentation to further their own agenda and hide the truth of what really happened.
As the social and political chaos reaches boiling point, super-augmented anti-terrorist agent Adam Jensen re-enters the fray.
Empowered by brand new augmentations that bolster his formidable, strategic arsenal, Jensen will visit multiple new locations to uncover the truths that are hidden by a cloak of new conspiracies.
With more choice at the player's disposal than ever before, Deus Ex: Mankind Divided is the ultimate DEUS EXexperience.
[jwplayer player="1″ mediaid="12059″]