Square Enix brings us a new Final Fantasy game for the 3DS. Theatrhythm Final Fantasy: Curtain Call is a rhythm game. Now what does that mean? Well apparently it just means the game is all about music and well rhythm.
The story begins explaining two sides, Chaos and Rhythmia. Both are needed to maintain balance in the world. Some time ago Chaos tried to tip that balance and brave heroes collected Rhythmia to restore the homeostasis. Now again Chaos is trying to destroy the equilibrium and it is now up to you follow the footsteps of the heroes that went before you.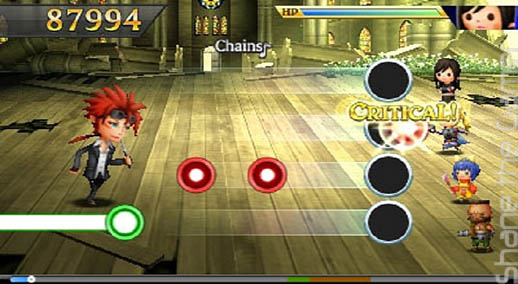 The game plays a lot like a guitar hero type game. There are numerous notes that you need to hit as they move across the screen. You need to press or hold the buttons as they line up with the circle at the end or mark. Timing it right has you earning more points and combos. This is essentially the entire game. You are able to utilise the buttons, stylus and analogue stick in any combination you see fit. This does allow players to find a style more specific and comfortable for them.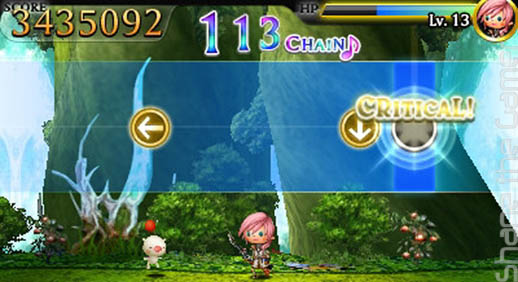 There are three different game modes to explore. The first is the Music Stages which is where you pick a song and play through it. Within Music Stages there are three different stage types. Battle songs have you fighting enemies with four characters. This means there are four marks and lines of notes you need to follow and execute. Usually the notes are paced out so dealing with all four lines isn't too bad. Hitting notes damages the enemy while missing notes has you being damaged.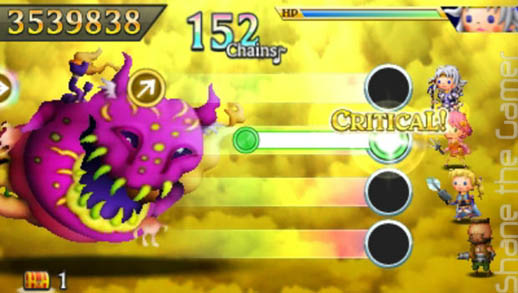 Field Stages have you controlling one character through a song. So there is only one line of notes to follow however you may need to follow some notes up or down the screen. Event Stages are sequences where the mark follows a line and runs over notes you need to perform in time. They are part of a particular song with the song scene playing in the background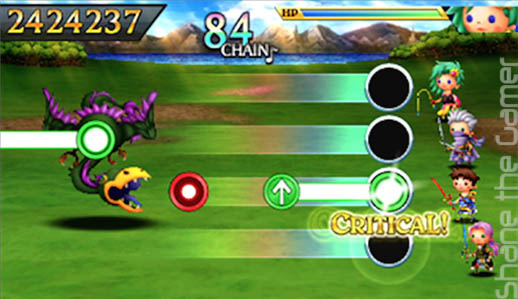 The second mode that is unlocked is Quest Medleys. These take you on quests through Chaos maps where you will take on different songs and stage types. Defeating the major boss at the end of the quest and completing songs along the way earns you crystals. Crystals are used to unlock new characters and there are over 60 characters to unlock.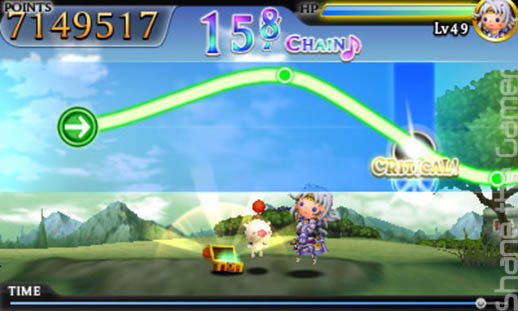 The last mode unlocked is Verses mode. This is where you can, if you have friends with this game, battle them. If you are lacking in friends (that share you love for rhythm games) you can verse AI. Theses battles offer a different variety of difficultly. There are nine special EX Burst skills that can disadvantage the other player. Each side has use of this and can implement a skill when the EX Burst gauge fills up. Notes can start sliding back and forth or make hitting the notes on target harder. This does give a bit more excitement to the game but can only hold so much entertainment value.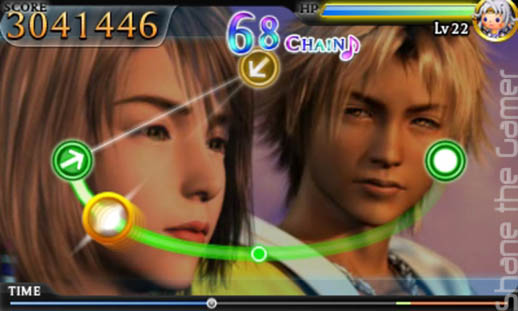 Theatrhythm Final Fantasy: Curtain Call tries to make it all a bit more exciting by adding RPG and other elements. You can choose from a variety of characters, at least one from every final fantasy game with more available as you unlock them. Characters level up and learn abilities which can be used when hitting certain notes spot on. There are also usable items that can be given to characters. There are also cards that can be collected for all the Final Fantasy characters and in-game medals and achievements to be earned.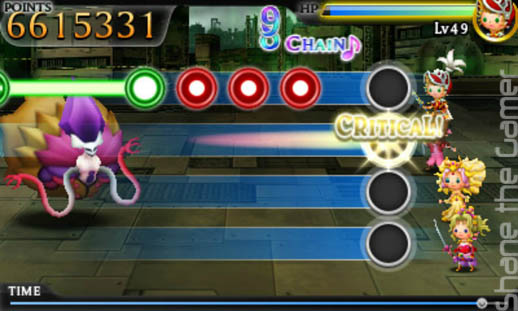 The game recommends certain characters for certain song types but I found this to be too tedious to follow or adhere to. I was happy to choose the Final Fantasy characters I knew/liked and just stick with them. This didn't really seem to make things particularly hard when going between song types either.
The songs provided are the music pieces you might very well know and like from many of the Final Fantasy games themselves and there are over 200 to unlock. Familiarity with certain songs did make them more enjoyable to play through than others.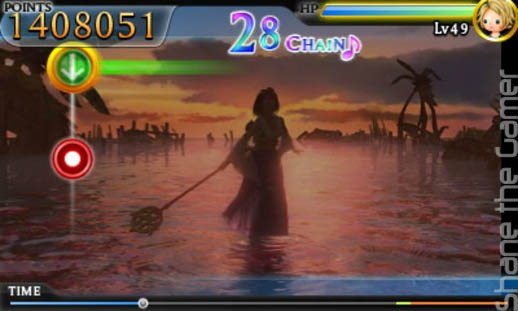 Being a fan of Final Fantasy I was appreciative of the world on offer but if it was set in some other world I don't know if I could have put up with it too much.
The world, environments and characters are all quite pretty and colourful and the art style is cute. Truth be told, with this game, for the type of game it is, it's not bad. It has the characters and music any Final Fantasy fan will love and a few extra features that make the slightly repetitive music side of things more enjoyable but it's just not my kind of game.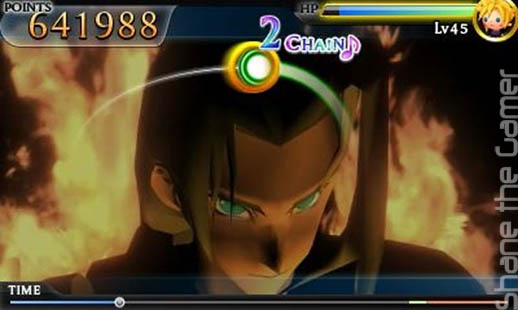 There aren't any broken features to this game but I just can't call myself a fan of this genre. So for rhythm lovers and final fantasy fans this can hold a bit of fun but really there simply other genres I'd rather sink my time into.
[jwplayer player="1″ mediaid="9379″]