The Surface is a bit of an enigma.
Mostly tablet, mainly laptop. A Windows hybrid device designed to be more portable than the traditional laptop, yet, when a soft or hard keyboard cover is added becomes exactly that.
A convenient lightweight form of entertainment and productivity that you can easily slip into a small bag and go.
The issue with the Surface range has been the cost. Almost as though Microsoft are taking a leaf from Apple's price book, the Surface wouldn't leave a lot of change out of a couple of grand for the lesser to mid range models.
But, now to get the Surface in to more hands, especially those of students Microsoft recently released the Surface Go.
A slimmed and trimmed down Surface as we know it. An ten inch low to mid range Intel based tablet.
STG received a Surface Go to have, well, have a go with for a couple of weeks.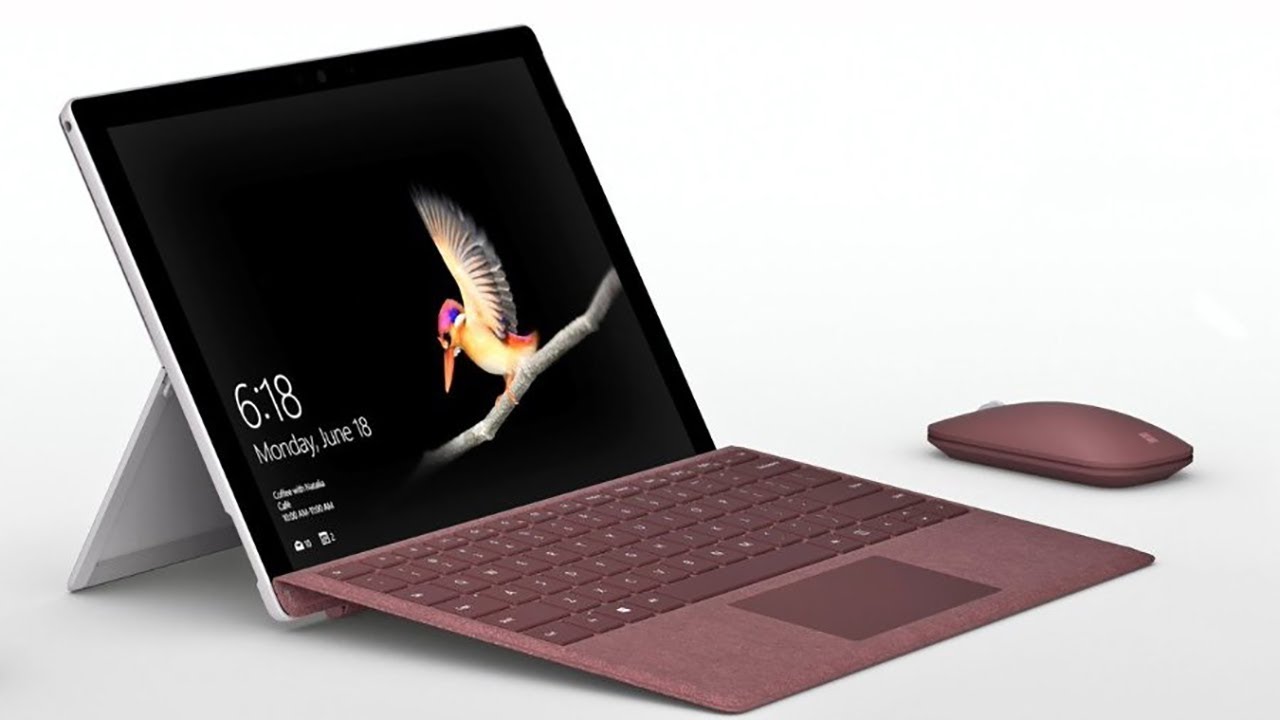 With the ten inch Windows 10 device we also received the soft keyboard cover and Surface Pen (these are now sold separately).
After a quick setup we were ready to 'go'.
Being the higher end model in the 'Go' series, the model that we received had 8GB RAM and 64Bit Windows OS. This unit used the 4415Y Intel processor at a much slower 1.6 GHz clock speed.
This was enough for Windows to be zippy and functional, aswell as MS Office and low resource programs.
But for those in to graphic design, video editing and more it is not going to be able to handle it too well.
This said, Adobe's Photoshop Cloud actually worked exceedingly well. As did Apps like Spotify and iTunes (although it did jutter a bit with iTunes).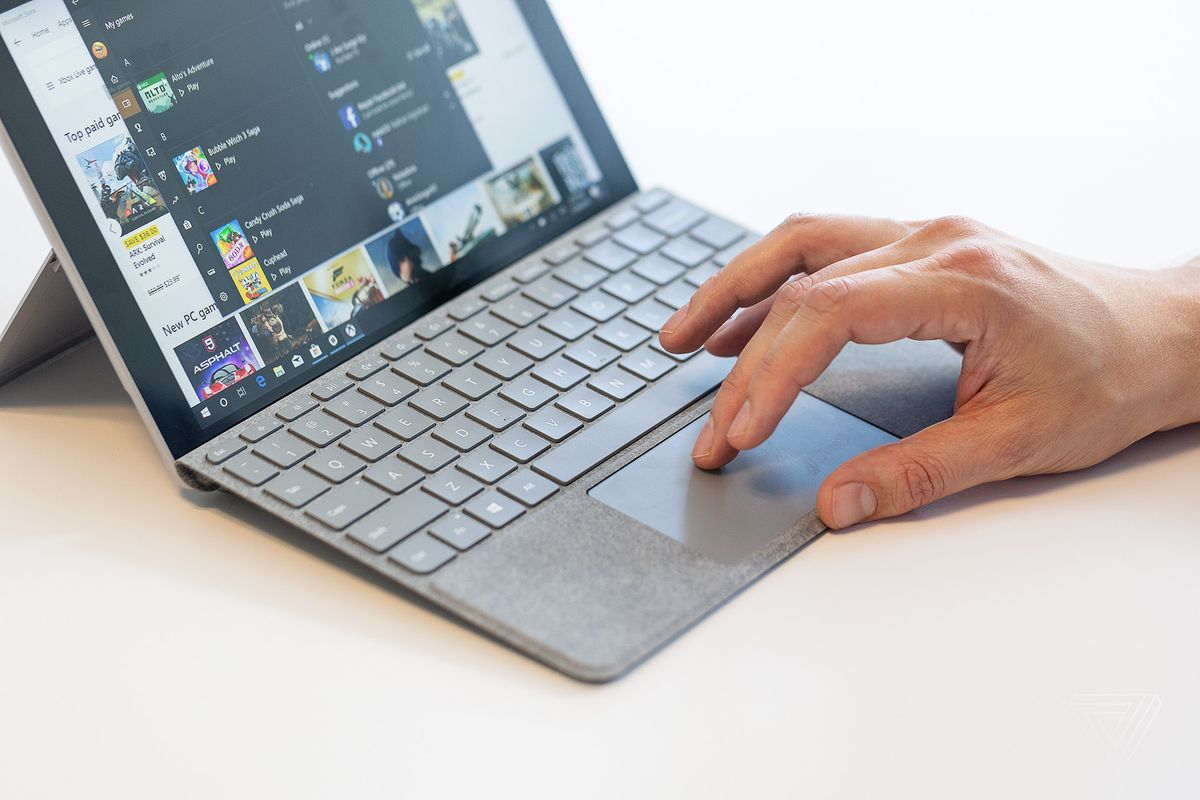 Being a gamer I was curious. Could this lowly CPU'd tablet actually handle a game of any kind (other than Solitaire or Candy Crush).
Knowing that I did not have the internal SSD capacity to install anything too data heavy (this model has 128GB storage SSD) and doubtful that the onboard Intel GC (Graphics Card) would be able to cope with anything 4K or close to I took a moderate approach and installed one of my personal favourites. Deathspank.
Still a little on the resource intensive side but not anything near, say, Sea of Thieves or the Forza series. Deathspank, released by EA Games a few years back is still a moderately graphical sizable game with a moderate data footprint, especially if you install the Trilogy, which is exactly what I did.
Connecting up an Xbox One wireless controller via Bluetooth was too easy and with eagerness to see what would happen, I loaded up the first Deathspank and set the in-game graphics set to maximum.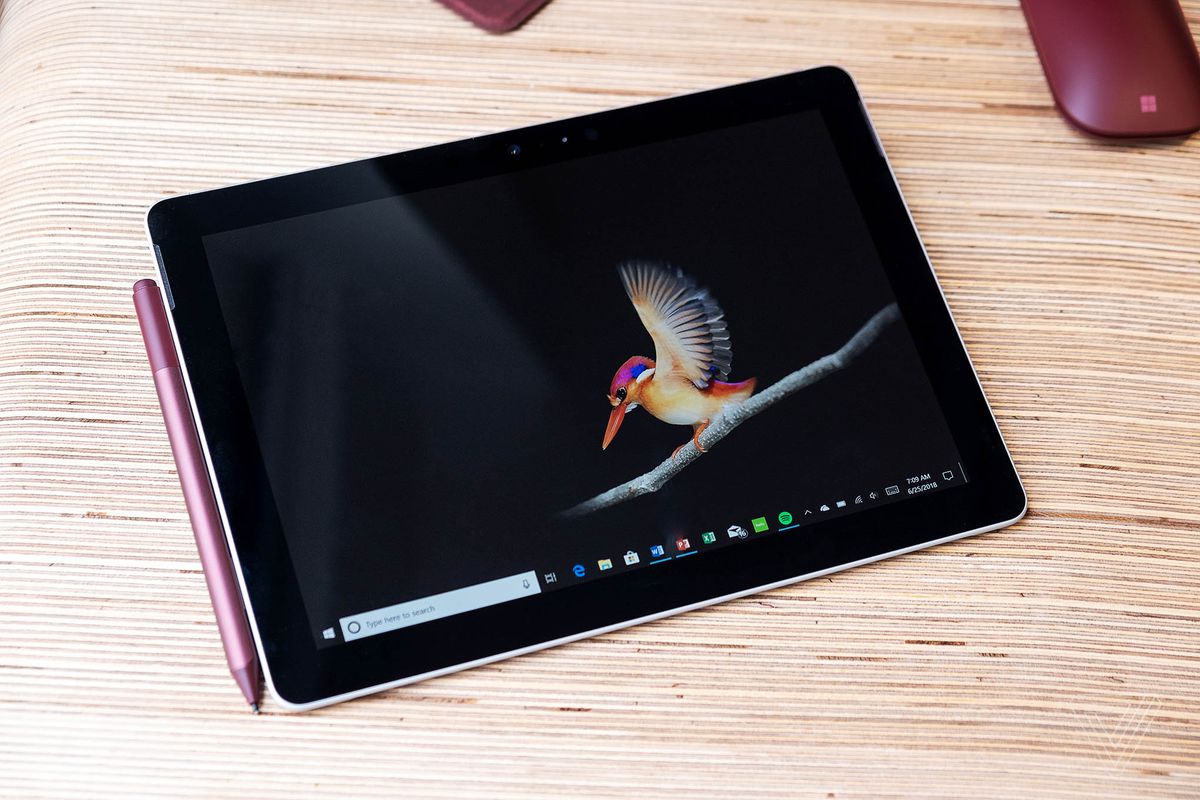 Wow, even with the CPU being under the recommended specs, I was able to play for up to three hours, before the battery died.
I got bolder. I installed Gears of War 4. I had tried this once before on a Surface around a year ago and found that it was hit and miss. Sometimes it would work, other times it didn't render the graphics at all. This time round on a much slower CPU it loaded up and was actually playable. The Surface didn't like it too much and got a bit warm within 15 minutes and the battery from full drained to around half in that time.
While the internal storage space could be an issue for some (it would be for me going forward) Microsoft have retained that microSD card slot behind the Surface's kickstand. Install a 512Gb microSD once these are more stable and boom, you're sorted. Asides from a singe USB-C port there's no USB socket.
The Surface Go costs about a third to two-thirds of its bigger siblings and although I tried to push it to its limits (I think I did), it is designed for more productive use and media viewing / streaming.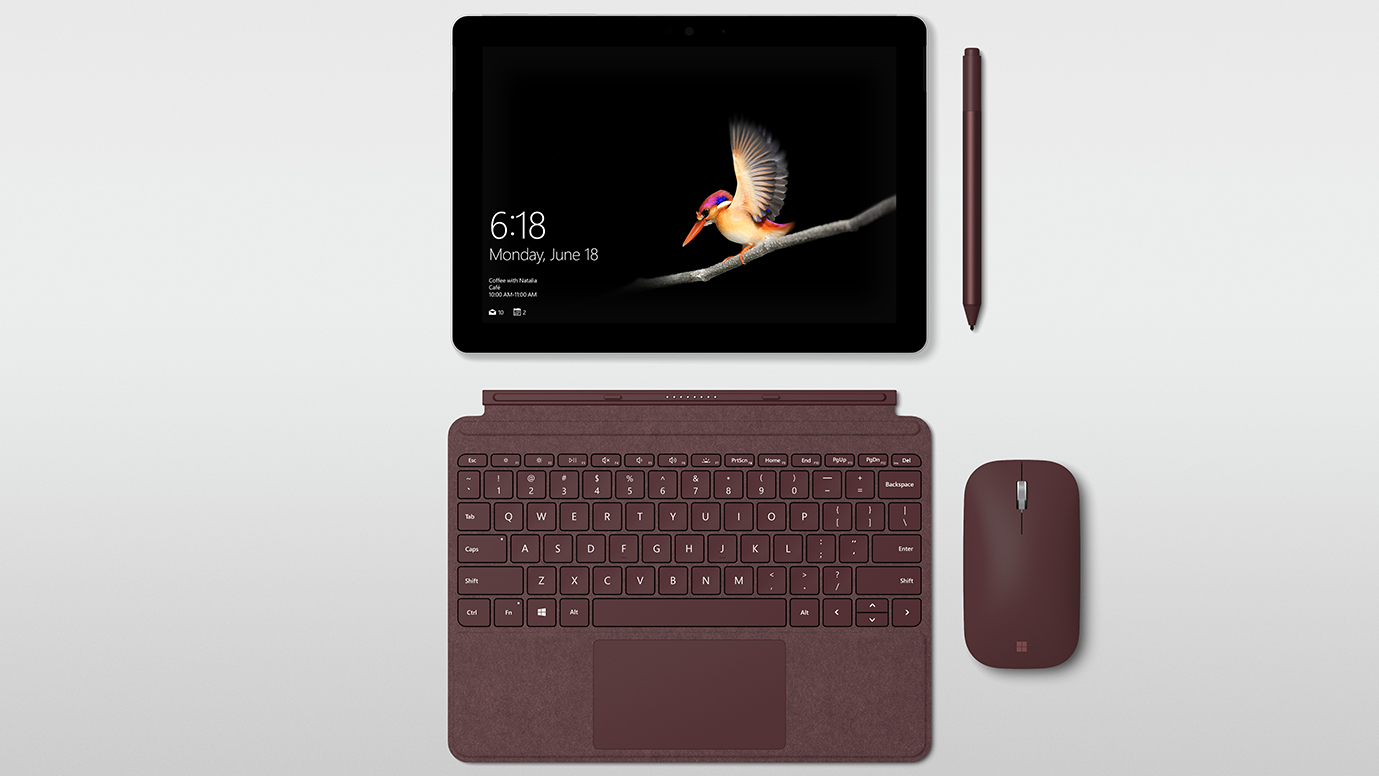 Attaching the keyboard cover uses a magnetic connection and in tablet mode (without the keyboard) your Surface Pen becomes your best friend.
Windows in general is fiddly on a touchscreen without a stylus. The Surface Pen is a stylus but so much more.
With clickable points it also acts as a mouse and having the Surface Pen is an almost necessary accessory, especially if you are wanting to be creative.
The Surface Pen attaches itself to the side of the Surface tablet via magnet which is stable enough – but I can imagine a few of these dropping off while being transported and lost in the wild.
The Surface Go certainly impressed. Being a low to mid device what I was able to get out of it surprised me.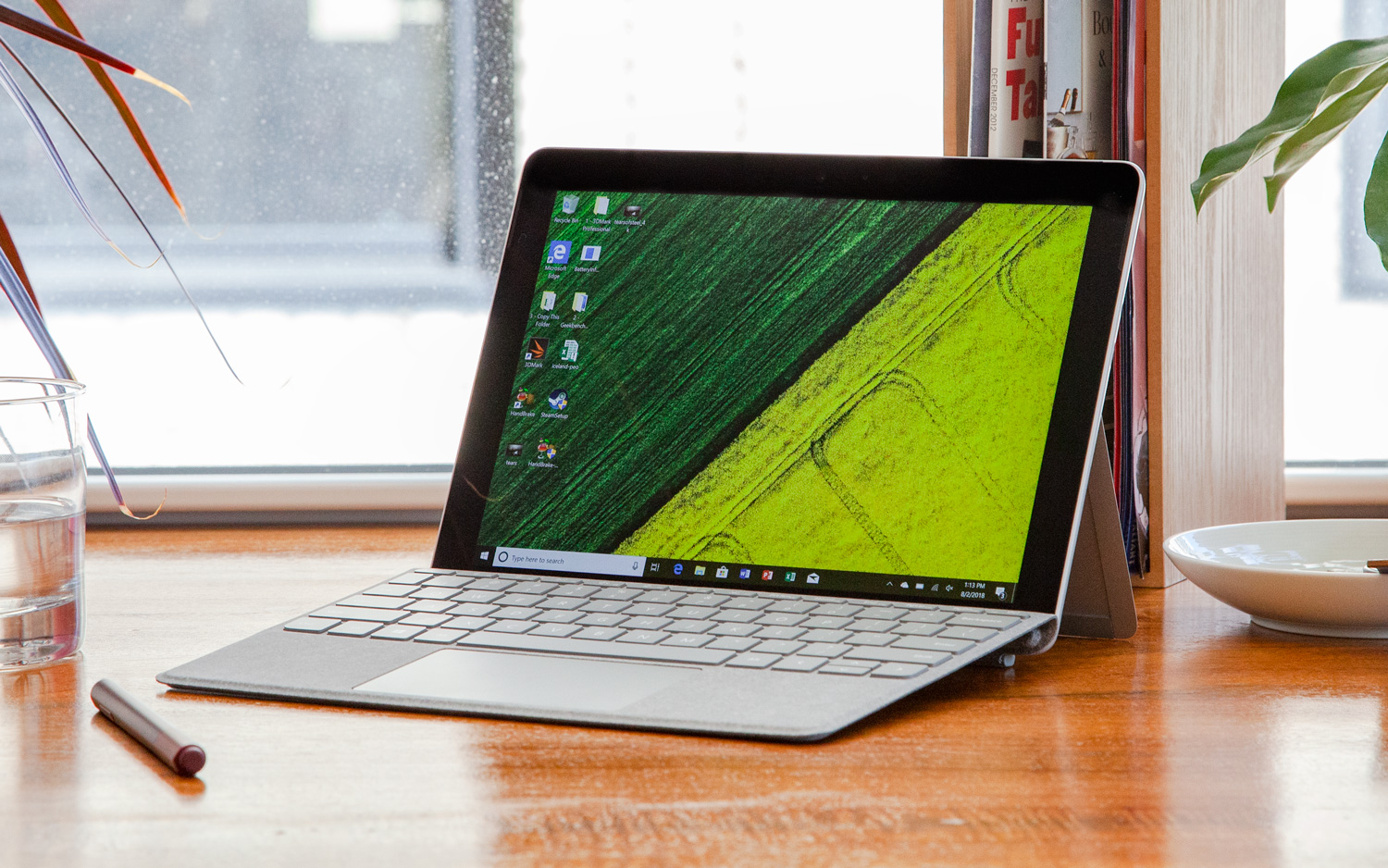 For those that are considering a Surface as a BYOD for school, Uni or work you're not going to go wrong here. With the local (NZD) pricing being $949.00 for this model it's not going to place too much of a dent in your bank balance either.
I do feel that the Surface Pen should still be included, as you do REALLY need it to use the Surface in tablet mode, especially if you have sausage fingers like me.
As a take out and take home, take anywhere tablet, the Surface Go is not a full laptop replacement but an excellent conduit between the two.
Priced right, it's the no-stopping solution when on the 'Go'.
Device Details
Released: September (NZ) 2018
Device Name: Surface Go
CPU: 4415Y Intel @ 1.6 GHz
Memory: 8GB
Internal Storage: 128GB SSD
Price: $949.00 (NZD)</p