Apple just announced to us they have a new addition and a major update to its family of music-making apps for iOS that make it easy for people to tap into their musical potential and create incredible music no matter where they are. An all-new app called Music Memos lets musicians and songwriters quickly capture, organise and develop their musical ideas right on their iPhone. And a major update to GarageBand for iOS introduces multiple new features, including Live Loops, a fun way for anyone to make music like a DJ using only their iPhone or iPad.
"Musicians around the world, from the biggest artists to aspiring students, use Apple devices to create amazing music; the innovative new Music Memos app will help them quickly capture their ideas on iPhone and iPad whenever inspiration strikes," said Philip Schiller, Apple's senior vice president of Worldwide Marketing. "GarageBand is the most popular music creation app in the world, and this update helps everyone easily tap into their musical talent with the powerful new Live Loops and Drummer features, and adds support for the larger iPad Pro screen and 3D Touch on iPhone 6s and iPhone 6s Plus."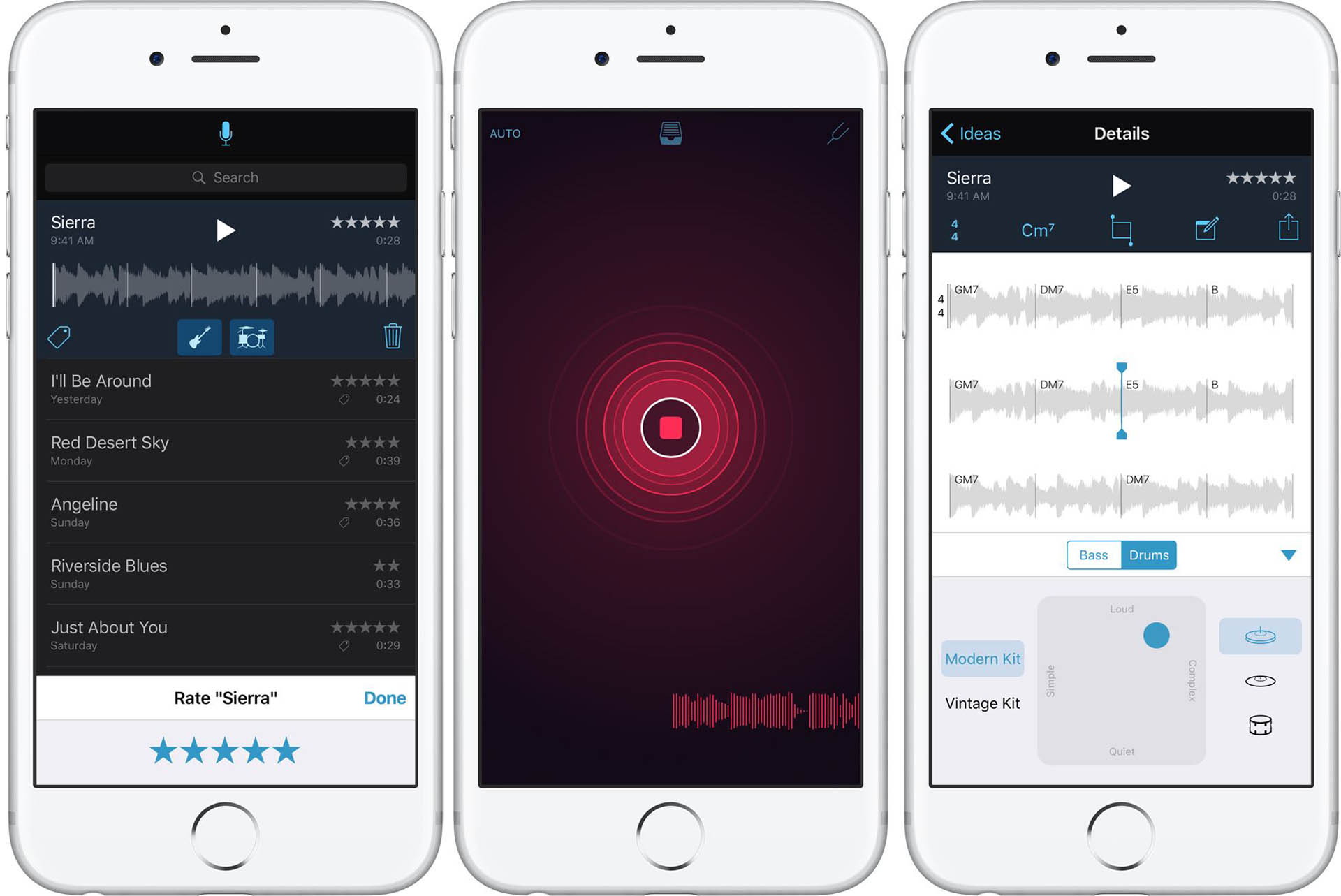 "Sometimes ideas come faster than I can get them into my notebook so I've used Voice Memos and Notes to quickly capture songs before they're lost. Music Memos is like if those two apps came together to form some kind of superpower for songs," said Ryan Adams, critically acclaimed singer-songwriter and producer. "It quite literally blew my mind how Music Memos could transform a single guitar idea into a whole composition with a virtual drummer loose enough that it felt like you were having your mind read by some A.I. musician and a choice of stand-up or electric bass accompaniments."
"I recorded my first album using GarageBand and I continue to use it in my music today," said T-Pain, Grammy Award-winning artist and producer. "I love how the new Live Loops in GarageBand lets me quickly build tracks and beats, and even perform effects like a musical instrument. It'll change the way an entire generation makes music."
Musicians and songwriters around the world have used the Voice Memos app on their iPhone to quickly record ideas, and many hit songs first started as Voice Memos. The new Music Memos app is inspired by Voice Memos and takes the functionality even further by adding musician-friendly features designed specifically for songwriting and developing musical ideas. With Music Memos, you can record any musical instrument through the iPhone's built-in microphone in a high-quality, uncompressed format, then name, tag and rate it to start building a library of your ideas.
The app can analyse rhythm and chords of acoustic guitar and piano recordings, and instantly add drums and a bass line to provide a virtual, customisable backing band that plays along to match the feel of your song. Music Memos can even provide basic notation that displays the chords that were played. With iCloud your Music Memos are automatically available across all your Apple devices so you can open them in GarageBand or Logic Pro X to further develop your songs. Musicians can easily share their ideas via email or with their fans through Apple Music Connect.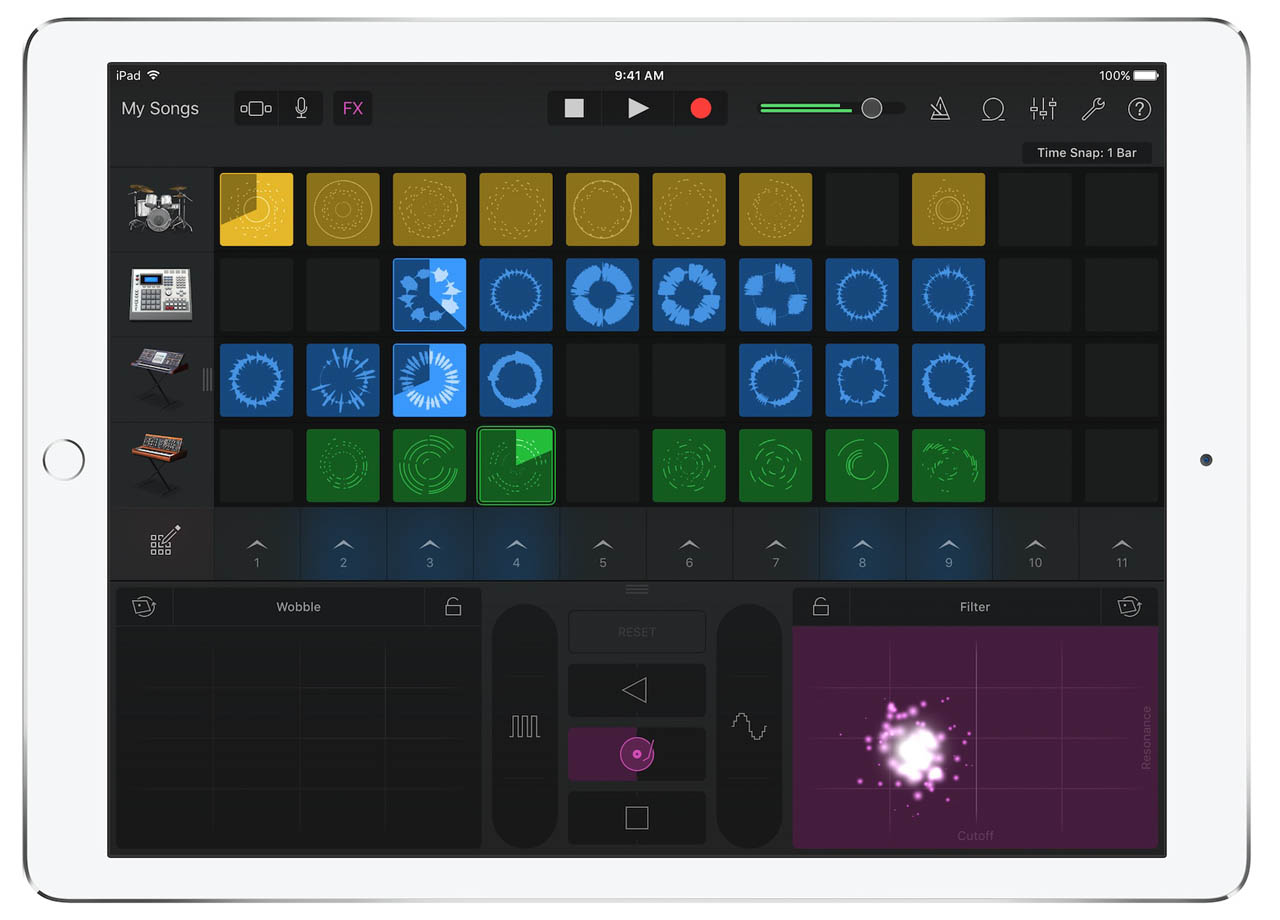 GarageBand for iOS is the world's most popular mobile music creation app, and the new GarageBand 2.1 update introduces Live Loops, an entirely new and intuitive way to create amazing music. Inspired by DJ hardware controllers and drum machines, Live Loops makes it easy for anyone to create music by simply tapping cells and columns in a highly visual grid to trigger different looped instruments and samples.
The loops can be performed, arranged and remixed Iive, and GarageBand automatically keeps all the beats in sync with perfect time and pitch. To get you started, Live Loops comes with a library of Apple-designed loop templates in a variety of genres including EDM, Hip Hop, Dubstep and Rock, or you can create your own loops from scratch.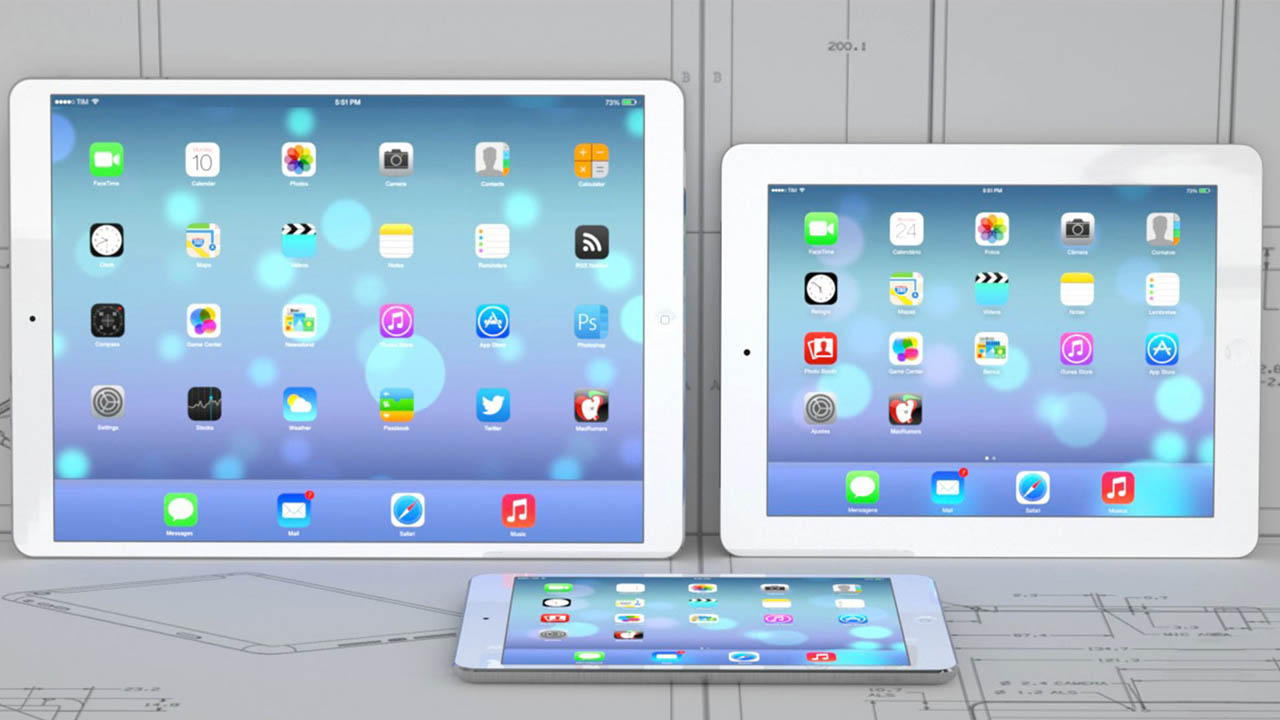 GarageBand 2.1 for iOS also includes the new Drummer feature with nine EDM and acoustic virtual session drummers that provide their own signature sound, as well as an expanded selection of amps for bass players. Advanced GarageBand users can now create even more dynamic and polished sounding songs using new automation features, controls recording and a new simple EQ. GarageBand 2.1 looks stunning on the expansive 12.9-inch Retina display on the new iPad Pro and gives you access to even more controls and room to play.
And on iPhone 6s and iPhone 6s Plus, the app now supports 3D Touch, allowing you to play with more expression.
Both iOS and OSX updates are free.