Netgear has informed us here at STG that it has expanded its business-class ReadyNAS Series of reliable, high performance rackmount Network Attached Storage (NAS) appliances with ReadyNAS 2304 Business Class 1U 4-Bay Network Storage (RR2304).
Ideal for supporting up to 40 concurrent users for Gigabit speed file backup and file serving, ReadyNAS 2304 meets the needs of data-focused small businesses for on-premise storage and backup with remote collaboration combined with cloud backup to Amazon AWS, Google Drive or Dropbox as a few examples. It provides new capabilities and a 50 per cent performance increase over the previous-generation, the ReadyNAS 2120 – the current bestselling entry-level rackmount business-class NAS from NETGEAR.
With ReadyNAS 2304, businesses achieve a level of data protection that is unmatched in the realm of SMB storage. ReadyNAS 2304 runs the latest version of the groundbreaking ReadyNAS operating system, the innovative OS 6.7, which enables a wide set of business features. ReadyNAS OS safeguards data through five levels of unrivaled file protection, seamless, zero-cost ReadyCLOUD file sharing, and full data protection with ReadyDR block-level backup and disaster recovery.

In terms of hardware, ReadyNAS 2304 is a 1U rack mount form factor, 4-bay NAS appliance with capacity up to 40TB for supporting up to 40 concurrent business users. It has a faster and more powerful 64-bit Dual Core Intel® Celeron® processor for 2.0GHz of processing power, 1.5 times the previous model. It features two Gigabit Ethernet ports (1GbE), three USB 3.0 ports, for additional data storage and transfer.
"ReadyNAS Rackmount 2304 represents a significant upgrade in terms of storage features and performance available for small businesses, at an incredibly cost-effective price point for the number of users supported," said Richard Jonker, vice president of SMB product line management for NETGEAR. "Network managers can sleep soundly at night knowing their mission-critical data is protected against human error, hard drive and system failures, viruses and malware, and natural disasters."

Today's emphasis on cross-office collaboration and team work with remote offices pushes for increased file sharing, faster data access, and more secure storage. Video streaming and conferencing have become a part of daily business in even small companies. As a result, file sizes are regularly growing from kilobytes to megabytes to gigabytes, as businesses move to 4K, 3D, CAT files, large slide presentations, and large H264 video files.
Architects, creative agencies, film studios, CAT/CAD designers, and research labs manipulating large files can find their appropriate storage solution with the ReadyNAS 2304, along with businesses, schools and universities sharing data across remote offices and branch offices.
Yet not all data can be sent to the cloud due to its sensitive nature, for regulatory issues, for bandwidth issues, or for the need for immediate access in the case of high file utilisation. This has created the need for hybrid private clouds with on-premise storage, making ReadyNAS 2304 with ReadyCLOUD access an ideal storage solution for organisations where sensitive data is at the core of the business — healthcare, education and financial institutions, government agencies, notary and legal offices, retail chains and small telecom providers.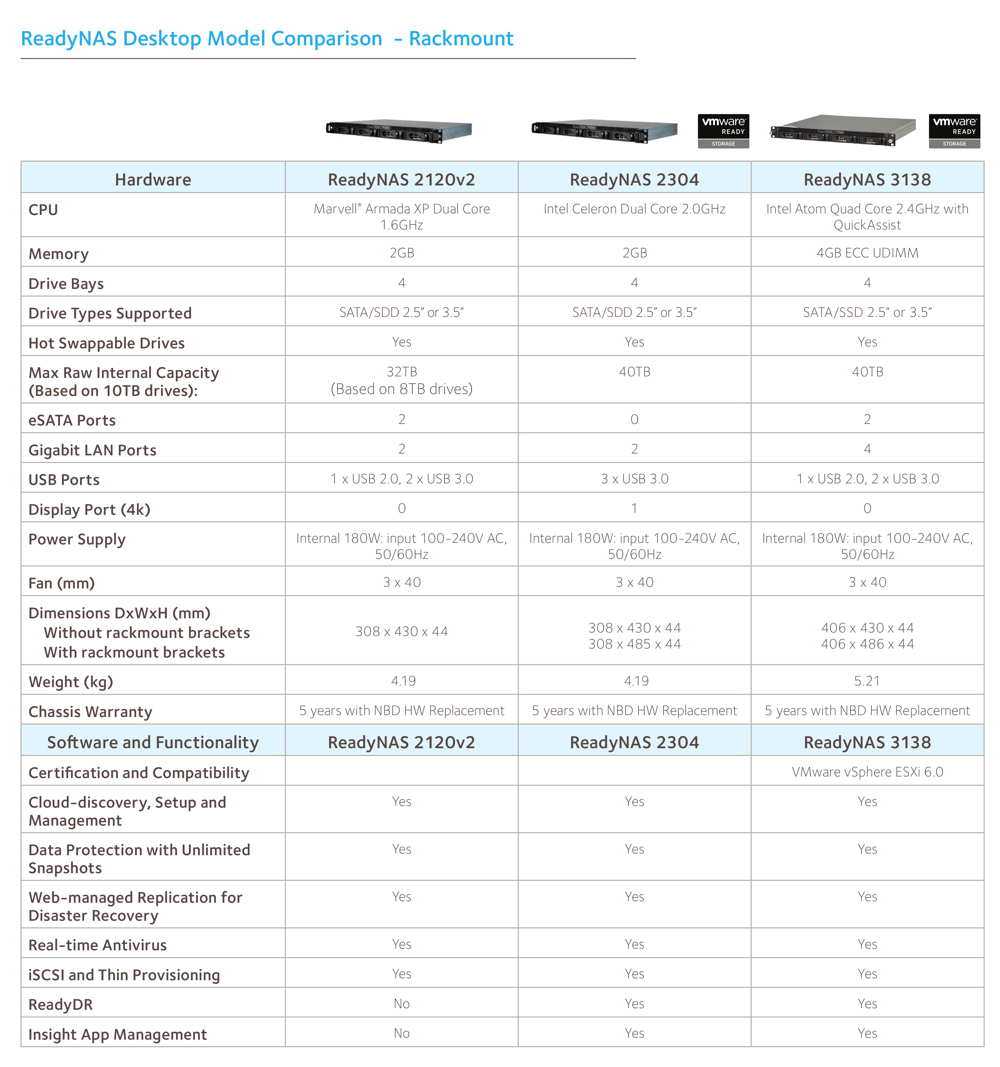 ReadyNAS 2304 is powered by the latest version of the industry-leading ReadyNAS OS, which enables a complete, reliable and cost-effective backup platform. It is also Virtual Memory System (VMS)-ready, a capability expected to be available later in 2017.
The ReadyNAS 2304 Business Class 1U 4-Bay Rackmount Network Storage (RR2304) is available now worldwide through authorised NETGEAR partners and other reseller channels and ecommerce sites at an RRP of $1,229 for a diskless model.
ReadyNAS Rackmount for business also come in populated configurations with various hard disk drive capacities, up to 4U 60-bay models offering up to 132 bays with expansion.