Apple today introduced to us here at STG an all-new MacBook Air, bringing a stunning 13-inch Retina display, Touch ID, the latest processors and an even more portable design to the world's most loved notebook.
Delivering the all-day battery life it's known for, the new MacBook Air is available in three gorgeous finishes — gold, silver and space grey. The most affordable Mac with a Retina display also includes an Apple-designed keyboard, a spacious Force Touch trackpad, faster SSDs, wide stereo sound, the Apple T2 Security Chip and Thunderbolt 3, making the new MacBook Air the perfect notebook to take with you everywhere you go.
"The first MacBook Air revolutionised Mac with its thin wedge-shaped aluminium design. It forever changed the entire industry for portable computers and became the world's most loved notebook," said Philip Schiller, Apple's senior vice president of Worldwide Marketing. "Redesigning MacBook Air started with a stunning Retina display and all-day battery life, and then we added Touch ID and the Apple T2 Security Chip, the latest processors, incredible sound, the third-generation keyboard and Force Touch trackpad, high-speed Thunderbolt 3 ports and of course macOS Mojave, in a beautiful, thinner, lighter, all-aluminium design that a whole new generation of MacBook Air customers are going to love."

The new MacBook Air features a stunning 13.3-inch Retina display with over 4 million pixels of resolution so text and images in macOS Mojave look sharp and stunning. And with 48 per cent more colour than the previous generation, images are more lifelike than ever. The new MacBook Air also includes a built-in FaceTime HD camera, which is perfect for Group FaceTime calls with friends and family members, as well as a three microphone array for better sound quality when making calls and improved voice recognition in Siri.
MacBook Air now includes Touch ID — a fingerprint sensor built into the keyboard — which allows you to conveniently and instantly unlock your MacBook Air; authenticate your identity; and make fast, simple and secure purchases using Apple Pay. To support Touch ID, MacBook Air comes with the Apple T2 Security Chip, which makes your notebook far more secure. Its Secure Enclave protects Touch ID information and ensures that software loaded during the boot process has not been tampered with. The T2 Security Chip also features an SSD controller with on-the-fly data encryption for everything stored on the SSD. These allow MacBook Air to offer the most secure boot process and storage of any notebook. The T2 Security Chip features an always-on processor that enables Hey Siri, letting you use just your voice to ask Siri for things like finding files or opening an app.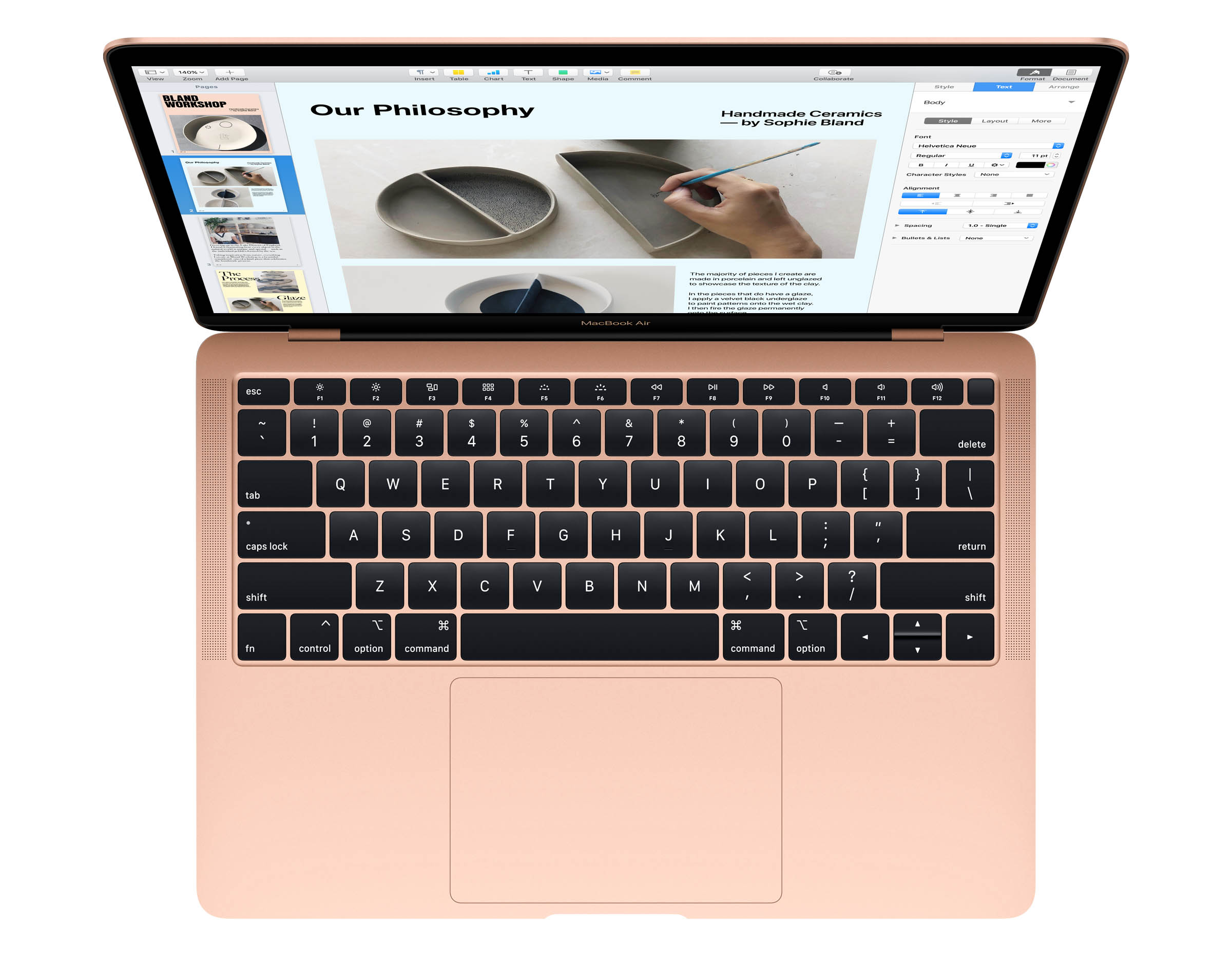 MacBook Air features a third-generation Apple-designed keyboard for more precise and responsive typing. Each key is individually backlit using low-power LEDs for more accurate illumination. The new MacBook Air also includes the industry-best Force Touch trackpad, which delivers pressure-sensing capabilities and haptic feedback. It's also 20 per cent larger than the trackpad on the previous-generation MacBook Air, offering a quieter and more capable trackpad experience.
With more advanced speakers and audio processing technology, MacBook Air delivers a higher-quality audio experience and wide stereo playback that makes watching movies and listening to music more immersive than ever. The speakers are 25 per cent louder with twice as much bass as the previous generation, for more dynamic range and fuller sound.
The new MacBook Air features an 8th generation Intel Core i5 processor, Intel UHD graphics and faster 2133 MHz system memory up to 16GB, delivering the performance you need for everyday activities like organising your photos, browsing the web, creating presentations, or viewing and editing videos. MacBook Air also features SSDs up to 1.5TB in capacity, that are up to 60 per cent faster than the previous generation and make launching apps and opening files feel snappier and more responsive.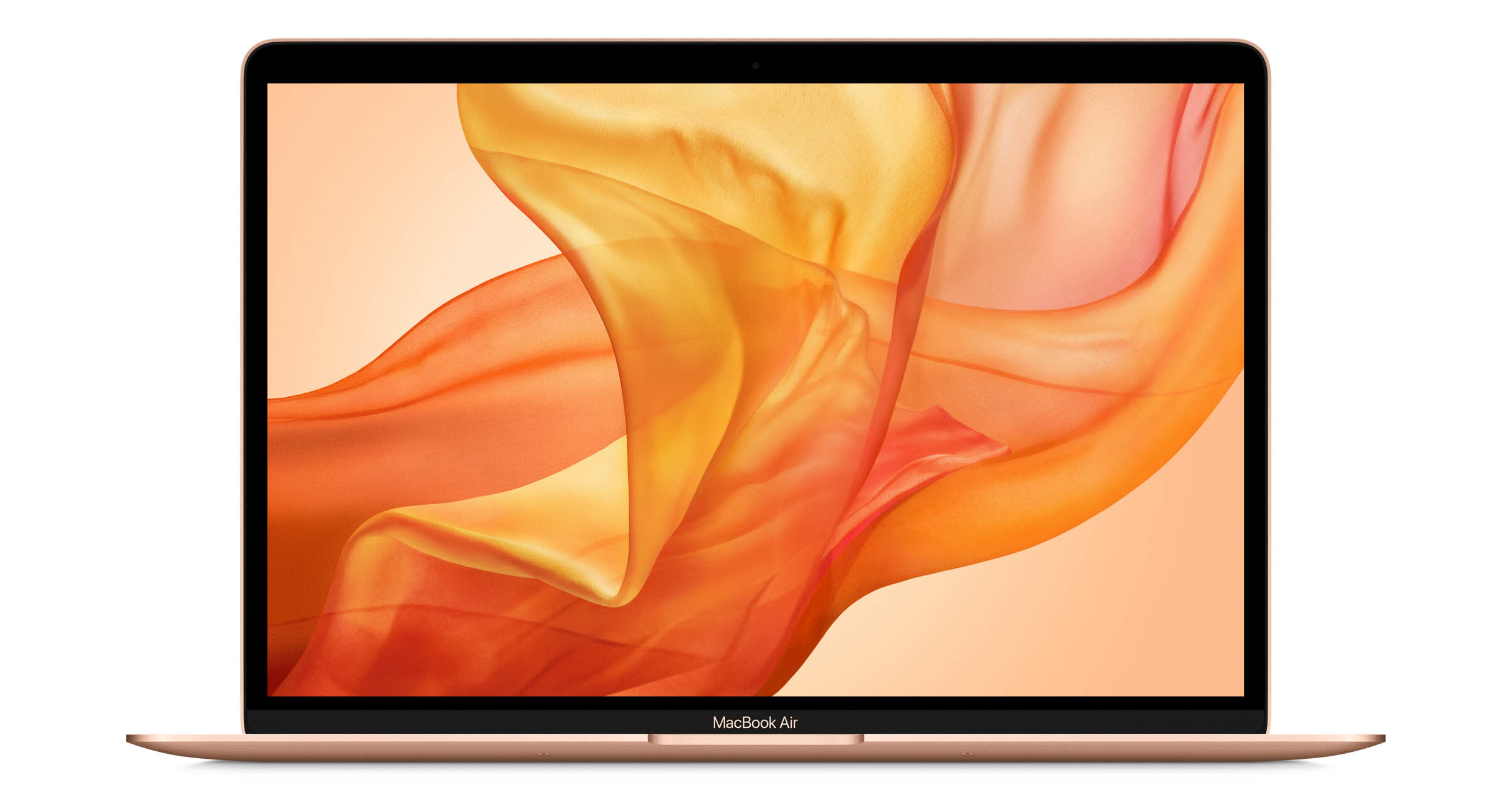 MacBook Air now comes with two Thunderbolt 3 ports, so you can charge your notebook; quickly transfer data via USB and Thunderbolt; output video in three formats; and connect to a whole host of devices including external storage, docks for additional ports, 4K and 5K displays, and eGPUs for faster graphics. It's the most versatile port ever. The ecosystem has over 700 Thunderbolt 3 devices and counting, along with thousands of USB-C devices, so MacBook Air allows you to take advantage of a whole new generation of accessories.
The new MacBook Air packs all of these features in a new, distinctive wedge-shaped design that's now even more compact and portable. And it delivers up to 12 hours of battery life during wireless web use and up to 13 hours of iTunes movie playback. Featuring a significantly smaller footprint, the new MacBook Air takes up 17 per cent less volume, is 10 per cent thinner measuring just 1.56 centimetres at its thickest point, and at just 1.25 kilograms it's 100 grams lighter than the previous generation.
In addition, the new MacBook Air enclosure is made from a custom, Apple-designed aluminium alloy that enables the use of 100 per cent recycled aluminium for the first time, which has the same strength, durability and beautiful finish as the aluminium in all Apple products. Using this custom aluminium alloy helps reduce MacBook Air's carbon footprint by nearly 50 per cent, making it the greenest Mac ever.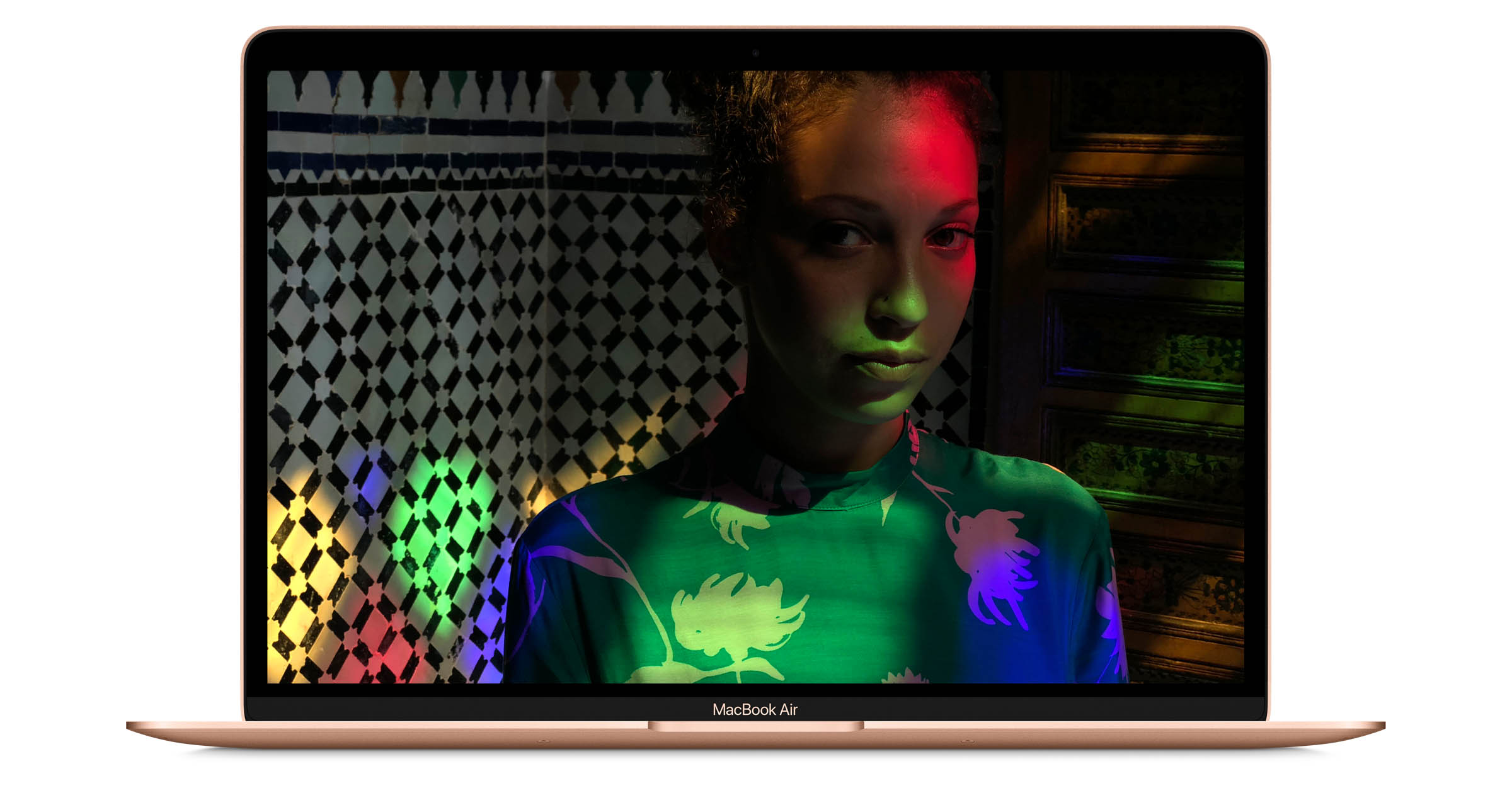 Apple also announced new MacBook Pro graphics options that will bring powerful Radeon Pro Vega graphics to MacBook Pro for the first time. These new graphics options deliver up to 60 per cent faster graphics performance for the most demanding video editing, 3D design and rendering workloads.
All new Mac models come with macOS Mojave, the latest version of the world's most advanced desktop operating system, with new features inspired by pros but designed for everyone. In macOS Mojave, Dark Mode transforms the desktop with a dramatic new look that puts the focus on your content. The new Stacks feature organises messy desktops by automatically stacking files into neat groups. Familiar iOS apps — including News, Stocks, Voice Memos and Home — are now available on Mac for the first time. FaceTime now adds support for group calling, and the Mac App Store gets a full redesign — featuring rich editorial content, and apps from top developers like Microsoft and Adobe.
Starting at a recommended retail price of $1849 inc. GST AUD, the new MacBook Air will be available at Apple Store locations and through Apple Authorised Resellers starting on Wednesday, 7th of November 2018.
[rns_reactions]