German based high end PC Gaming peripheral manufacturers; ROCCAT have unleashed an arsenal of wired and wireless mice on to the world, opting for both exquisite design and precise performance.
STG was sent a ROCCAT Leadr unit to give it a whirl around the video gaming block and test the purportedly LAG free wireless connection.
Matte black and sleek, the Leadr looks formidable from both within and out of the box. Boasting an overload of 14 customizable buttons including a X-Celerator single-axis analog thumb paddle and fin switch, perfectly placed for optimal touch when gaming without needing to fiddle around or remove your grip from the mouse.
Customization from gaming to everyday tasks can also be setup via ROCCAT's SWARM software (downloadable), here you can also change the lighting's 16.8 million colour spectrum and sequences on the mouse.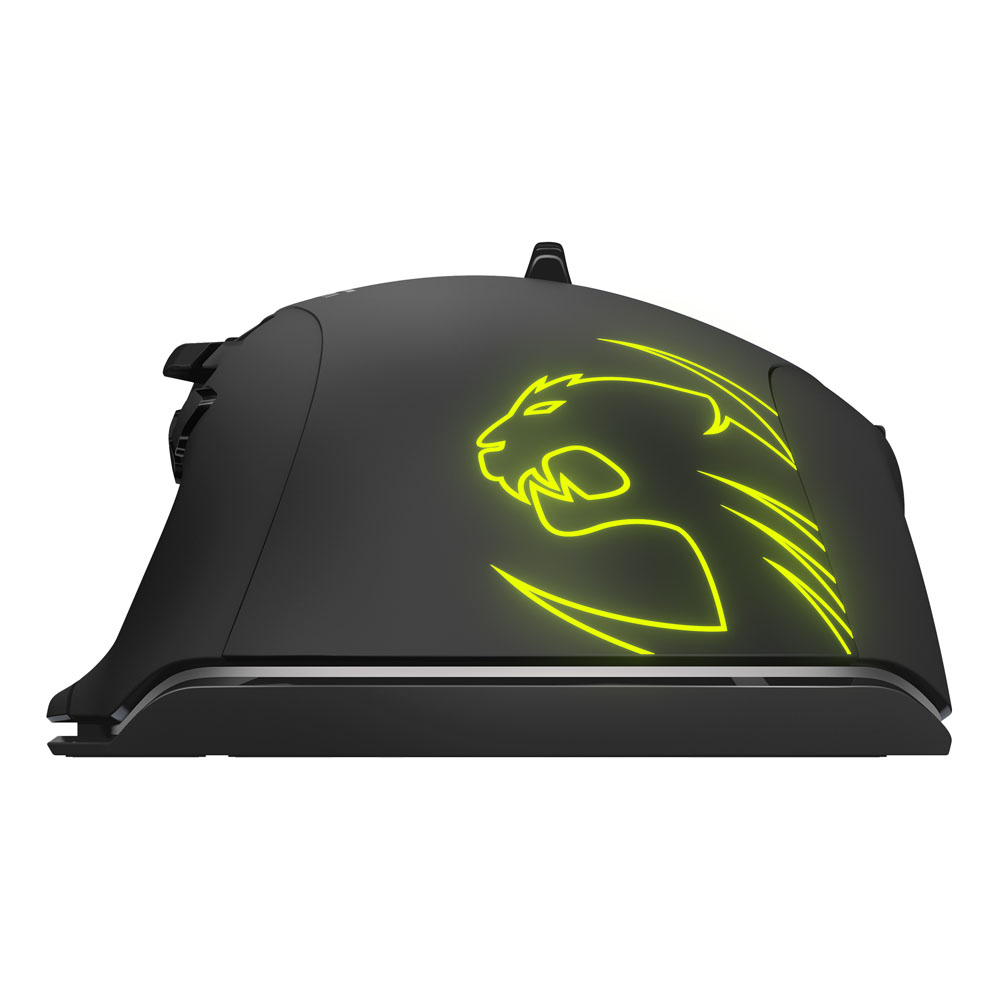 Depending on your gaming habits and what you are playing, you're probably not going to want to use all of them (or who knows, you might macro the stuffing out of the device), nonetheless the commodities are there and unless you have giant fingers you generally wont unintentionally bump them as they are evenly spread out across the mouse.
ROCCAT claim that the Leadr will offer up LAG free wireless connectivity. They have a proprietary technology that they themselves have modified and builtin to their peripheral called an Owl Eye Sensor. The usual mouse sensors in the past 15 plus years have all been optical in some form, but the Owl Eye takes this further and does it with precision at 1200 dpi. This can be configured to your liking via their Distance Control Unit (DCU) enabling adjustments from 100-dpi steps from 100 to 12000, or to your liking.
Naturally to get the best performance from the LAG free sensor you generally need to use an optimal mouse surface or gaming mouse pad to ensure that the Leadr will whiz around at your command. Being that we wanted to test out this ROCCAT Leadr we also tried it without a mouse pad and straight on to a smooth but unpolished wooden desktop.
It still performed without missing a beat. LAG free? Yes it is.
To couple this LAG free, the Leadr mouse comes with an oversized docking cradle. The cradle plugs into your PC or Laptop via USB 2.0 / 3.0 and is also the bluetooth receiver with connecting status lights (these lights also double as a charging indicator when the mouse is docked).
While large vertically the dock has a mediocre sized footprint on your desk space.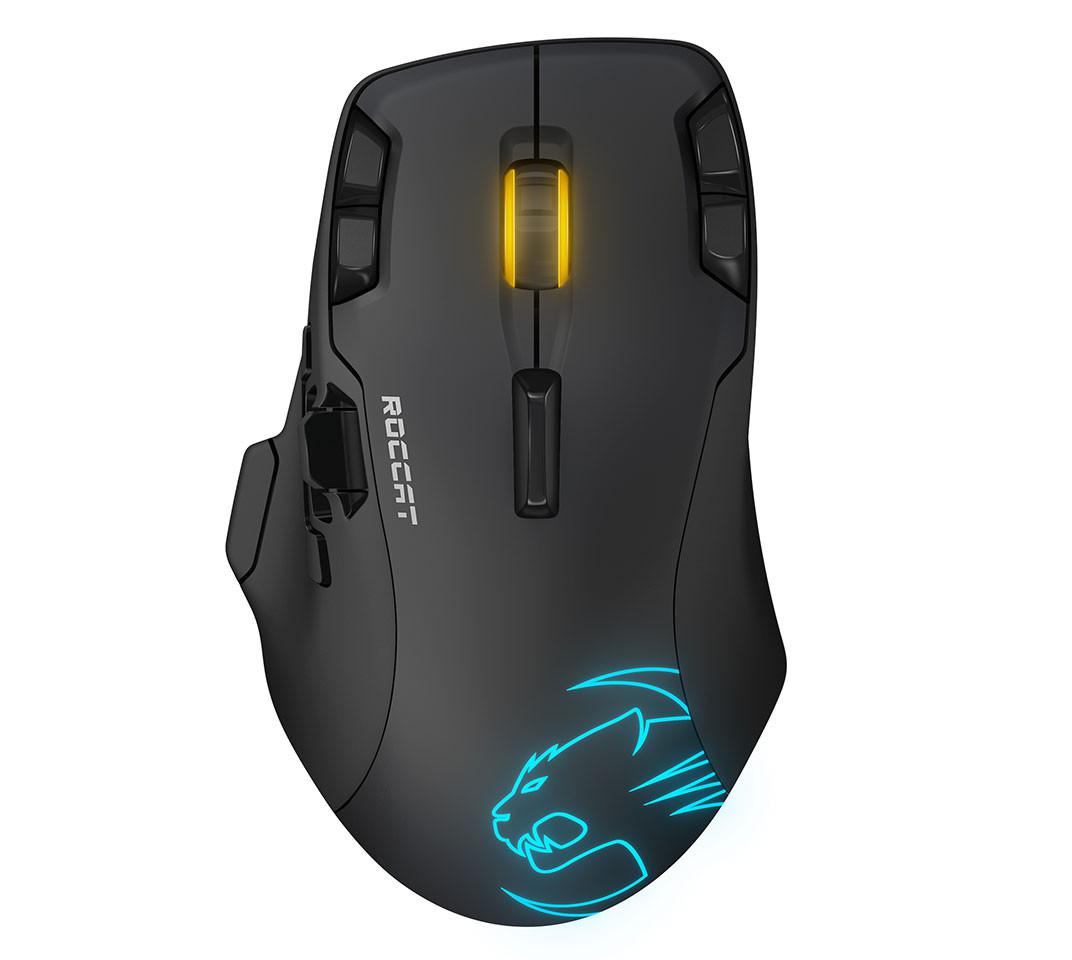 A full charge on the Leadr has seen us right for a two weeks (that's the duration that we have had with this mouse and have not charged it since it's first full charge), although ROCCAT claim it will give up to 20 hours nonstop out of a single charge, but we think that we have had more than that. You can also top up the mouse by way of using the supplied top-up cable.
The Leadr is also a powerhouse in it's own right. ROCCAT added a 32BIT processor onboard to aide in your macros and this processor, both within the mouse and the dock ensures seamless data transmission – that equates to the zero LAG.
On the underside of the Leadr there is two buttons. One to sync to the Dock receiver (the mouse will already be synced to the supplied Dock from out of the box) and an On / Off slider switch.
In our play with the peripheral we did not need to resync, ever, but we did get the occasional device freeze. Turning the mouse off and on again set things right. This occurred when left idle, off the cradle after long periods of use, but we had no issues while primarily using the mouse.
The Leadr is definitely a premium MMO mouse and does come with a premium price tag of around $299.00 (NZD) depending on the retailer.
Smooth in the hand, menacing on the battlefields, a winner for e-sports, the ROCCAT Leadr is one of the elite.
ROCCAT Leadr Gaming Mouse Review
Device Specs
Device Name: Leadr
Manufacturer: ROCCAT
Chipset: 72MHz ARM Cortex-M0 32 BIT Processor
DPI: Optimised for 12000
Onboard Buttons: 14
Customization: via SWARM Software or Gameplay
Wireless: Bluetooth @ 2.4GHz
Battery: Rechargeable - 20 hours use on full charge
Price: Under $500.00</p