On the go or at home, gaming on your mobile is something everyone does, even if they do not see themselves as gamers.
From the casual puzzler through to the more intense action / adventure over to competitive eSports, for over a decade, serious gameplay on our smart devices is a way of life.
As we carry our own personal library of digital goodness on our smartphones, able to do a quick pick up and play where ever we are, there is one small set back… controls on a touchscreen.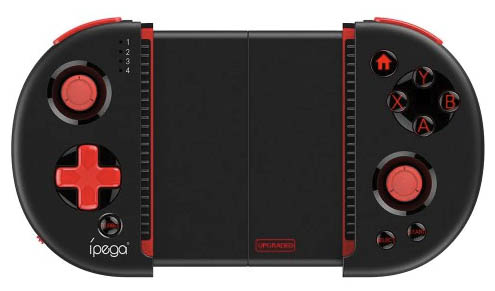 Sure not all games on mobiles require you to have extra fingers, some are super simple to play and control via touch – but the more serious ones, there can be a wealth of buttons creating a complicated and crowded HUD in your view.
Plus there is the lack of tactile feel as your fingers tend to slip across the screen or in the heat of battle the touch screen doesn't register a button tap. It's annoying and it happens to all of us.
But what if you can carry an accessory in your pocket that alleviates these problems?
iPega have produced the Red Knight Retractable Bluetooth Gamepad for both iPhone and Android phones.
Coming in at around 3 inches when not retracted the sliding mechanism is solid and will extend to fit a phone at around 6 inches.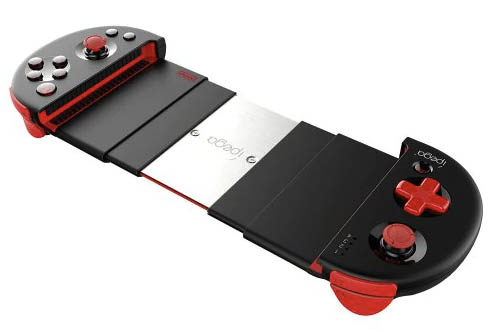 Using your Bluetooth setup, the gamepad is recognised when in pairing mode and your device will connect to it straight away.
Rechargeable and illuminated (for night time gaming) the iPega Red Knight Bluetooth Retractable Gamepad will automatically work with most RPG, Action and Adventure titles from the App Store or Google Play.
For emulators – there may need to be a set up within the emulation software to button map.
Having two joysticks, a D-Pad (excellent for older emulators of older games), a quad of A, B, X, Y buttons and a few others that can be set up as a Start or Mode iPega have planned the Red Knight to be a one stop for all games.

There are shoulder buttons too, especially handy for FPS titles.
The Red Knight Gamepad performed well on Fornite and PUBG, I did experience some trouble initially with mapping buttons on a couple of emulators – but eventually with a bit of perseverance the controller got there.
The battery life on the Red Knight is astounding.
Using for around 2 hours per day over a week, it did not need a recharge – at all. Now two and a bit weeks in it's still going and hasn't died.
When I first received the Red Knight Gamepad from GearBest it was totally dead. A full charge up took around an hour.
Currently retailing under $25 – the iPega Red Knight Retractable Gamepad is a more than affordable must-have for the more serious mobile gamers.
Red Knight Bluetooth Mobile Gamepad Review