Logitech have had it going since the early 80's. Once the dominant force in PC (and console) gaming peripherals Logitech expanded greatly in to personal audio (best known audo product range being the highly regarded UE series of headphones and the UE Boom).
Now, the G Series of gaming keyboards and mice has launched in New Zealand and Australia to accompany that super fine RIG you already game on.
Logitech New Zealand sent Shane the Gamer (StG) their top shelf Orion Spectrum G910 Mechanical Keyboard.
So, the first thing that you will notice as soon as you plug in one of these beauties is the vivid 16.8 Million colour RGB lighting as it creates a rainbow like wave across the keys. It's beautiful and given the time of year it is right now, very festive.
But you will soon realise, rather quickly that there is a whole lot more to the G910 than just pretty blinky lights.
To the far left and top left of the keyboard are 'G' Buttons. These are totally customisable. Map these to any function in a game (or application or PC App). Given that there is nine of these keys, if you used these fully within any RPG title you will find yourself more efficient in equipping than you ever believed that you could be.
The infamous and mandatory WASD keys are accented for you already – but there's more to know about how you can tailor those keys. Within the RGB lighting function you can make any individual key a specific colour. So in this sense you could have your entire keyboard one colour but have your most used keys a differing colour to make it super specific and easier for dark time game play.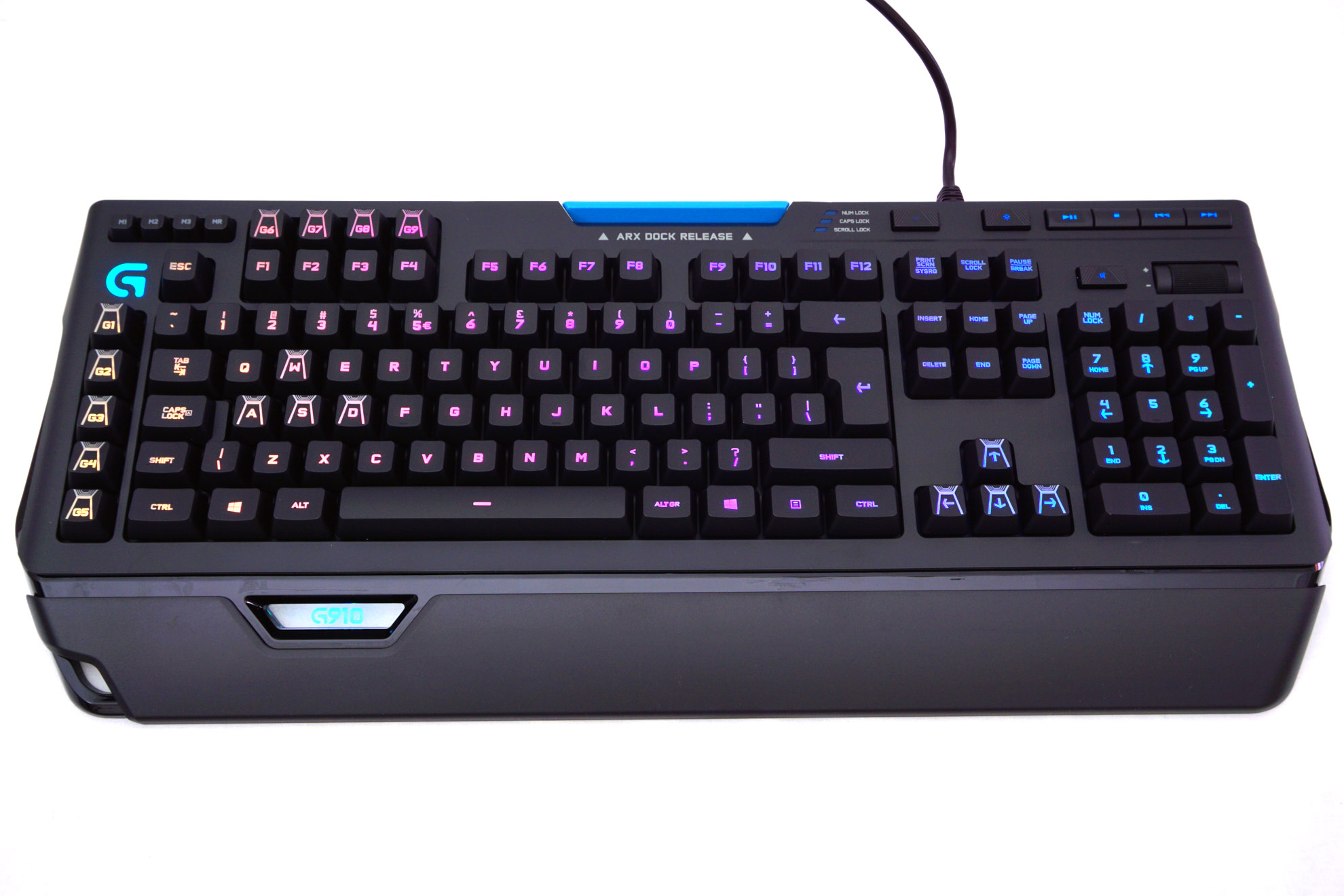 Further to these G keys and the individual light mapping you can also create various Profiles. These are handled by the M1 to M3 keys.
If you are a PC Gamer who deviates a little with games, let's say you burn rubber in a racer simulator one day and next you're a RPG Assassin or Dungeon Crawler, then Logitech have your back. Set up individual G keys and lighting under the three M keys and when you switch games, switch your M Profile. Too easy.
The keyboard itself is solid, built from a very robust plastic and every key has a strong feedback to it with their ROMA-G mechanical switches.
Setting up the keyboard is super easy too. At StG we are using Windows 10 Pro, and for us it was really a case of plugging in the single USB. Windows detected straight away and we were good to go. I do recommend however, going to the Logitech site and check for any latest Firmware.
If your operating system does not prompt you, you will also need to download the Logitech Gaming software and if you like, the optional Over Wolf application.
The Logitech Gaming Software is what you will use to program your G910. There is even an option in there to have some of your lighting options automated by way of allowing the game to manipulate the RGB.
Over Wolf is an optional download and install which purports to prohibit any key drops and key lag. So for the just incase, it's handy to have, providing that your game is supported.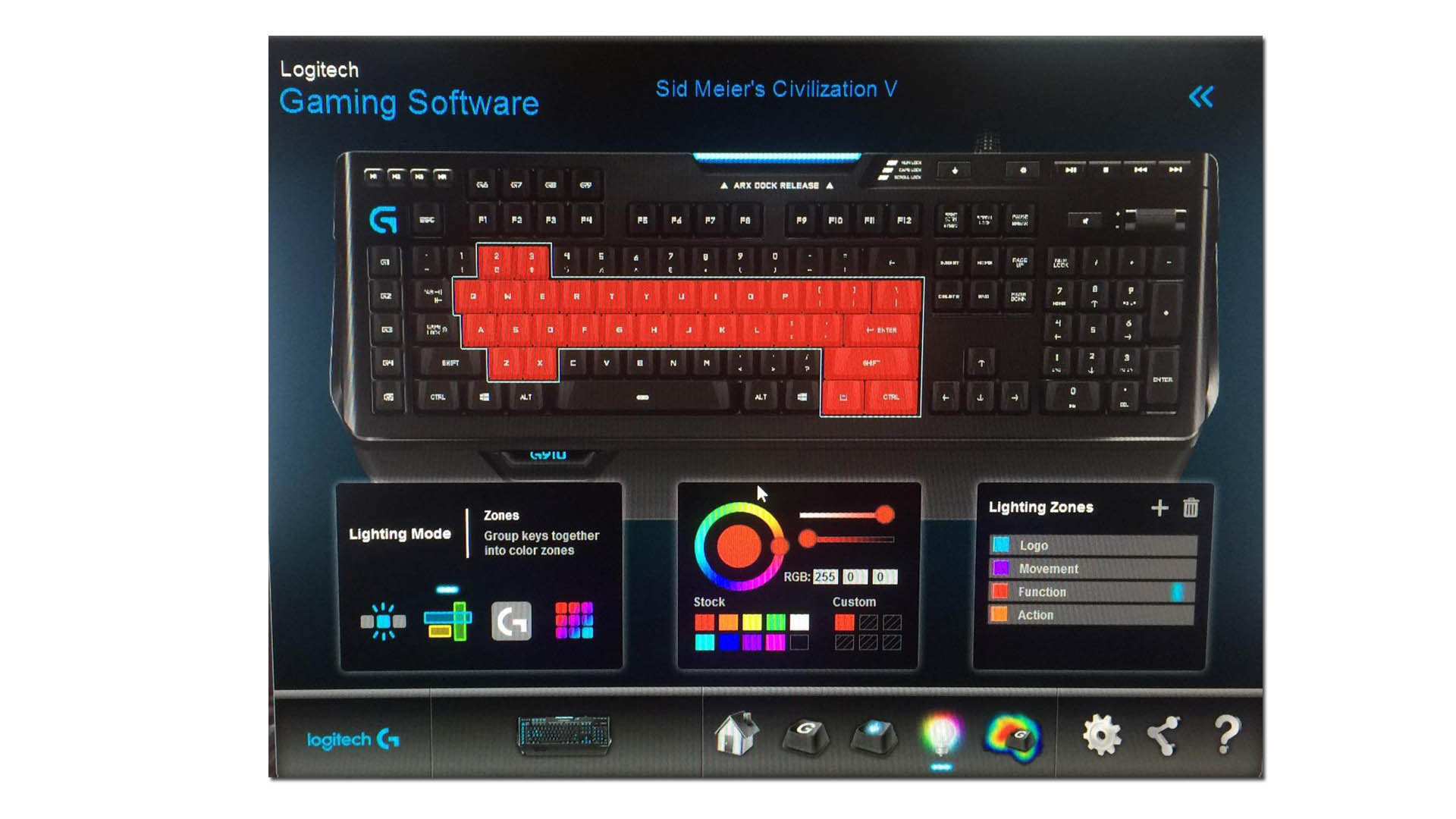 There's one more thing on the G910 – the ARX dock. What is this? We didn't know at first either and correctly assumed that it is a smart device dock. It is.
Downloading the G Series App on to your smart device will connect your smart device via your home or business WiFi to your PC and list all of the games you have, aswell as the all important stats and more. This is likened to a quick pick function for your games library.
You mount your smart device into the keyboard's ARX Dock and it is simply like having a smaller utility screen. Now one small oversight here could have been the addition of making the ARX Dock also smart device chargeable. In saying that I can also see why it isn't. Being chargeable the G910 would naturally need two USB plugs for the secondary power source, and unless the Dock was able to be swapped out, one charger dock does not facilitate all smart devices' charging ports.
So I casually mention it as a would have been nice to have.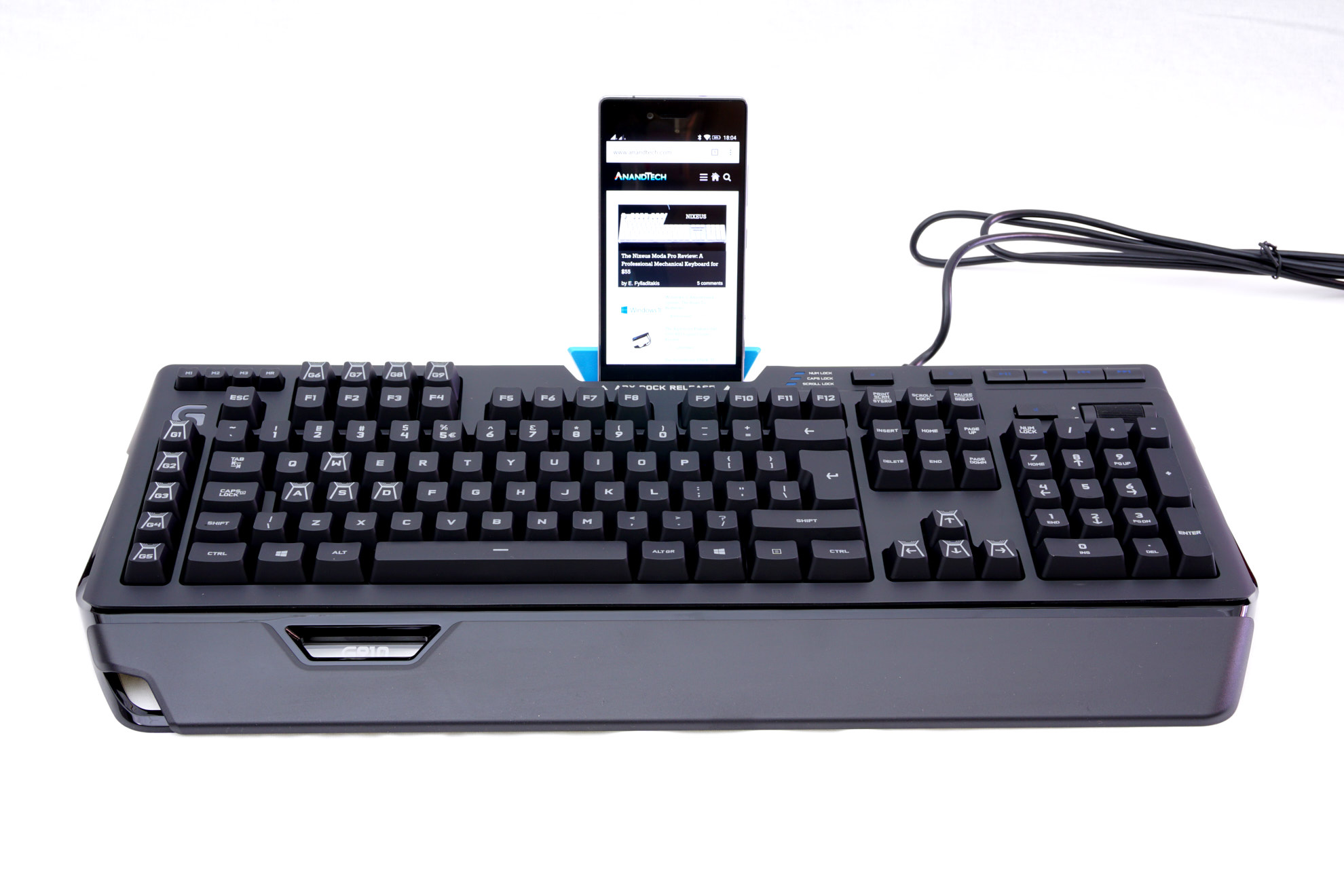 The footprint of the keyboard is not insane either. As gamers at StG we have come across keyboards that do less but are chunkier and wider. The Orion Spectrum G910 is only 210.0 mm high, 505 mm wide and has a depth of 34.3 mm.
Logitech's Orion Spectrum G910 is THE gaming keyboard of 2016 in my opinion. If a true PC Gamer was to design their own mechanical keyboard, this would be a close match.
Being that it is the top shelf model (there are other Logitech mechanical keyboards that have lesser functions) it is an investment as far as your gaming budget goes, priced at $299.00 (NZD). But if you already have a killer RIG in your games cave, then the G910 is an absolute weapon you require in your arsenal.
Totally mechanical perfection.
Keep StG Independent and (mostly) Advertising Free with a Donation
Logitech Orion Spectrum G910 Mechanical Gaming Keyboard Review