PC Gaming, you need the correct arsenal to be at your best.
And for those that are hardcore, they know that even though their finely honed skills and superhero like reflexes with their keyboard and mouse are only as good as their hardware.
From the components in their RIG or gaming laptop, through to the responsiveness and reliability of their peripherals. And to really get in to the zone, you also need lighting. vivid and deep RGB lighting.
E-Blue, a PC peripheral manufacturer with both PC Gaming and esports products hail from Asia but have made their mark throughout the U.S. and Canada and now, they are set to dominate downunder.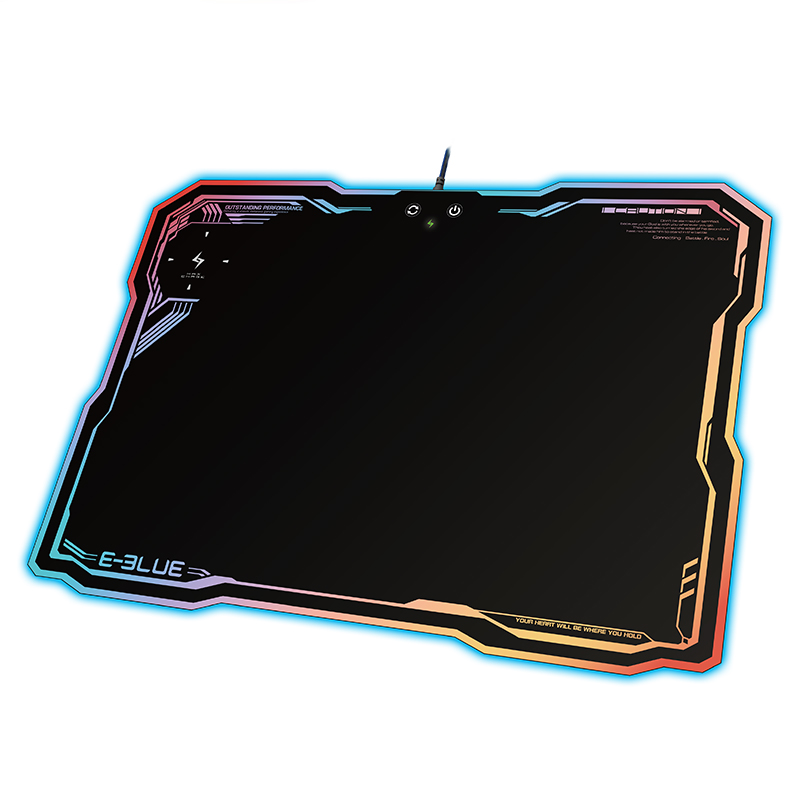 E-Blue and their New Zealand partner Play Distribution provided STG with some of their latest gaming gear, one of those being an RGB illuminated hard mousepad – with a difference.
The EMP013 pleasingly hugs the desk surface with it's rubber base, effortlessly allows the mouse to glide on its traction rich surface and has a few illuminated RGB presets. There is no additional software required for the EMP013. This does mean that you cannot customize it to your liking and you are stuck with the 9 presets. But this is not a bad thing at all.
It's wide footprint wont do too well on a smaller desk, admittedly, but bigger is always better. And we have all been there, playing a fierce bout on a MMORPG or FPS and your mouse runs out of mousepad as you slide it about.
Doned with mech like graphics (and weird phrases), the EMP013 is also a wireless smartdevice charger.
Yup. If your smartphone or tablet supports wireless charging, this mousepad will trickle charge it back to life.
Remember esports is not just PC. With many free-to-play Apps on both Apple store and Google Play that are MMO's or online RPGS and more esports has a foothold for mobile devices. E-Blue know this, and have catered to both the PC and Mobile streamers and online gamers, ensuring that your smartdevice never runs out of juice.
In my test of it, it was only able to wirelessly charge a Samsung Galaxy S9, Note8 and iPhone X / 8 aswell as iPad Mini 4.
So, if you own a wireless charge capable – you are in for the win with the multifunctional EMP013 mousepad.
Even more amazingly is that the mousepad connects via USB 2.0, is low voltage yet manages to lightup like it's more expensive competitors and charge select smartdevices all through a singular micro USB connector that plugs in to the top of the pad. There's is also a spare USB 2.0 port to plug in a keyboard or mouse.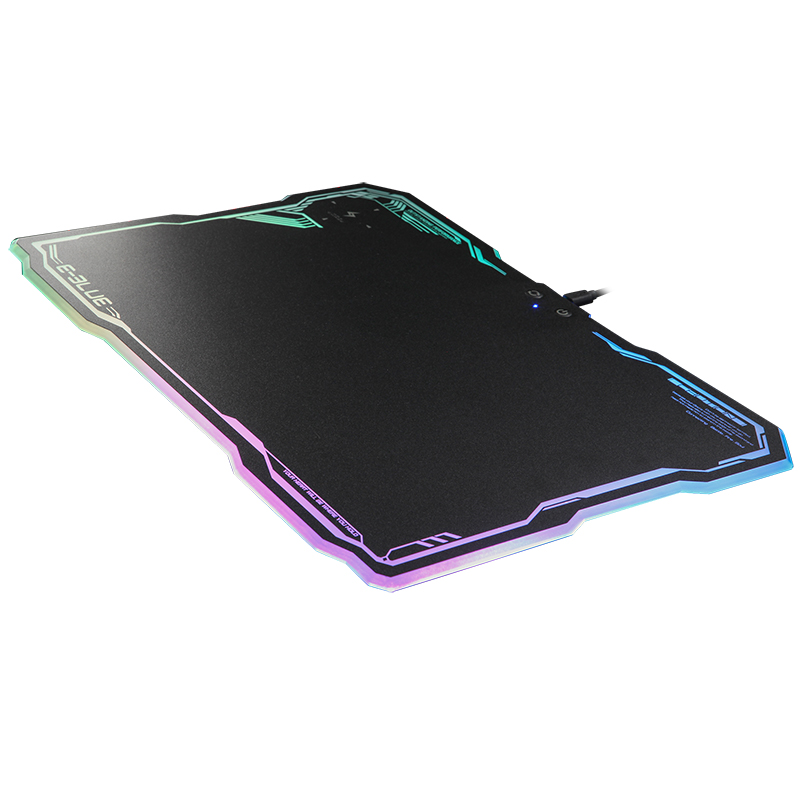 Also near the top you will find the power button – handy if this pad is plugged into a gaming laptop (saves your laptop battery) and the aforementioned RGB illumination preset soft button. Powering the EMP013 off allows you to still wirelessly charge.
Unlike it's current market rivals the E-Blue EMP013 is not going to break the bank priced at around $40 – $70 depending on your country / region.
If you are that hardcore PC gamer or Mobile esports champ the E-Blue EMP013 is a must have weapon of choice.
[Adsense-C]
e-Blue EMP013 Mousepad Review