UPDATED – An Octopus, a spoon, some rope and pulleys, a spatula and a whole heap of physics just to make yourself a coffee? Rube Goldberg's cartoons would depict crazy inventions that took a simple task and made it convoluted and very entertaining.
Proving there are a multitude of ways in which to perform one task.
These cartoons from the 1920's to 1940's were the perfect basis for an Official Rube Goldberg puzzler game on iOS; Rube Works.
Game play ushers you in gently with the first Level of the current nine on offer, where you are tasked with making a cup of Orange Juice.
There is a tutorial where you will get to grips with both game mechanics and objects available to use in the lower screen Menu.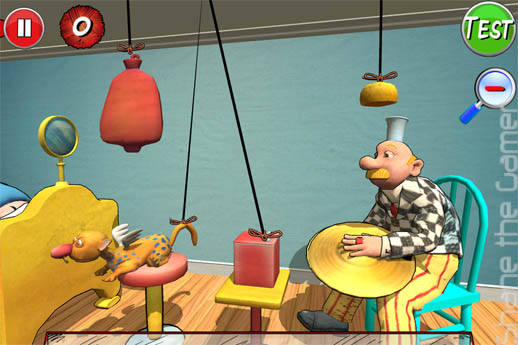 Basically, you are kitted out with a series of items from string to oddly named creatures and more. Using the environment within the Level and a drag and drop style, you will need to figure out how to complete a simple task that is set before you.
Simple? Well, no not really.
Your items are limited, and it's a case of figuring out the best use for them, and from what I could tell, there is only one correct answer, but a multitude of ways to complete the task.
At the conclusion of the Level you are awarded a Gold Prune. If you have done it perfectly you will receive up to a maximum of three. You will also, usually unlock a Rube Goldberg cartoon and a series of Achievements.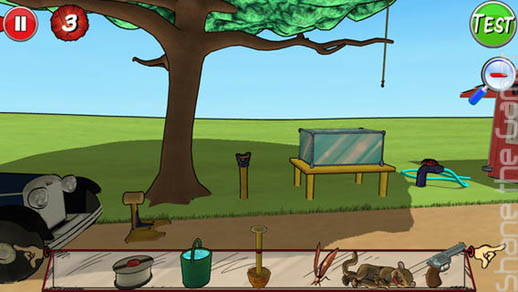 Produced by Electric Eggplant and the Heirs of Rube Goldberg, developed by Kalani Games, and published by Unity Games Rube Works is the perfect sit down and quick play game either on your iPhone or iPad (releasing soon to Android).
Puzzles get trickier as you progress, and you will really find your brain sweating with a few of them.
Rube Works the Official Rube Goldberg App is a clear winner. Graphically detailed whilst retaining simplicity.
Adapting 2D cartoons into a 3D space and very rewarding when you solve each of the puzzles.
A game you will want to complete.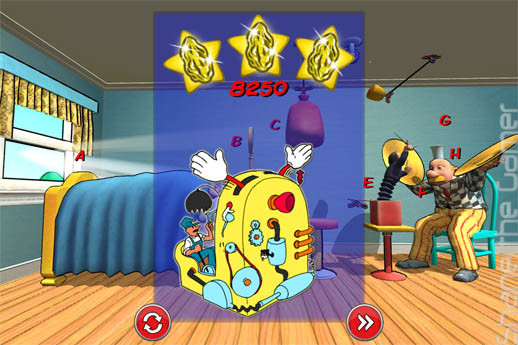 * You can read our Interview with the Rube Works team here.
* Get the App here.

*UPDATE: Rube Works has just released on Steam this week for Windows, Mac and Linux.