Almost hot off the release of it's predecessor Rayman Origins which released a little over a year ago, Ubisoft have treated us with another take on the must have fast paced, musical sidescroller.
As we saw with Origins the bright cartoony visage makes a comeback and at first glance it would almost seem that it is this game disc that you just put on in your console or loaded up on your PC.
However this is where the comparisons stop. Almost.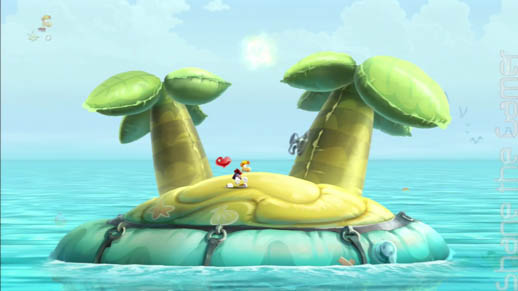 Set after 100 years from the previous game, Rayman and his pals are re-awoken to once again save as many Teensies as possible from evil factions.
The richly detailed 2D side scroll gameplay sees Rayman go up against both environmental hazards and familiar foes, with approximately 10 Teensies to save in each world.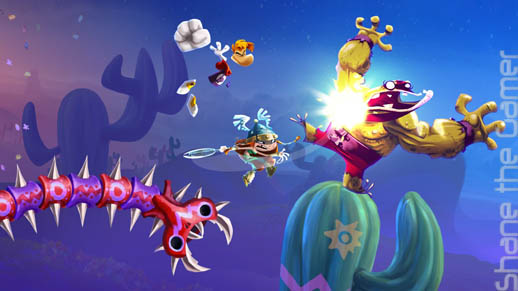 Some Levels are solely dedicated to Globox. On Wii U (which also uses the Touch controller extensively) and Vita these have an added difficulty factor, as the game will take over the controlling of Globox for the most part and you control the twitchy, airborne Murphy to switch switches, move platforms and, er, tickle enemies.
The Levels are stylized as Paintings, and within the select arena, there are many different areas.
Asides from the differing Levels on offer which are all themed off well known classics such as Moby Dick, Jack & the Beanstalk and so on and even an entire area dedicated to the Día de Muertos (Mexican Day of the Dead).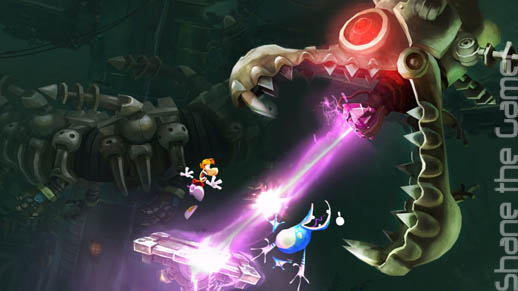 Lums are still the collectables, and you want these.
The more of these that you collect (and the more Teensies that you save), the ore Levels open up for you.
Gathering enough Lums in each Level also rewards with varying Cups, Bronze, Silver and Gold. Get Gold and usually you've done a perfect game.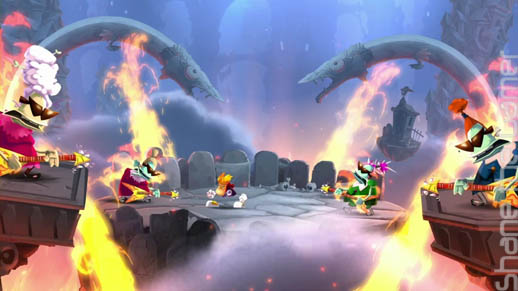 Between the Silver and Gold Cups is the Lucky Ticket. If you have enough Lums, you will earn one of these.
Scratch it (on Wii U and Vita it is touch control) and win a Prize.
Lucky Ticket Prizes can be a Creature (these go into an Inventory of sorts, located in a special room and they produce Lums for you), extra Lums or, even cooler, you can win Levels of the original Origins game.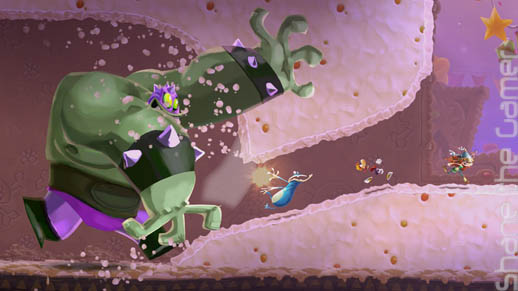 All characters make their respective comebacks, and additional variations of characters can be unlocked by entering specified Paintings and rescuing them.
You can switch characters within the Heroes Room.
The longevity and playability of Rayman Legends is exactly that of its predecessor. One of those games that you cannot put down.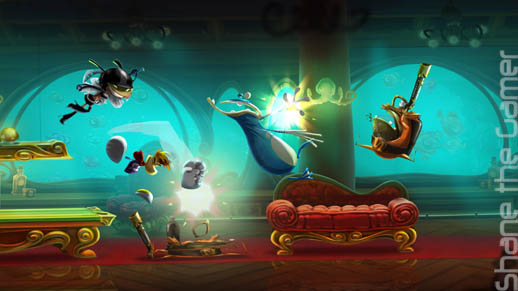 A game that even though you may have completed it, you'll go back for more, time and time again.
There is also multiplayer, both offline and online, with Global Daily Challenges and the ability to host a game yourself.
It's interesting to have watched the development of Rayman over the past decade.
First having appeared on the SEGA Saturn then at a later point on the PSOne, the no limbed Fraggle Rock look-alike character has stayed true over the years to the very original 1996 title.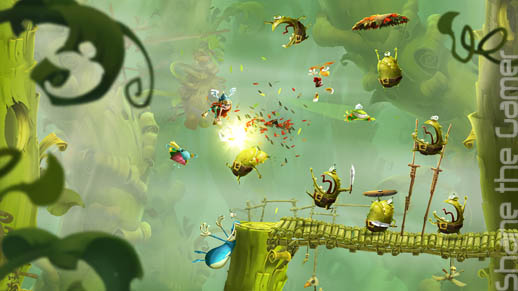 After brandishing a sequel to Rayman and a few spin offs, such as the short lived playable Rayman Rush, Ubisoft made the right decision to reinvent the franchise by going retro-ish and turning it into a 2D side scroll.
Ironically this set it back to it's original formula of the very first Rayman, before the series went 3D semi free-roam.
This not only saved Rayman – but also in my opinion saved the series from becoming just another platformer.
It's made Rayman unique, in a class and genre almost of it's own. Rayman Legends, you'll get a lot of mileage out of it and it's a game that keeps on giving.
[jwplayer player="1″ mediaid="5073″]