It doesn't take an expert in the field of gaming PC hardware to realise that the R.A.T 7 mouse is one serious piece of hardware –it looks like something Optimus Prime might be trying to prevent Megatron from getting his hands on – with a sweet cherry red finish.
I've used a few different gaming mouse varieties in my tenure as a gamer, but the R.A.T 7 could legitimately be the most impressive. Whereas many gaming mouses are designed to look as sleek as possible, without offering much in the way of ergonomic freedom, the R.A.T 7 is definitely a creature of function, with everything sort of jutting out at weird angles, designed solely to give you as much freedom to modify as possible. I've been using this thing for a few weeks now, and I still can't help but feel I've barely scratched the surface.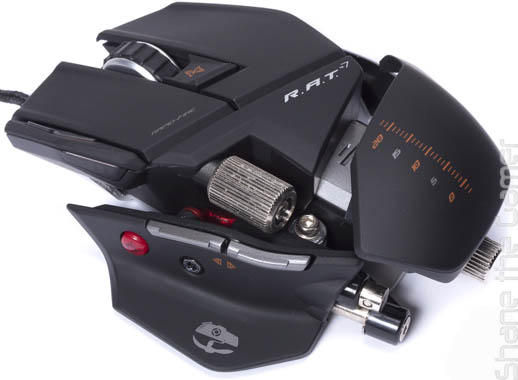 Out of the box, the R.A.T 7 begs to be modified to fit your gaming whims. The weight of the mouse is controlled by adding or removing a number of tiny weights in the body of the mouse, allowing you to make the R.A.T 7 heavier or lighter depending on your style of play. You can alter how far the thumb rest of the left hand side of the mouse juts out. You can also effectively lengthen or shorten the main body of the mouse buy sliding the palm rest back and forth, and even replace the stock standard matte rest with a rubberized one, to give that little bit extra grip for gaming marathons.
And the best part, especially for someone as hardware ignorant as me, is that adjusting these settings won't require a degree in applied electrical engineering – just a basic understanding of motor functions. It's about as easy to assemble as a Lego kit, and equally as satisfying.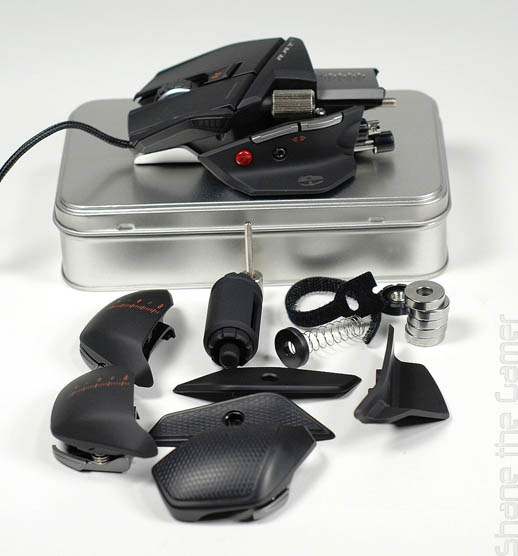 Using the mouse is reasonably standard, having all the bells and whistles you'd expect a high-end product like the R.A.T 7 to have – and it performs every function pretty much flawless. The centre of the mouse has your standard left and right clickers, as well as you're up and down scroll wheel, and a central DPI button, which you can click forward or backwards to increase or decrease the DPI of the mouse on the fly – which can be especially handy if you're going back and forth between a number of games, or game modes, or weapons. The left of the mouse has your common place page back/page forward buttons which are always useful, as well as something a little less common: a precision aim button.
This is a button that, while compressed, drops the DPI of the mouse, allowing players in FPS to slow down the mouse for a split second to line up a shot (I found myself using it with sniper rifles in Metro) before jumping back to full DPI to rush out of the action – a very cool feature indeed. There's also a button, tucked away in the top right corner of the mouse so as to be accessible but not bumped accidentally, that switches between up to three saved 'modes' of the mouse – modes can be adjusted, customized and saved via the very straight-forward software the mouse comes with. You can also use this software to set up your own macros, which are by no means difficult to set-up. A 6400 max DPI, the R.A.T 7 is flawlessly responsive – you couldn't really ask for a more faultless beast to tackle your games with.
The level of customization on offer with this mouse is so intense it can almost be a little bit too much. If you're upgrading from an existing mouse, and you have a pretty good idea of the size and layout you're used to, it can take a while to tinker back and forth before you get to exactly where you want it to be. The time invested is well worth it, mind you, because when you finally get the R.A.T. 7 exactly where you want it, you're looking at a pretty incredible product, individually customized to best fit your hand and the way you game.
If you're a serious PC gamer (especially FPS), I'd heavily recommend checking out the R.A.T 7. This is the kind of mouse you want to be gaming with.