The Nacelle Company, the people behind Netflix's The Movies That Made Us, The Toys That Made Us, Down To Earth with Zac Efron and Behind The Attraction for Disney+ have announced they're publishing the definitive edition of Brian Heiler's Rack Toys.
Brian Heiler's 2012 book, Rack Toys is a love-letter to the fun toys that broke really easy.
Chronicling decades of cheaply made toys found on the rack of discount stores, drug stores and anywhere in-between, what these toys lacked in quality, they made up for in charm and kitsch.
A beautiful and comprehensive (and updated!) account of all these weird and wonderful toys and where they came from, with new afterwards by Brian Volk-Weiss.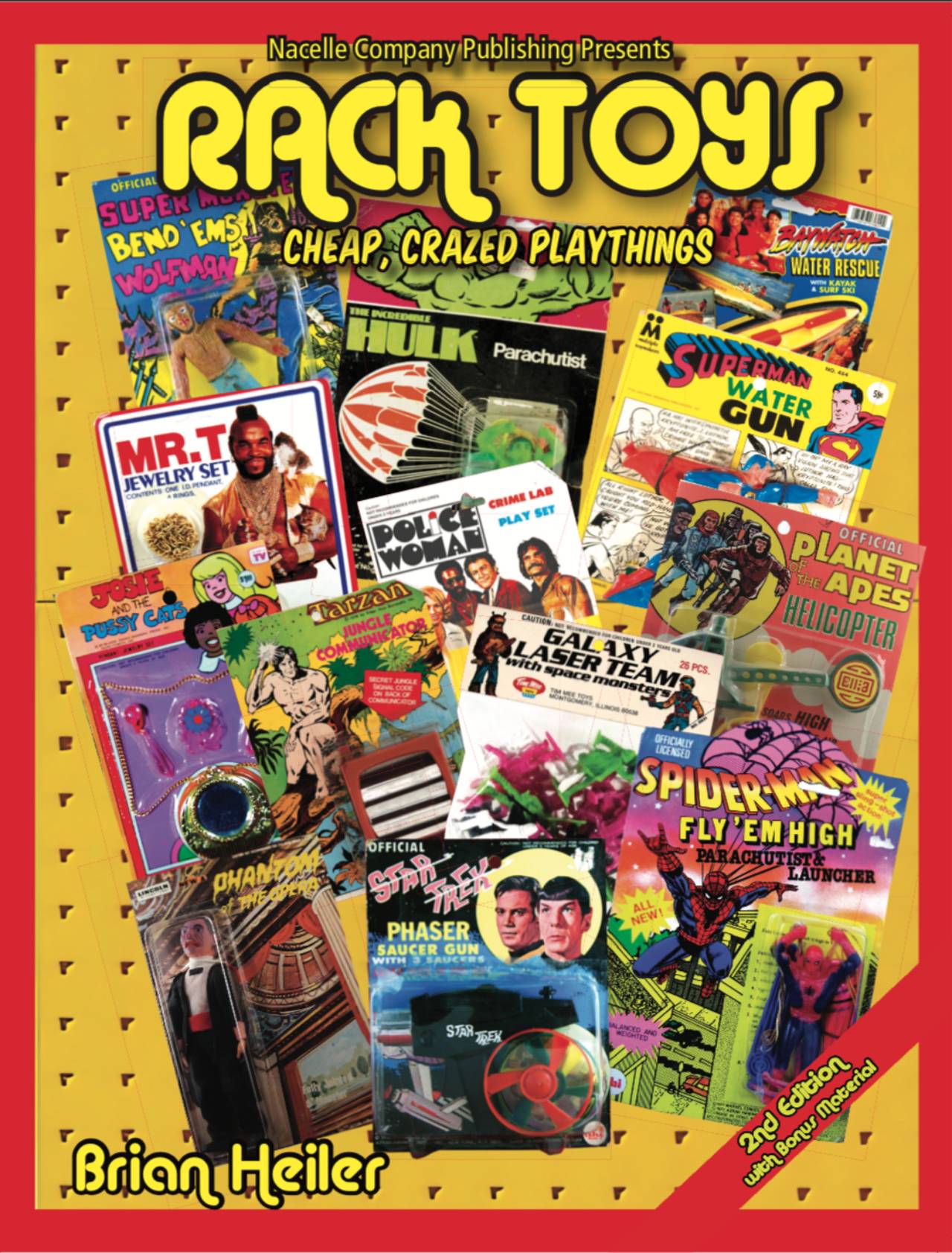 If you're asking yourself "What are rack toys?", glad you asked!
They're colorfully packaged toys hanging from your pharmacists' or grocer's shelves, designed to entice you while you sit in your parent's shopping cart.
Often terribly made, these strange playthings were low priced enough to wear down even the most frugal adult and were most likely forgotten or broken by the time you left the parking lot. Rack Toys is a lesson that re-purposed illogically licensed toys were not always meant to be remembered.
This new definitive edition of the popular collector's book includes expanded chapters and even deeper dives into the world of Comic Action Heroes, TV & Movie Superstars, Saturday Morning, Spooky Fun Page, World Famous Super Monsters, Mighty Crusaders, Sonic Woman, Space Master and much more. Even the nostalgic Santa Putty makes an appearance! Fans can enjoy over 30% new information and material in this Nacelle Company approved definitive edition of Brian Heiler's Rack Toys.
As a freelance pop culture writer and photographer, Brian Heiler and his work have been featured in Toy Shop, Lee's Action Figure News, Toyfare Magazine, Famous Monsters of Filmland and Model & Collector Mart. His website, PlaidStallions is a repository for his childhood obsessions including toys, 70s clothing, superheroes making mall appearances and pictures of long defunct toy retailers.
Brian is a brand manager for MapArt publishing, who resides outside of Toronto with two wonderful children, an all too understanding wife and more stuff than he probably should have.
"I am very grateful and excited that Nacelle reached out to me about producing this new edition of Rack Toys. The book was a love letter to my childhood and to find that it resonated with the folks at such an awesome company was especially validating," said Brian Heiler.
"I've been buying Rack Toys Becket General Store since I was 5 years old, and to be able to publish a book about one of my favorite pastimes feels almost too good to be true," said Brian Volk-Weiss, Founder and CEO of The Nacelle Company.
The definitive edition of Brian Heiler's Rack Toys, will release through their new publishing department on September 10, 2021.