At the dusk of its life, the Nintendo 3DS family is going out with a bang.
Just the last year has included Super Mario Maker, Ever Oasis, Metroid: Samus Returns and now Mario & Luigi: Superstar Saga + Bowser's Minions. Even though I loved my Game Boy Advance I never got to try Superstar Saga in its original form on that console so I was excited to try this new remake. A serviceable remake of a fantastic original role-playing game, it's updates include a more questionable addition that can thankfully be ignored.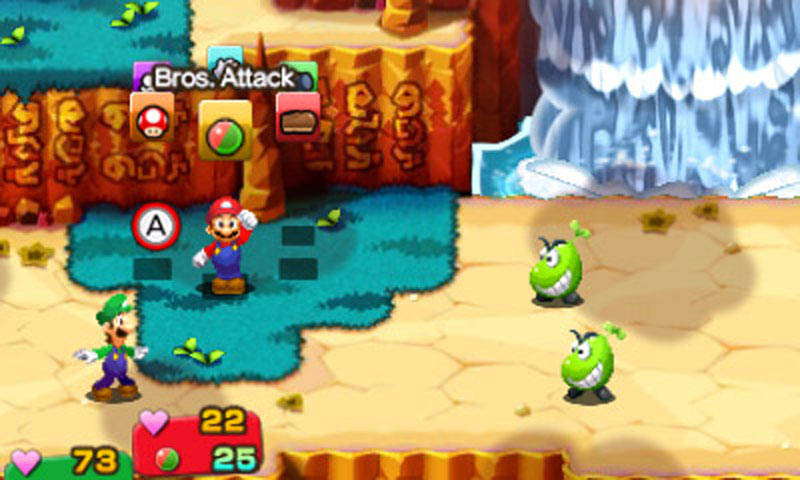 Superstars Saga starts out like any other Mario title – with Princess Peach in trouble. Peach's voice has been stolen and Mario, Luigi and Bowser (who doesn't want any other baddie getting the glory of kidnapping Peach) set off after the culprits. The original writing and translation work is exemplar, with a quirky sense of humour that often left a wry smile on my face.
The unlikely trio's journey leads them to the bean kingdom, which apparently borders the Mushroom kingdom to the west. Once there, Mario and Luigi explore the overworld (controlling Mario with A and Luigi with B) and battle monsters that live in it. Battles take place on their own screen, similar to Final Fantasy or other JRPGs.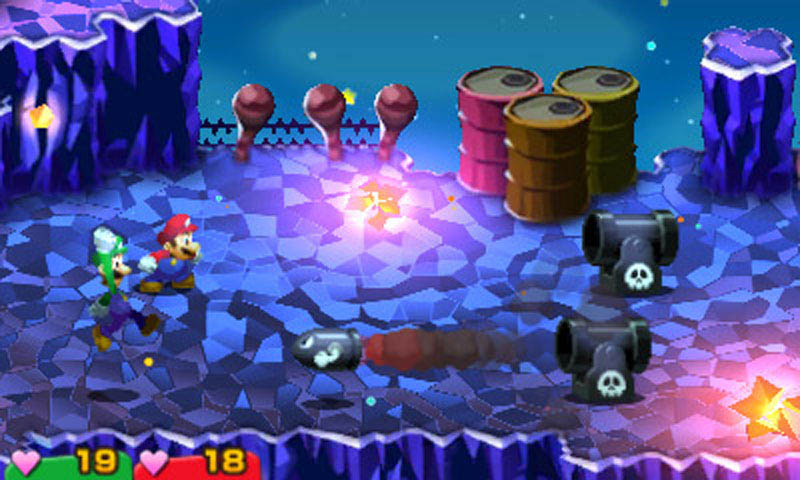 Combat focuses heavily on timing, from the basic jump where you can double the damage if you press your character's button at the right time to more complex attacks, counter-attacks and dodges. Button-press timing is very particular, and getting your timing wrong can be devastating. You must learn the weaknesses of your enemy through experimentation, and it reminded me a lot of Persona's combat. If you get the flow right, you might not take any damage at all in a battle, but mess it up and you could be on the ropes for some serious damage. This took awhile to get used to. After about four hours something clicked though and I was able to get my button presses right, but there was definitely a struggle at the beginning. There are also special moves called Bros. Moves – where you time multiple button presses in a row for extra damage in combat.
These can be quite stylish when pulled off correctly, which is much harder than it sounds.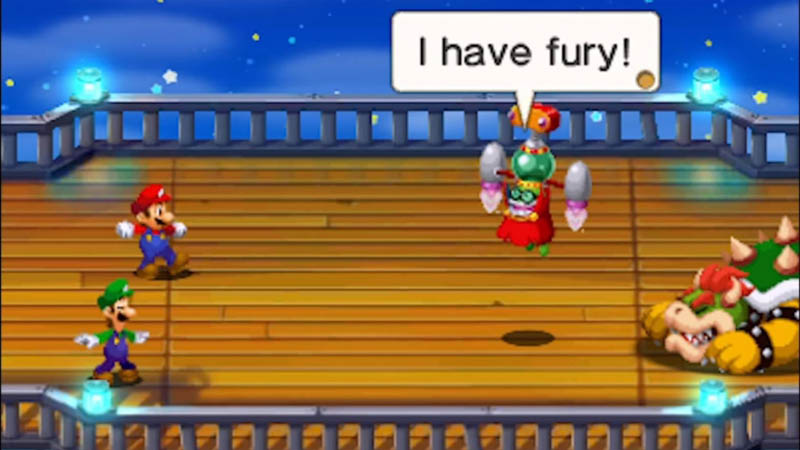 Progressing through the overworld is rarely as simple as move and jump. You'll need to harness a variety of abilities such as a whirlwind, hammer smash and an extra-high jump to access new areas and solve simple environmental puzzles. Puzzles are generally of a high quality though there's one bad escort mission where you must keep Princess Peach on the screen with you at all times, otherwise she'd be immediately kidnapped. While this is a somewhat humorous commentary of the incredulity of mario games' narratives, it was incredibly frustrating. In so many ways game design has moved forward since Superstar Saga was originally released, and it shows in some small parts of the game.
The graphics have been nicely revamped from the original Game Boy Advance presentation, though to be truthful I would have been just fine with transporting the original pixel art onto the higher resolution 3DS screen. Speaking of, unfortunately there's no 3D support at all from what I could see – I feel that Superstar Saga would have benefited from the increased sense of depth perception that the 3DS's 3D functionality provides. But now that Nintendo's preference is clearly 2D (see New Nintendo 2DS XL) I can't say I'm surprised to see 3D's absence.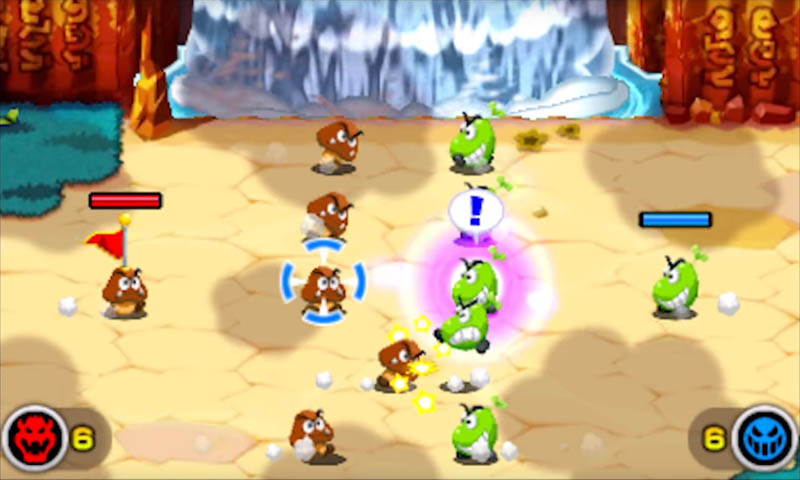 In addition to Superstars Saga, Nintendo have included a brand new game called Bowser's Minions. It can be accessed after about 3 hours of gameplay, but after that you can switch between each mode freely. This mode, which is really a whole new game separate from Superstars Saga, features fairly hands-off battles. You are the somewhat dim-witted Captain Goomba, determined to rescue your hapless Lord Bowser. To get to him you set up battles between Bowser's minions and inhabitants of the bean kingdom and let them play out, intervening occasionally to prevent a special attack or boost your own side. While setting up the battle – selecting your team, examining your captain's calls and putting them into formation – was interesting, actually watching the battles unfold was for lack of a better word, boring. There's not too much to do except hope you chose correctly and see the results.
While Bowsers Minions is inoffensive, I can't imagine anyone becoming particularly invested in this mode. Thankfully, it can safely be ignored and you don't really ever have to play it if you don't want to. There's support for the new amiibo released alongside this game but unfortunately I wasn't able to test this.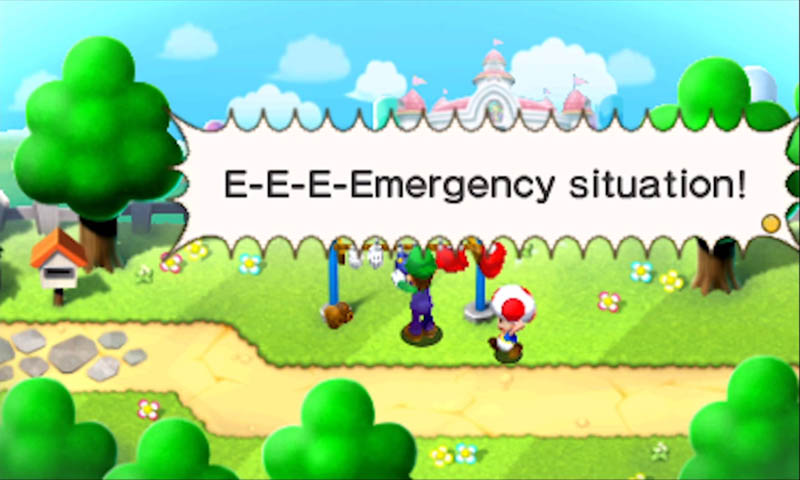 Mario & Luigi: Superstars Saga + Bowser's Minions was a bit of a surprise game for me. While initially it didn't leave a strong impression, it was strangely compelling. I found myself looking for little moments to get some time with the game – explore a few more areas here, win a couple of battles there – much to my surprise. Once you become familiar with the rhythm and timings of combat in particular, Superstars Saga really opens up. It is mechanically complex though, and the extremely tight timings might not suit young children or those not able to react as quickly as the game demands.
Though the Switch is here the Nintendo 3DS still has much to give, and it would be a shame for players to miss out on some extremely high quality experiences being released for it this year. While the latter part of Mario & Luigi: Superstars Saga + Bowser's Minions is largely forgettable, Superstars Saga should not be missed. It doesn't add much to the Game Boy Advance release, but on a new console and with brand-new graphics, it's a must-play for 3DS owners this year.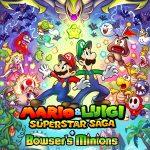 Mario & Luigi: Superstar Saga + Bowser's Minions (3DS) Review
Game Details
Released: October 2017
Rating: PG
Platforms: Nintendo 3DS
Genre: Action
Developer: Nintendo
Publisher: Nintendo</p