Yet another installment in a great series, Naruto Shippuden: Ultimate Ninja Storm 3 really does live up to its title of 'Ultimate', be it hardcore fans of the original graphic novel or the animated adaption.
This game caters to all even for those of you who may not be familiar with the series.
For those of you who aren't familiar with Naruto, there is no need to fear the long game install is here, the game requires you to install some of the game data physically onto your console, during that time you are brought up to speed on the Naruto lore although it is a rather long read its better than watching the loading bar!
It's also a rather good story.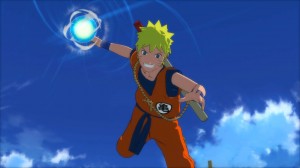 So now that you are up to speed prepare to be thrown straight into it, Naruto Shippuden: Ultimate Ninja Storm 3 doesn't mess around, you are thrown straight in to battles of epic proportion and fast paced awesomeness, with monsters bigger than mountains or downright bad-ass looking foes.
The Ultimate Ninja Storm series at its core is heavily based on it battle gameplay which they have developed throughout the series, out of all the Naruto games out there Ultimate Ninja Storm by far boasts the most fluid and beautiful battle gameplay, although it may not be the most complex battle system with a bunch of controls to execute moves like other fighting games, it does what a game is meant to do, keep the consumer happy and making sure there is never a dull moment in a fight.
Another new feature in this installment called Mob Battles is a battle mode where you are pitted against a wave of enemies, this battle mode makes you feel like a total boss, you take down a wave of enemies using fast paced combos and using an interactive cinematic type battle functions almost like what we see in games like God of War, where you are prompted with 'press this button' to execute a finisher move or to swiftly move behind another target as you kill one.
Although this isn't a major part of the story, it really is an awesome addition to break up the storyline and just take a break as you travel through the main storyline.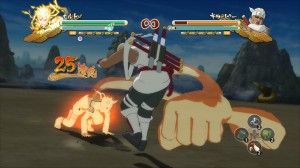 There is also online/local play for player vs player, which is similar to the previous installments with not much change.
Playing with other players does present a new challenge but it also presents a problem with re-playability.
As you verse other players you'll start to see certain moves being repeated  and the spamming of ultimate moves, which in general is a given since the battle system doesn't really allow for strategic fighting as seen in games like Tekken.
If you're a competitive player looking for a strategic battle approach using complex button combos then you will most likely find the play vs player of Naruto Shippuden: Ultimate Ninja Storm 3 dull very quickly, in saying that the awesome battle visuals and fast paced battle system makes for a fluid battle that novice players are able to pull off with ease, unlike other fighting games where all you know how to do is kick, punch and block.
Although the Ultimate Ninja Storm series focus point is the battle gameplay, with this third installment in the series they have really taken the original story and stuck with it, giving the game great fidelity to the original Naruto series.
Everything in Naruto Shippuden: Ultimate Ninja Storm 3 is exactly what you can find in the original Naruto series. The game however offers some alternate paths during the story mode, displaying never before seen scenes (a bit of a tongue twister there), but ultimately you end up arriving at the same goal/point in the story.
Naruto Shippuden: Ultimate Ninja Storm 3 doesn't exactly boast the greatest free roam but it overcomes its restraints in free roam by turning the game into a more of a movie type experience, as you walk the linear routes, it's almost like watching a movie with the camera angles they use and the way the environment has been setup.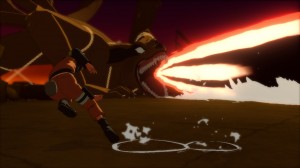 Also if you have access to a 3D television this will open a totally new experience, I have played this game in 3D throughout my play and I must say it really does give the game a lot more depth, it may sound like 'woopdidoo it pops out the TV abit' but it really does give you a different experience while playing, it's the same concept as if you went to watch a movie in 3D it's a better experience.
In conclusion Naruto Shippuden: Ultimate Ninja Storm 3 is the best Naruto game adaption to date as a whole (in my opinion), with its awesome battle gameplay and visuals, great storyline and faith to the original Naruto series.
Although I would have liked to see a vast free roam system/world as seen in other Naruto games like 'Naruto: Rise of the Ninja' by Ubisoft.
But at the end of the day if you are an avid fan of the series you won't be disappointed and if you are a new comer to the series this is a good place to start!
[jwplayer config="STG Player" mediaid="3217″]