It all seems to be go, go, go for the PS Vita lately with a raft of top class titles being released one after the other. In reminiscent form of the PSP, Lemmings has just released for the handheld. Gameplay as we know it, but with touch functionality.
Back in the days when the PSP was the portable gaming device to own, long before even smartphones as we know them today and 'App Stores', Sony PlayStation released Lemmings exclusively on the PSP and I am not ashamed to admit that asides from God of War, was my most played title on the device.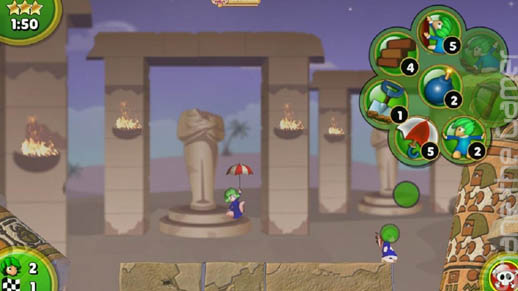 It was a quick turn around play, where you could invest alot or a little time into saving the green haired critters throughout perilous Levels. A classic, reinvented many times over, but unlike similar clones that have been and gone (some still around) it has always remained true to itself and retained familiarity and perfect nostalgia.
Lemmings Touch is not really that much different from what we have seen or played before.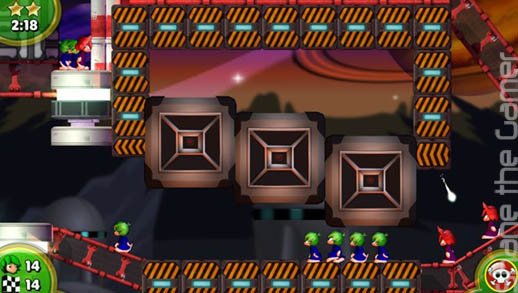 Graphically it has taken quite a few steps up into the HD stratosphere where colours are rich and the cartoon-esque environments are beautifully detailed.
Gameplay ultimately relies on the front touch screen.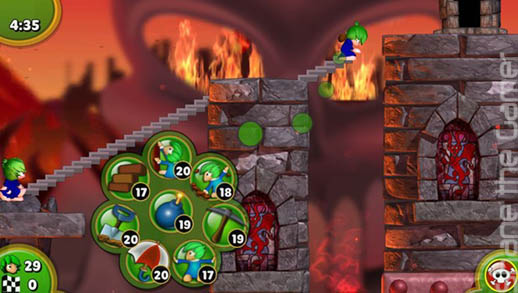 Whilst there are a few tutorial Levels for you to get through at the beginning where by this is explained and explored, it is all very relatively simple.
Zoom in or out by pinching the Vita's front screen. Touch a Lemming to give him a task or function from the abilities Menu.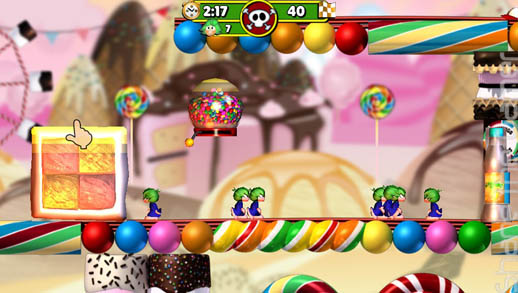 Score three Stars (if you can) by saving the required number of Lemmings within the Time Limit for each Level.
Rinse and repeat throughout increasing difficulty as you progress.
To get to the Easy based Levels you must complete the five Tutorial rounds and aim to obtain all Stars for each Level. Then, once you have paced yourself through Easy and provided that you have managed to gain enough Stars then other parts of the game open up for you, such as Tricky, Taxing and Hard.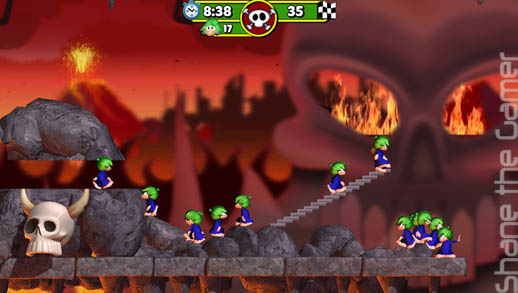 Each one of these categories contain a myriad of separate themed Levels for you to rescue the mindless but cute diverse range of Lemmings from an untimely death.
There's also Coins to be earned and these allow you to customize your Lemming(s) by adding costumes and accessories and making them look sassy, or weird.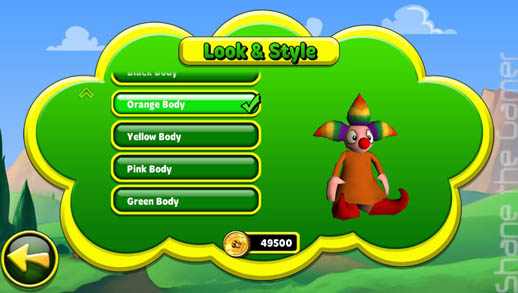 Certain parts of the environment are also touchable and you will also need to use elements within the Levels such as canons or trampolines to effectively complete a Level.
A pick up and play at any time and dependent on the difficulty of the Level, or your Lemming saving skills it can be a 5 minute or a 30 minute endeavour.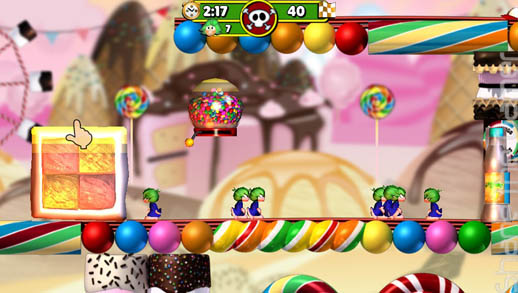 Lemmings Touch is great if you are a gamer who appreciates the original roots of video gaming. It's also a title that you do not necessarily need to invest endless hours in one go. And if it all gets a bit much, at the touch of an onscreen button Nuke all Lemmings (evil laughter ensues).
An enjoyable play, a revamped classic and definitely a winner for the PS Vita. Available as a Digital Download from the PSN.
 [jwplayer player="1″ mediaid="7816″]