Kazunori Yamauchi, President of Polyphony Digital Inc and creator of PlayStation's best-selling Gran Turismo series, has been accorded a special honour by the historic City of Ronda in Southern Spain.
Ronda's mayor, Maria de la Paz Fernandez Lobato, today named one of Ronda's most high-profile streets, a walkway next to the famous 'Puente Nuevo' bridge, 'Paseo de Kazunori Yamauchi'.
The street is close to two others named after cultural icons, film director Orson Welles and author Ernest Hemingway, both of whom had a close association with the city. The exalted company for living-legend Yamauchi-san, is testament to the growing cultural impact of computer games.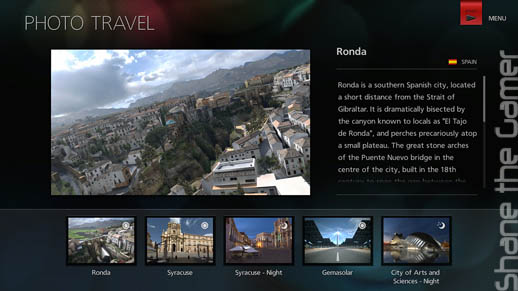 The street naming ceremony was conducted while Yamauchi-san was in Ronda to launch the latest iteration of the 'real driving simulator', Gran Turismo 6 for PlayStation 3. The new game, which goes on sale on 6th of December 2013, features Ronda in its 'Photo Mode', allowing players to position their treasured virtual cars in a number of the city's stunning locations to be captured for a high-definition image.
The beautiful surroundings of Ronda are also available in the game's 'Course Maker' function, whereby players can create their own tracks incorporating the stunning Andalucian scenery. Close to Ronda is the Ascari Race Resort, an exclusive, private race circuit, that Gran Turismo's legions of fans will now be able to access virtually.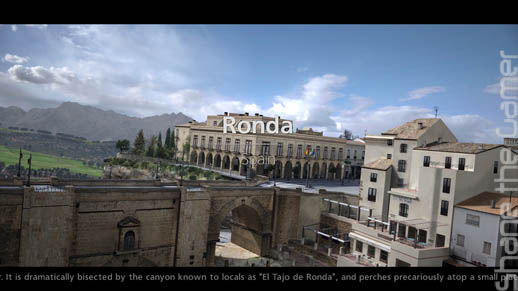 "Some people may find it a little strange that we have given the same honour to Yamauchi-san as to Orson Welles or Ernest Hemmingway," explained Maria de la Paz Fernandez Lobato, mayor of Ronda. "But, in the same way that both of them were enchanted by Ronda, so was Yamauchi-san. There is also no doubt that his work has a huge cultural resonance with people today. He has driven the racing game genre to new levels of realism and his creations are as much art as technology. Ronda's association with Gran Turismo is also a reflection that our ancient city is a modern, vibrant place to live and very much part of the 21st century."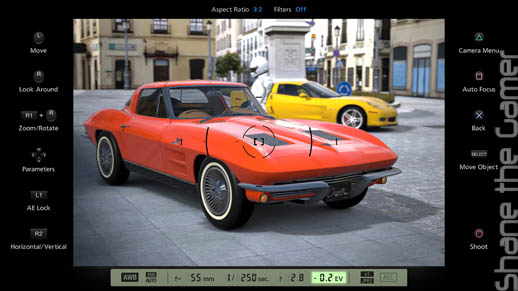 "I feel so grateful to the city of Ronda for this honour," commented Yamauchi-san. "It is very special to see my name on the street, and especially when I know that Orson Welles and Ernest Hemingway are around the corner – what incredible company. I know that I still have much work to do to be worthy of their status. Gran Turismo 6, of which I am very proud, is the latest step in a journey that will continue and develop even further in future.
"Ronda is a special place, and it is exciting to be here and at Ascari for the launch of Gran Turismo 6. Our thanks go to the Mayor, the people of Ronda and the management of Ascari for their warm welcome and this great honour for me and my team at Polyphony Digital."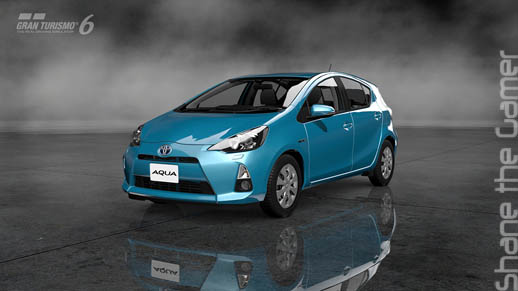 The exciting two-day launch event for GT6 has seen two hundred media guests and VIPs descending on Ronda. Joining them in the city and at the Ascari Race Resprt have been some of the world's most stunning supercars provided by manufacturer partners Audi, BMW, Chevrolet, KTM, Lamborghini, Mercedes-Benz, Nissan, Pagani, Renault, Toyota and VW. Car displays and PS3's are featured around the city's landmarks, and the famous bridge has been decorated with giant Gran Turismo banners for the launch. The people of Ronda, and its many visitors, have enjoyed the opportunity to be among the first to sample the incredible realism of the new game with a direct comparison of the virtual and real in Ronda.