Without doubt 9/11 was one of the most definitive events in early 21st century history, one which would have lasting repercussions through to today.
For the first time since the Pearl Harbor attack in the 20th century, America was attacked on domestic soil by a foreign aggressor.
What followed the 9/11 attacks would include the detention of 779 prisoners at Guantanamo Bay, only eight of which were convicted of a crime with three of the convictions overturned on appeal. This is the historical and political landscape we're faced with in Kevin Macdonald's The Mauritanian, an unflinching drama about one man's fight for freedom after his detention and imprisonment by the U.S. Government in the wake of 9/11.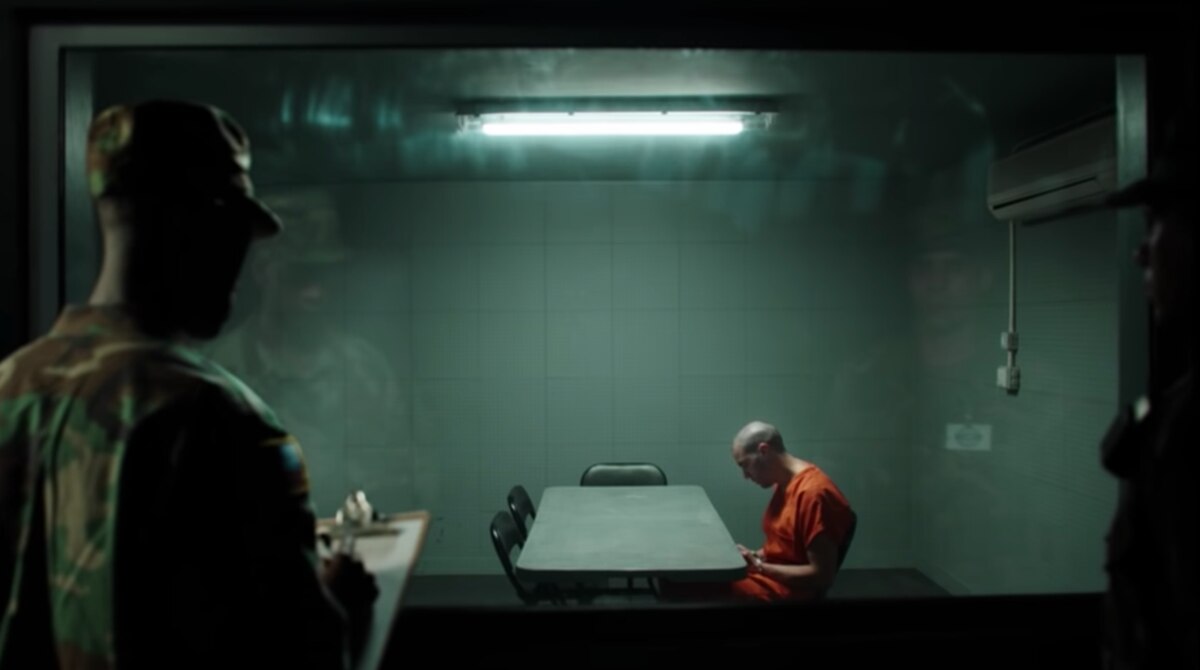 The man in question is Mohamedou Ould Slahi (played by Tahar Rahim), who was alleged by the US Government to be part of al Qaeda, including being a recruit for the organisation. The prosecution calls him "the al Qaeda Forrest Gump" because "everywhere you look he's there".
Initially it doesn't look good for Slahi: his cousin called him from Osama bin Laden's satellite phone and then wired money to him from a training camp (Slahi would say that this was because his cousin's father back in Mauritania was sick and needed the money), and when he lived in Germany in the 1990s, he allowed a member of al Qaeda to stay at his apartment. It's circumstantial, but the Department of Justice run with it.
The people want justice for the atrocities of 9/11, and the Government and the DOJ want to give it to them, no matter what.
Heading Slahi's defense is Nancy Hollander (the always excellent Jodie Foster), a whip-smart, unrelenting defender who has, according to the prosecution "been fighting since Vietnam". Hollander brings Teri Duncan (Shailene Woodley) on board, an impressionable and compassionate young lawyer who forms a bond with Slahi.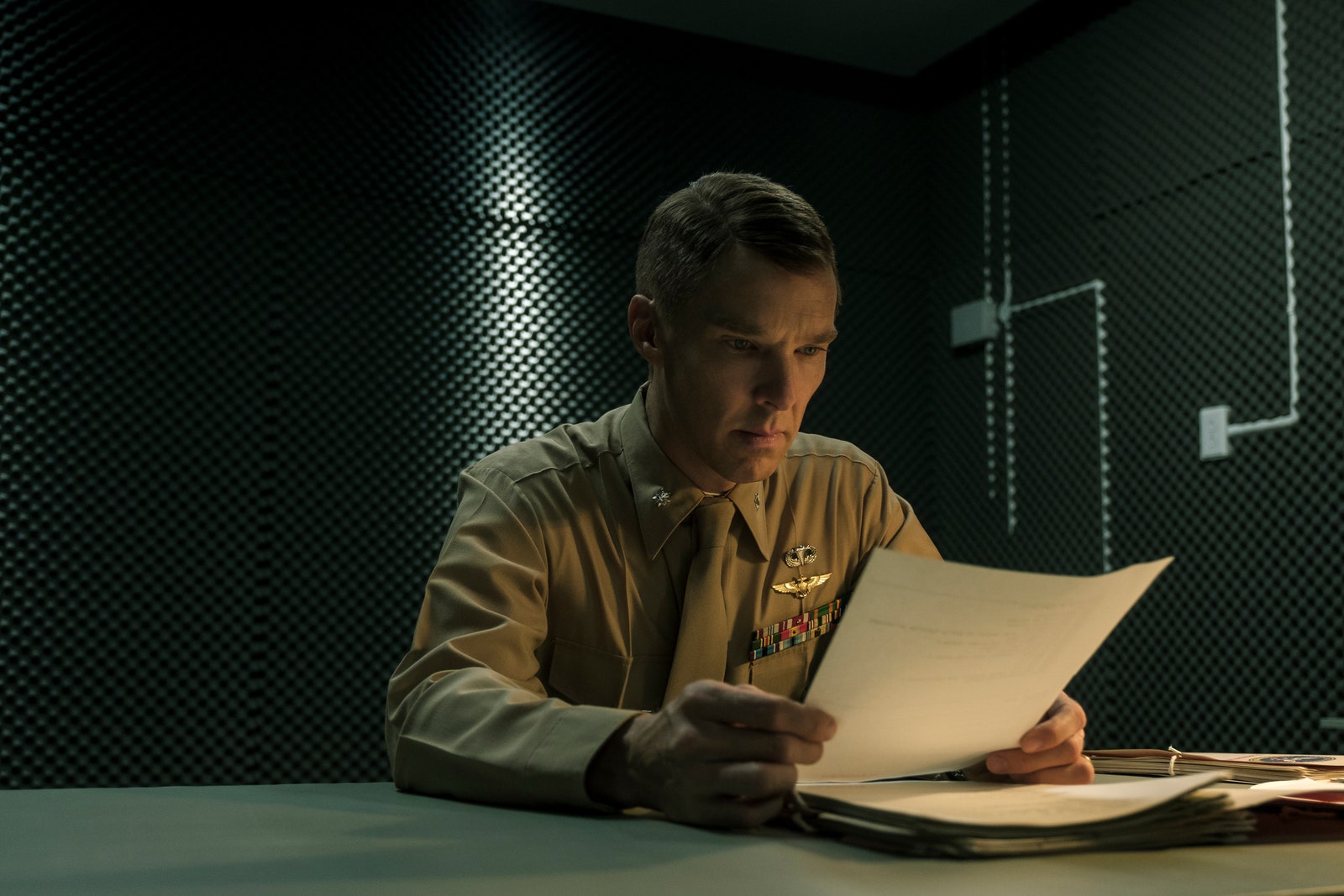 Up against Hollander and Duncan is Stuart Couch (Benedict Cumberbatch), a God-fearing military man whose life includes family, football and fellowship. He's a must-have for the case because he lost a friend on one of the planes in 9/11.
He's got fuel for the fire; he just needs to prove the case.
What follows are the intersecting stories of Slahi's fight for freedom with the assistance of Hollander and Duncan, and the potential to be found guilty thanks to Couch. What both sides find along the way is the extreme brutality of conditions at Guantanamo Bay, albeit in different circumstances.
Although The Mauritanian is ostensibly a legal drama, you don't need to fear being snowed under by legalese. Anything deemed important legally to progress the storyline forwards is easy to understand and doesn't get in the way of the overarching story.
After all, this is Slahi's story, and it's an important one to tell.
This could very well have just been his story alone without also including the legal teams, but they serve as another way into the situation.
They're also important to show from the outside the sorts of restrictions they were under at the time while trying to put together a solid case.
Lawyers visiting Guantanamo Bay are allowed a notepad and one writing implement.
They must surrender all notes after the visit, which will be sent to a classified facility for collection. However, they can be redacted before being collected. When Hollander puts in a Freedom of Information Act (FOIA) request for case files, she and Duncan are faced with box upon box of un-readable files, because almost everything is redacted; filled with pages of ugly black boxes.
It's not easy going for the prosecution, either.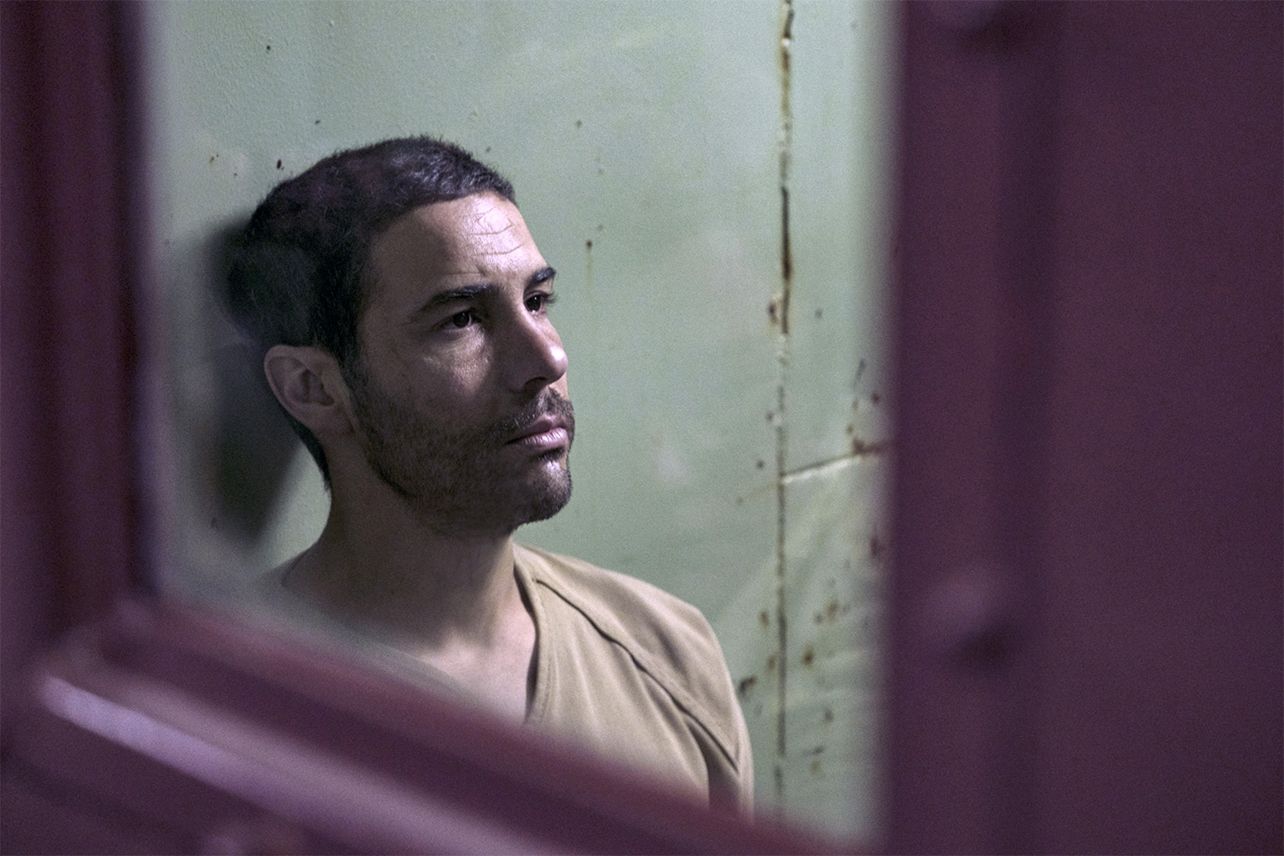 The information that Couch is given initially includes summaries and hearsay, things that wouldn't normally be admissible in court. It seems like the powers that be want to make it difficult for the defense but aren't exactly providing what would normally be required for a solid prosecution, either.
While we see the legal fight on both sides, we also see Slahi's own fight to maintain his dignity and sanity while being detained.
Perched on golden sands with a sapphire blue ocean, the Guantanamo Bay facility is a place of unrelenting misery.
Detainees may go outside for exercise in small square cages wrapped in green material to avoid them seeing other detainees or the ocean. Detainees are stripped of their names and become numbers. It's when Hollander and Couch both get full access to information about Slahi's interrogation that we as the audience see the full horror of interrogation tactics under the Special Projects unit.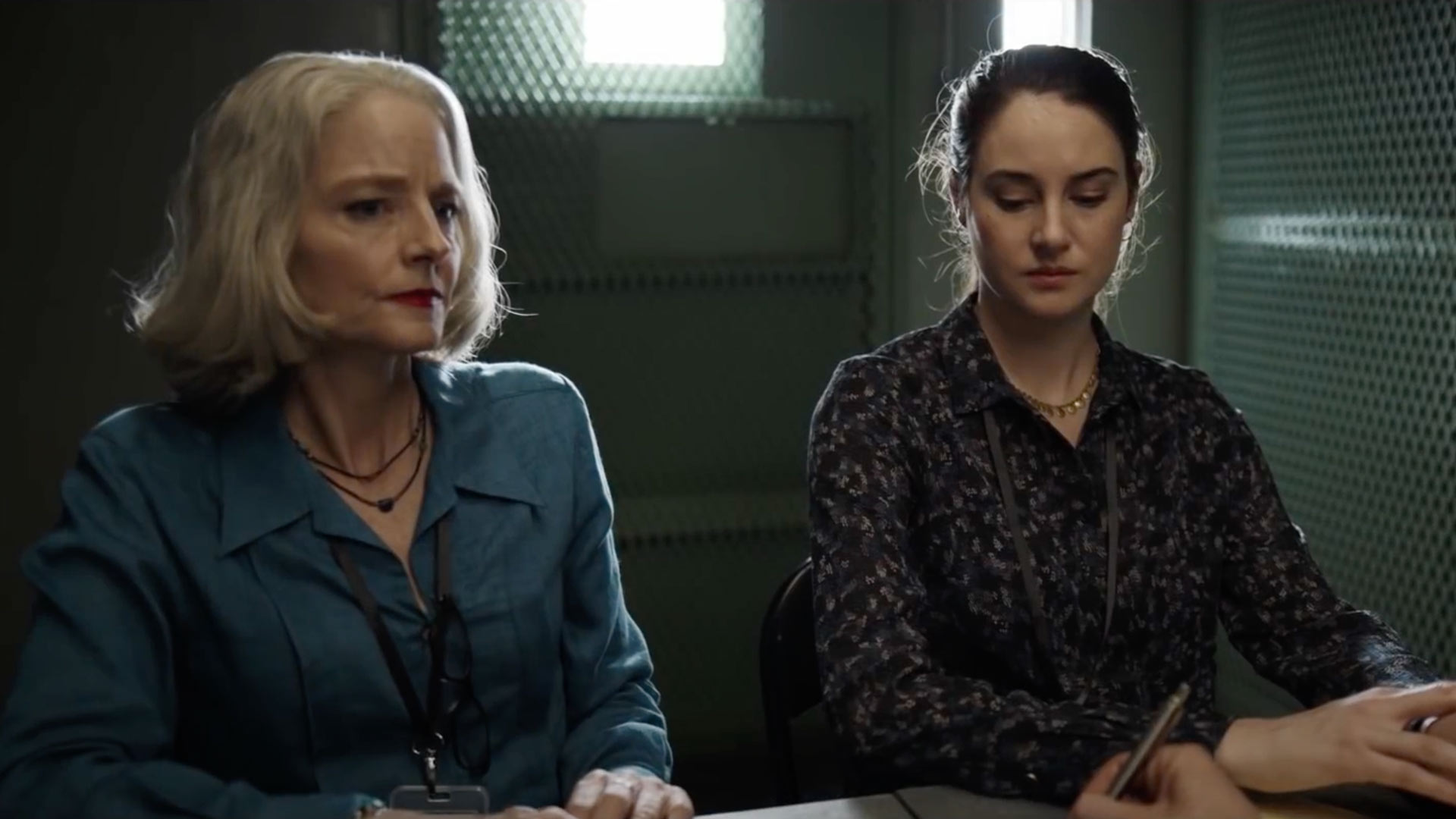 Slahi spent 70 days with Special Projects being subjected to flashing lights, heavy metal music, sleep deprivation, beatings, waterboarding and sexual humiliation (just to name a few tactics). It's a brutal and unrelenting moment in the film and one that absolutely needed to be there.
French actor Tahar Rahim's portrayal of Slahi is exceptional. He embodies a spirit that was broken mentally and physically and yet still managed to pick himself back up.
Slahi is articulate and engaging, so much so that he actually befriends some of the guards who affectionately call him 'Mo'. But he also has a defiant streak which keeps him from giving up. When he discovers a detainee from Marseilles in the activity yard in a cage next to him, he gives him the name 'Marseille' instead of calling him by his detainee number.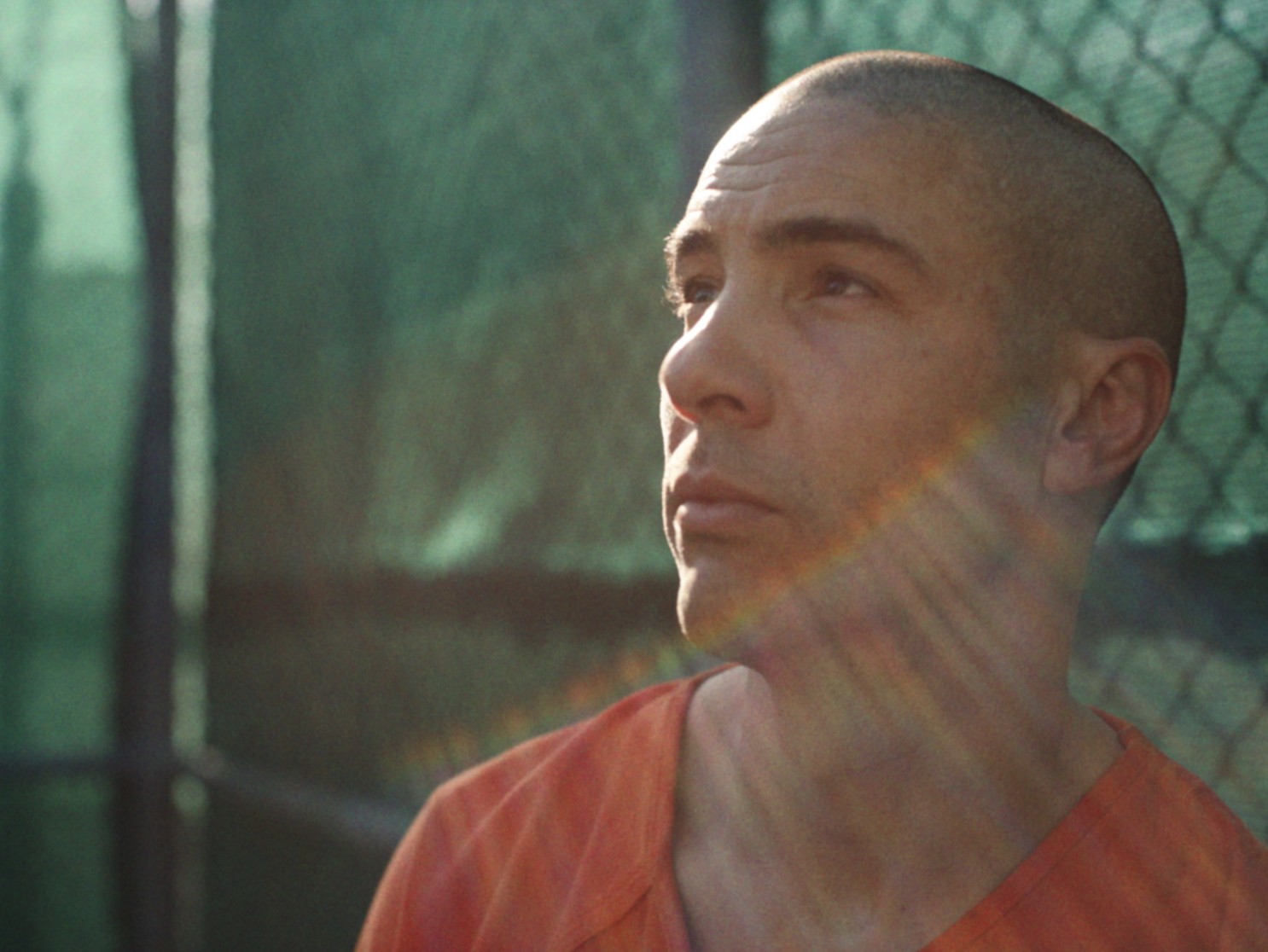 After cracking a joke about Charlie Sheen with Hollander and Couch on their first visit, he writes 'The Real Charlie Sheen' on the back of the duct tape sealing his files for transport together. Rahim is able to master these incredible facets of Slahi's character in an uplifting way.
As The Mauritanian is based on Slahi's book Guantanamo Diary, the film has a unique intimacy. This a slice of history through the eyes of a person who was greatly affected by it.
The beauty of human history is that in hindsight it can be dissected and examined with greater honesty than the present moment allows. And the dissection that takes place in The Mauritanian is damning of the response after 9/11.
The subsequent War on Terror was akin to using a bomb to mow your lawn, and film doesn't shy away from this. In fact, one of the strangest juxtapositions presented in the film is the gift shop at Guantanamo Bay. That's right- a gift shop. Come for the interrogations, leave with a 'Surf Gitmo' coffee mug.
Make sure you watch through the credits, as you will be introduced to the real people who are portrayed in the film, including Slahi himself.
The Mauritanian is a beautifully crafted and compassionate film which doesn't shy away from peeling back the covers of the aftermath of 9/11 and the inhumane and heavy-handed actions of the people in power demanding rough justice.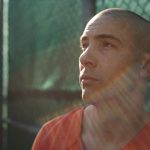 THE MAURITANIAN (Amazon Prime) REVIEW