Original cast, new dino's and a story that sees man and dinosaurs live in, well, not so harmony.
Jurassic World Dominion picks up where 'Fallen Kingdom' left off and dinosaurs from the failed park attraction have made their way to the mainland and across the globe.
The balance between humans and dinosaurs being at the top of the food chain is a delicate one and of course illegal poaching and selling of these beasts is a pandemic in itself.
Claire Dearing (Bryce Dallas Howard), the once high profile Executive of Jurassic World is now working to free dinosaurs from poachers and protecting the rights of the creatures to live free and protected.
She is in a relationship with Raptor trainer Owen Grady (Chris Pratt) and with them they have the now teenage Isabella Sermon (Maisie Lockwood) living with them as their 'daughter'.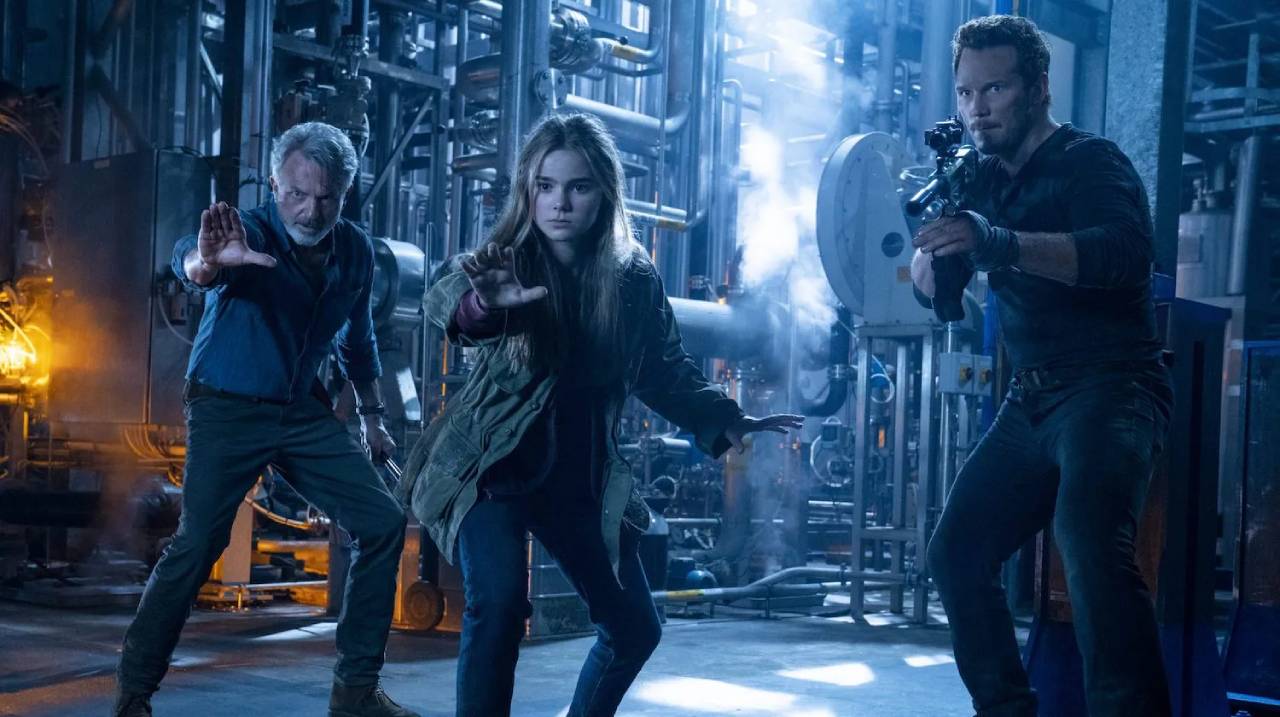 Isabella was and is the only known cloned human being.
This means that she has a price on her head from researchers that want to find out more about her existence and how the cloning was done.
Isabella, being a teen, is rebellious and doesn't like being kept hidden away – and as you guessed it, this leads in to trouble for all three.
Old relationships reignite when Dr. Ellie Sattler (Laura Dern) and Alan Grant (Sam Neill) meet.
Alan is still digging up dinosaur fossils, but more as a tourist attraction as interest and investment waned once real dino's came in to the world.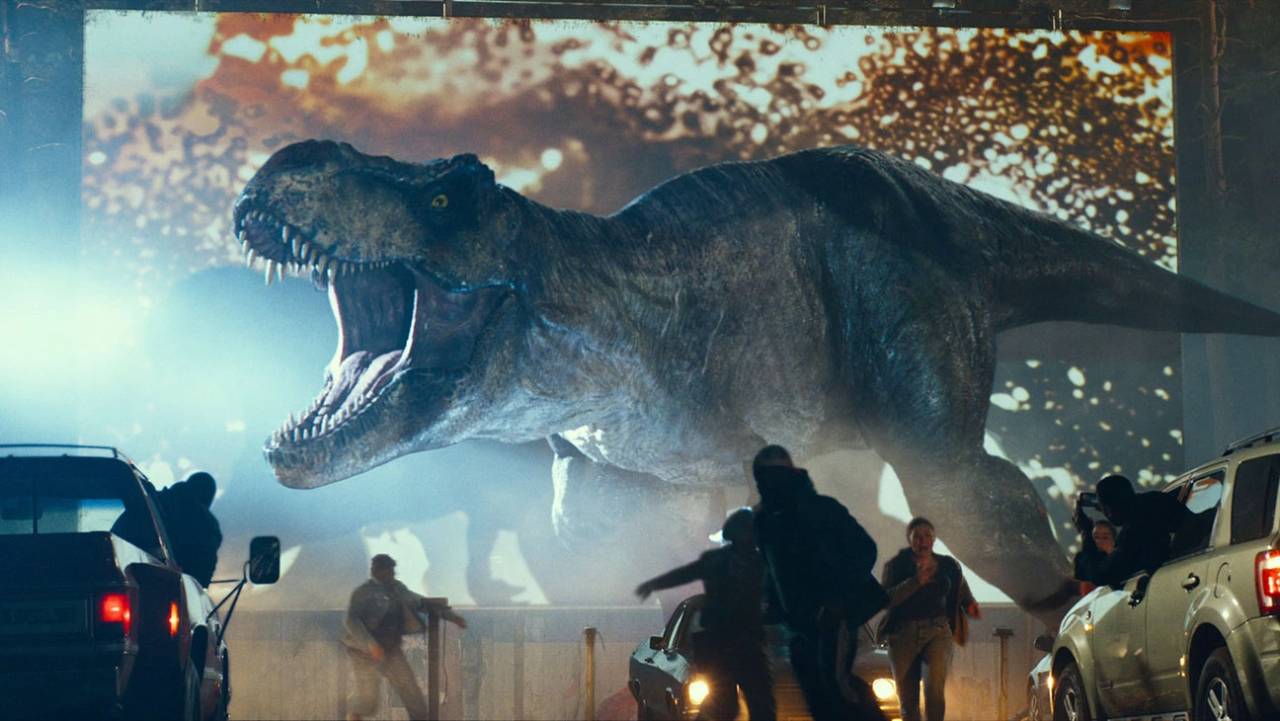 A giant pharmac-like research facility called Biosin Genetics is where we reconnect with Dr. Ian Malcolm (Jeff Goldblum). He is employed to give lectures on to the bright and aspiring students that aim to have careers at Biosin.
Of course, Biosin, headed by a Steve Jobs resembling character, Dr. Lewis Dodgson (Campbell Scott) who has nefarious goals of global food control.
Creating ravenous, suoer-sized locusts to destroy crops that don't use Biosin Genetics field sprays, thus making crop growers to be forced to use Biosin's product or create a world-wide famine.
Isabella gets kidnapped, Owen and Claire get assistance from a mercenary / smuggler Kayla Watts (DeWanda Wise) while Ellie and Grant head to Biosin to reconnect with Ian to find out the source of the mega locusts.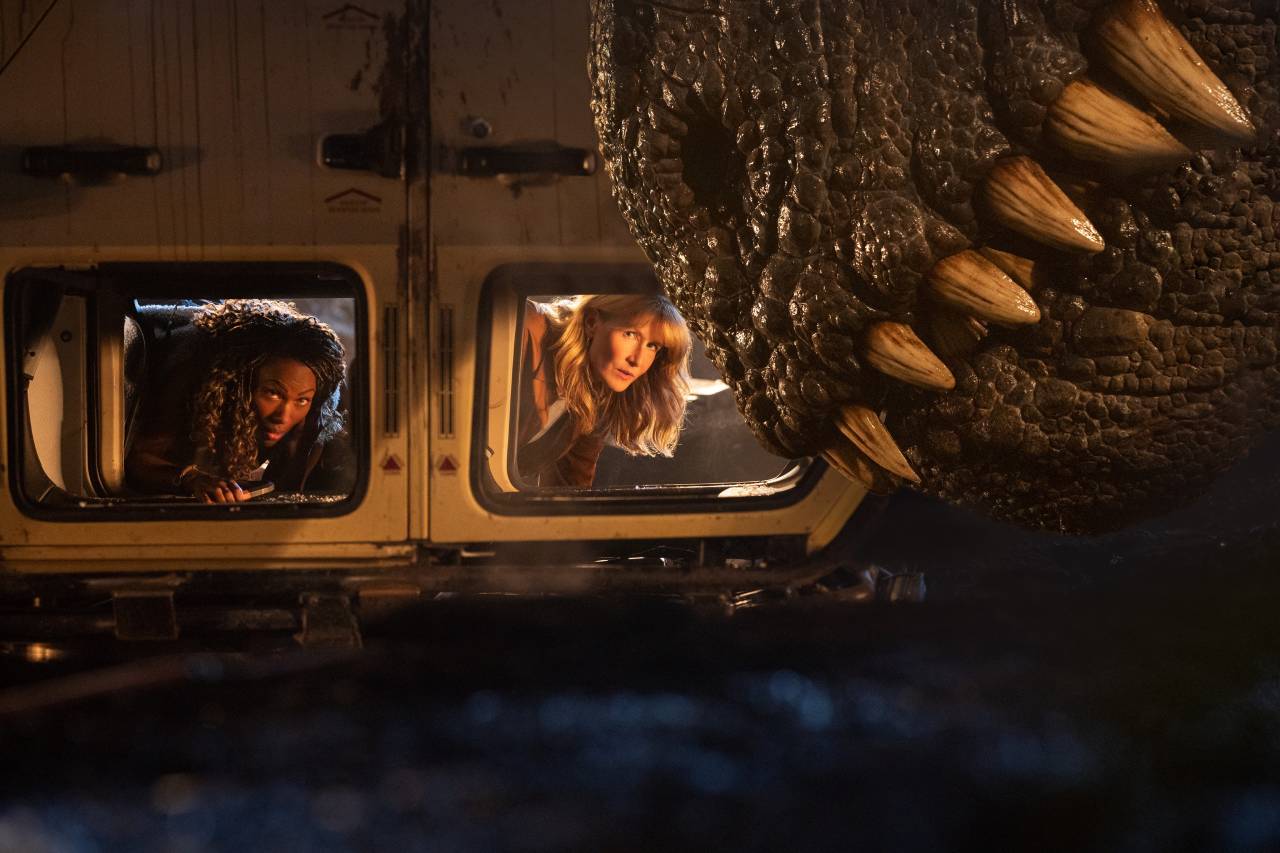 All differing narrative paths eventually lead to Biosin Genetics and the whole group eventually meet up and fight a megalomaniac CEO and of course dinosaurs.
Jurassic Park Dominion tends to borrow a few iconic moments from the original trilogy while offering up a wealth of new larger than life dinosaurs and it was so great to see old favourites.
Carefully curated, to keep it mostly family friendly, Jurassic World Dominion is purported to be the final film in the 'Jurassic' franchise.
See the film if you want to be blown away by giant dino's on a massively big screen, but if you're wanting to see Jurassic World Dominion to be submersed in the story, the lore and everything that has made this franchise so epic, wait for the stream or Bluray.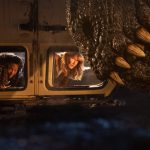 Jurassic World Dominion (Universal – 2022) Review
Film details
Year: 2022
Rating: M15+
Running Time: 146 MIN
Genre: Action
Director: Colin Trevorrow
Starring: Chris Pratt, Bryce Dallas Howard, Laura Dern, Jeff Goldblum, Sam Neill, DeWanda Wise, Mamoudou Athie, BD Wong, Omar Sy, Campbell Scott
Production Studio: Frank Marshall, Patrick Crowley
Distributor: Universal Pictures