You know that one time you had an idea to mix all your favourite things together, because how could it possibly go wrong, but for some reason crushed potato chips, pasta and cheese don't exactly fit together as you imagined but is still eatable. Well I feel this is exactly what happened when Samurai Pizza Cats was created. This bizarre comedy anime is set in Little Tokyo, a city of mostly robotic animals and is about, pretty much what the title implies, pizza-cooking Samurai Cats.
I would definitely classify this anime as a satirical comedy with numerous pop-culture and other references thrown in for good measure.  It was originally released in Japan in 1990 with the English version aired in 1993-94 and it now sees a DVD release. So how does such an old series hold up?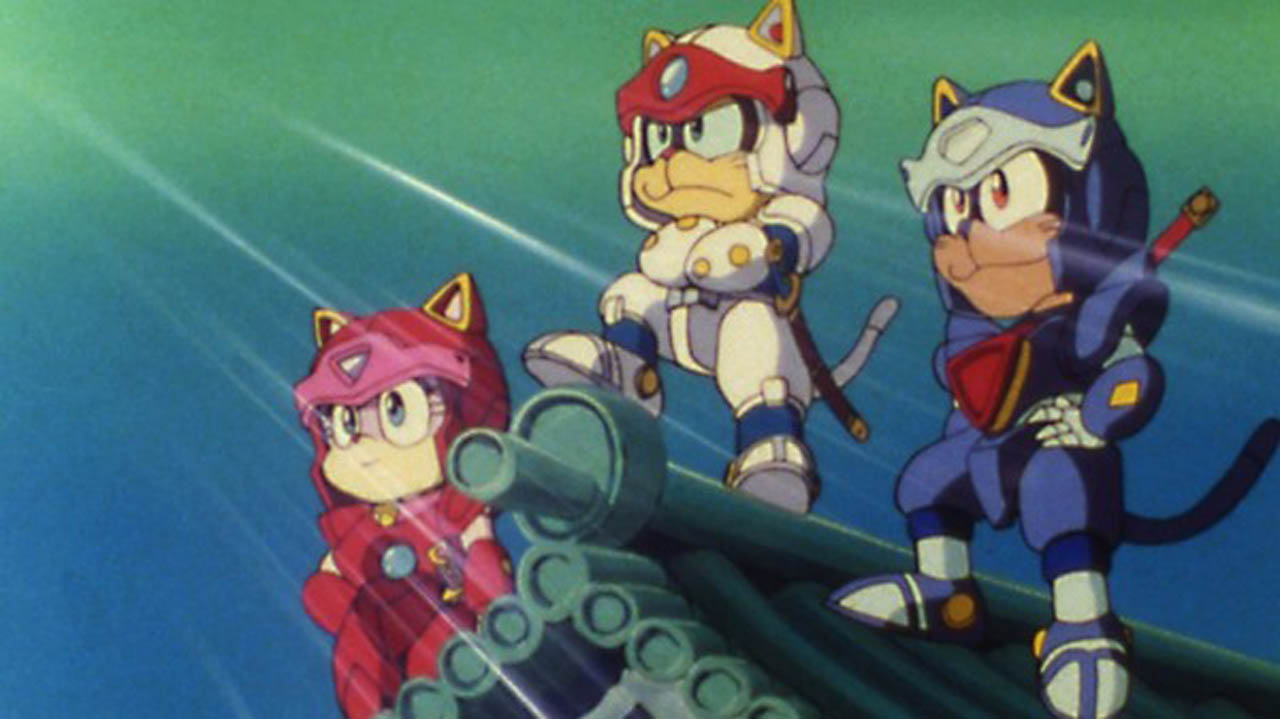 Well we are very quickly introduced to the main heroes of the show, Polly, Speedy and Guido. These three cyborg cats are master samurai kitties but when not being samurai, well, they cook and deliver pizza. Sadly, these three characters don't exactly possess engaging personalities but they are certainly loud enough and somewhat memorable.
One might argue that the nature of the show doesn't necessarily allow for diversity in personas but they simply aren't interesting characters and lack a certain charm. Poly is an angry chick and Speedy and Guido are dim witted guys with an obsession for the same girl. It's terribly cliché. That said the show isn't a serious one. It seems to thrive on being both ridiculous and as cliché as possible.
I can enjoy a cartoon for its extreme levels of silliness and childish nature but it is nice to have aspects of a character that one can like, hate, or love to laugh at. All the main characters fail to evoke any sort of attachment. There are numerous other characters to add to the mix including the main villain "The Big Cheese", which is just as silly as the rest. I did actually find his character to be the most amusing. He certainly delves into enough ludicrous behaviour you couldn't help but laugh at him.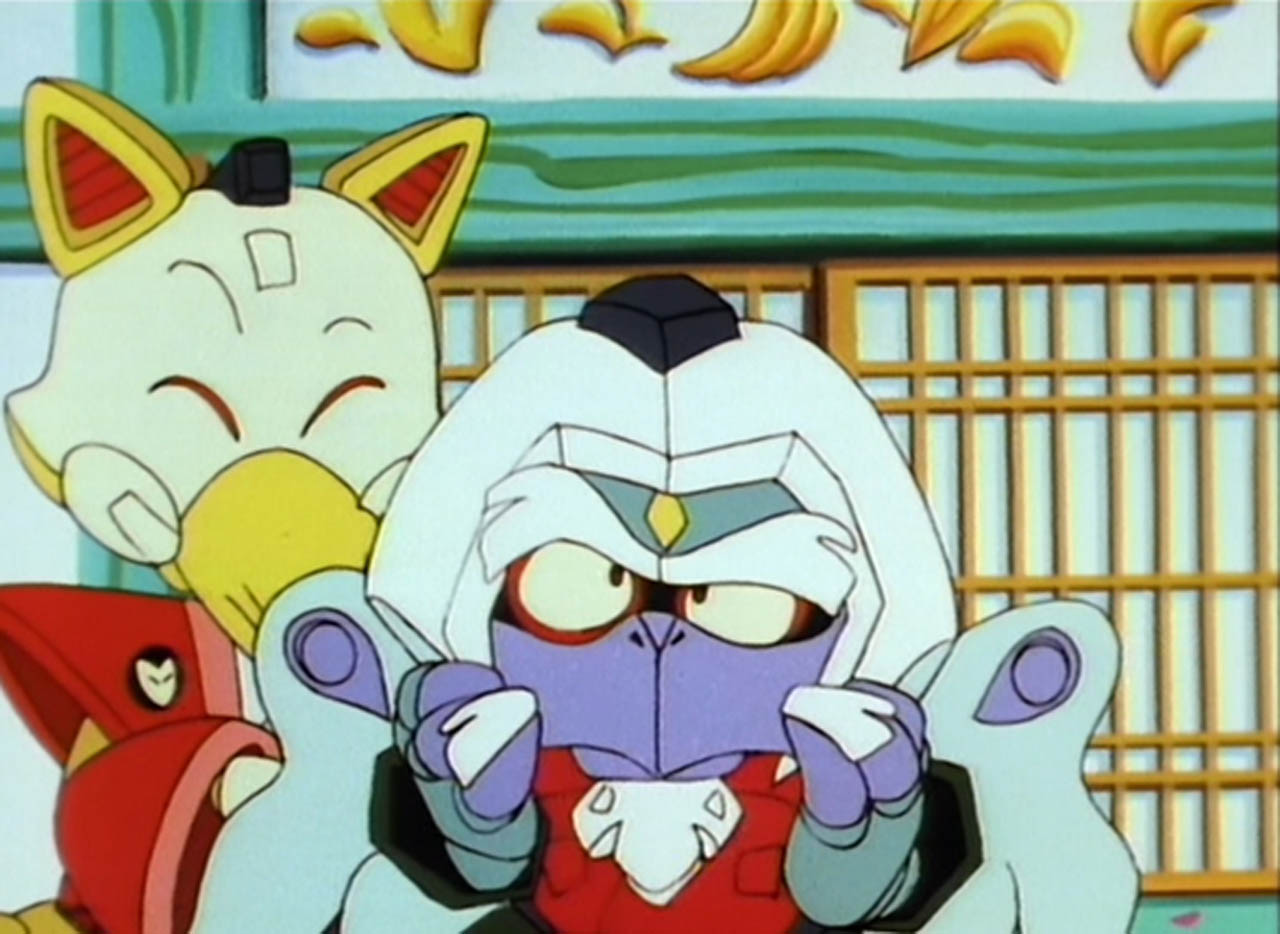 These cyborg samurai cats that make and deliver pizza as a day job and save the city on the side are all brought together in avery 80's style (despite a 90's release) cartoon animation with way too many corny jokes and 80's references. There are times when some might say something is so bad it's good. Well this is one of those times. The shows blatant disregard for itself does offer some delight.
This anime clearly does not take itself very seriously and that can be entertaining but I feel in this particular instance can only be appreciated by the generation of the era it was born out of. Kids may have no qualms laughing at its stupidly but all other jokes are likely to go over their little heads.
The story is somewhat tedious. Initially things start off rather slow. With no episode really impacting the next or even seem to be carrying over to the next. Once again, shows of this nature generally don't contain continuity but I felt like it wanted to, and it eventually did. Even still though it wasn't particularly captivating.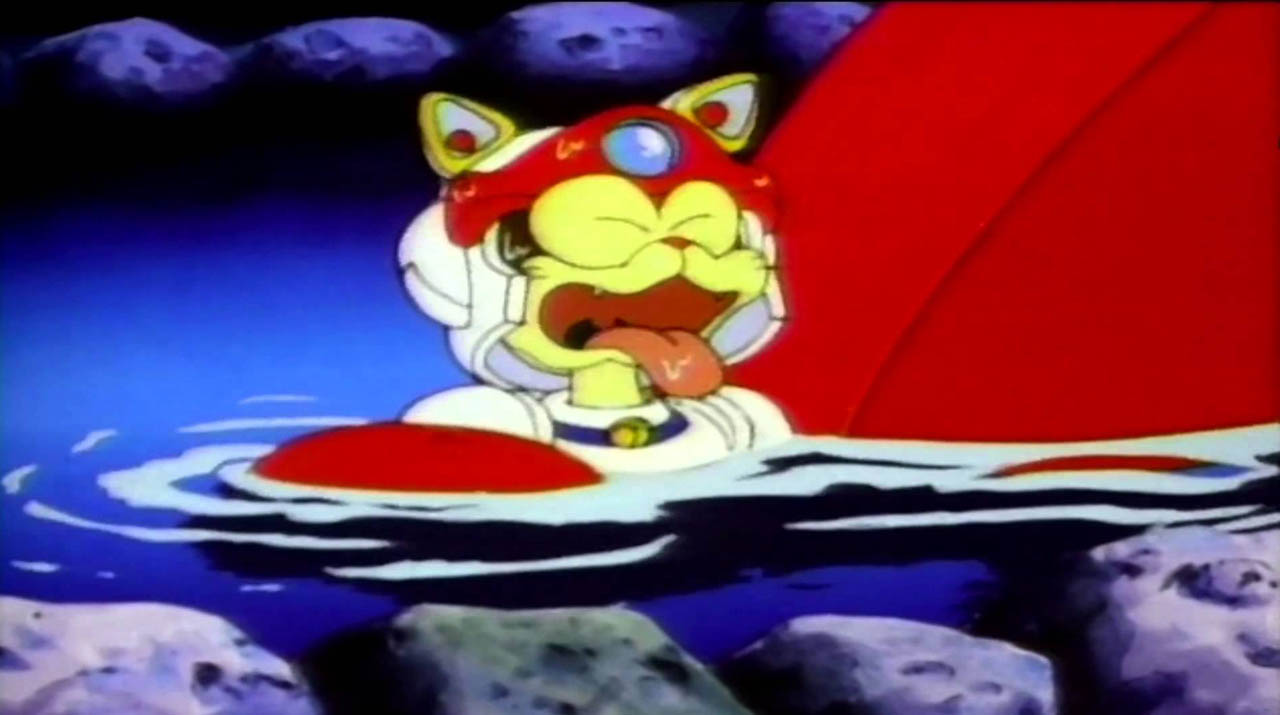 The whole Season spans 52 episodes and getting through these was somewhat tedious. I can see that maybe if you are in the right mind set this genre of anime can offer amusement. I do think that that specific mind set however may be few and far between for some.
I love many ridiculous and outlandish series but this one just didn't offer the kind of humour I could honestly relish. Samurai Pizza Cats incorporates many silly and wacky moments. Whilst not my kind of show it can appeal to others with its sense of humour. I simply couldn't appreciate the style this show has on offer.
Samurai Pizza Cats (Madman - 2016) Review
Year: 2016 (Bluray / DVD)
Rating: G
Running Time: 23 MIN (per Episode)
Genre: Comedy, Action, Animated
Studio: Saban Entertainment
Distributor: Madman Entertainment