I have said it before, I love anime movies which help decide if you want to try out a series in a self-contained story.  Even better than that is when the whole show gets remade as movies, as long as it is done right, and that's exactly what Code Geass did with its initial trilogy, and has now followed that up with a new sequel.  The Code Geass: Lelouch of the Rebellion Movie Collection  lets you watch all four in one Bluray case.
The first three discs are the original trilogy which is the aforementioned remake of the anime series. Code Geass: Lelouch of the Rebellion I –  Initiation followed by Code Geass: Lelouch of the Rebellion II – Transgression rounded out by Code Geass: Lelouch of the Rebellion III – Glorification is an awesome trilogy that is nice and concise, even if it does wind up being six hours long.
The movies are set in a world where Britannia has conquered and annexed Japan, which is now known as Area 11 and the people are known as elevens.  Being stripped of their national identity in this way obviously causes unrest among the people. As such the Brittanian forces have a strong military presence, bolstered by the mechs that are commonplace at this stage.
We are introduced to the titular Lelouch who is of Brittanian descent and is the son of the Emperor. His mother dies and his little sister sees it and in shock loses her sight and the ability to walk. Furious Lelouch gets angry at his father, and not being a fan of being stood up to, his father then sends the two of them to Japan. This is done as a political move to make Japan feel a sense of security, and as such they grow up knowing Area 11 as home.
Lelouch is living his boring school life when he satisfies some curiosity and accidentally finds himself in a rebel truck. During this he comes in contact with a mysterious woman who gives him the power Geass which allows him to take control over any human once as long as he gets eye contact with them. Then the plot unfolds as he hides his face and helps lead the rebels to fight back against the oppressive Brittania.
The latest movie Code Geass: Lelouch of the Resurrection is set after the main story takes place.  I can't give out too much detail about the setting without ruining the ending of the original trilogy. What I can say is that Lelouch's sister is taken by another country who has lost a lot because of the events of the first movie and Lelouch needs to save the day.
All in all the four movie collection is an excellent watch. The first three movies are only Japanese dubbed which I am generally not a fan of, but I adjusted to the subs because the story was that good. Code Geass: Lelouch of the Resurrection is english dubbed and it caught me off guard as I had started associating the Japanese voices with those characters. Though Japanese Dub is still an option, I let it run and English and the new voice actors did a great job.
The animation and art style is excellent. Going for a common drawing style but using extraordinary details to bring together a world unlike any I have seen before.  Throw the soundtrack in and the whole experience is amazing watching the Blurays on a big screened TV.
Given how the plots follow on from each other it is tough to say too much more without spoiling the experience, but if you aren't experienced in the mecha anime sub genre this is a great way to check it out. My lack of experience didn't stop me enjoying the whole thing, even if annoying tropes still make their way through at times.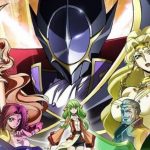 Code Geass: Lelouch of the Rebellion Movie Collection (Anime) Review