New Zealand comedian and feature film actor; Jonathan Brugh is known for What We Do in the Shadows 2014 (feature film) and can currently be seen in 800 Words for the second season.
800 Words, is filmed in West Auckland, New Zealand and is a series currently airing in Australia and New Zealand about a recently widowed father who leaves his job as a popular 800 word columnist for a top selling Sydney newspaper. On impulse, he buys a house in New Zealand in a remote seaside town, news he then has to break to his two teenage kids, who are still suffering from the loss of their Mum. What ensues is a small family readapting to life within an even smaller community full of, well, colourful locals, Jonny plays one of these locals. 800 Words is a mix of light hearted comedy with serious under tones.
Jonny, as he is known, hails from Auckland, New Zealand and started his acting career with absurdist tragi-comedy duo Sugar&Spice who achieved critical acclaim throughout New Zealand and Australia and won the Chapman Tripp Award for best Comic Performance in 1996 and the Billy T Award in 1998.
Jonny also has a Art and Design degree. In 2003 Jonny performed a series of solo shows called The Rise And Fall Or The Fall And Rise Of Dinky Jon, which involved him catapulting water melons at the stage walls and flying over the audience hanging from a rail dressed as Super Man.
Also known for his comedy theatre work, Jonny has been at it for the past 15 years and still going strong. So, we asked Jonny a couple questions.
StG: Jonny, what made you get into acting in the first place?
Jonny: I used to do sketches with my 2 sisters when i was a kid. I think I always knew I should probably be a comic actor but because no one at my school had the gumption to hold an actual drama class it wasn't a possibility. Then at 20 I made friends with some way more enterprising guys from another school. Together we hit local comedy events around Auckland. It very quickly became touring Australasia with some adventurous comedy shows.
StG: With comedy being your forte, how do you cope with serious roles?
Jonny: I have no interest in serious roles (serious face). Or i do but i just a stick a laugh track on it and call it comedy. Actually i think i enjoy playing a blurry mix of a straight character with his heart of his sleeve who unconsciously shows his fallibility. Its true that most comedic actors play it straight anyway, perhaps we push a little more of the emotions in a scene. Craft-wise I'm more interested in how a character responds to the crisis a the narrative of stories i tell. I don't find it hard to play straight, although friends would disagree. In film and TV one tends to play straight compared to theatre. It's about how a character approaches a situation and how much their expression convays. We have to be likable. I'm also sculpted by a thousand theatre shows where I'm always trying to keep an audience interested. that tends to make an actor larger in their nuances.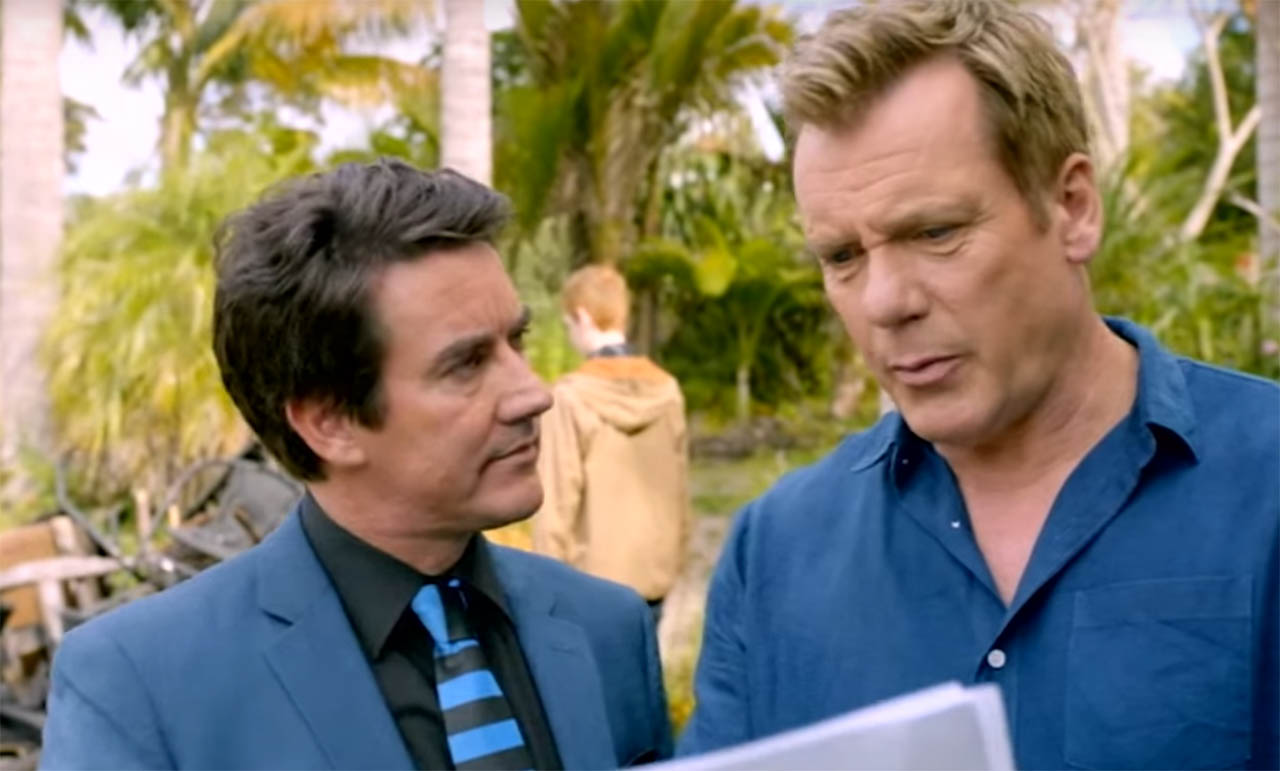 StG: Currently you are present in the second season of 800 Words. Can you tell us about your character?
Jonny: I am Monty's wingman! Everybody describes Monty as a sleazy smarmy real estate agent. But he isn't! He is a solo Father running two businesses while trying to be a good man to everyone. He is bullied by his brother which in the end brings out the best in Monty. Its interesting that people, even journalists, will assume he is sleazy because of the pride he shows in his fashion sense. But i dare you to find real reason to write him off as smarmy! you cant! because there isn't one. Judge a man by his actions before his dress sense. I think this issue really touches a nerve in me. its so lazy. But i must admit that Monty is just a fictional character created for the purpose of playing the sleazy real estate agent. He isn't real. I know i project my own frustrations onto other people, we all do it, Im no different and neither is Monty.
StG: Last question, are there any other actors that inspire you, or have inspired you?
Jonny: No acting isn't inspiring to me. But if I had to choose I love working with New Zealand comic actors Jackie van Beek and Cohen Hollaway. Cohen and I have a comedy crush! Also Australians Rick Donald (Woody, 800 Words) and Nick Boshier (Soul Mates, Meanwhile On Earth), Aussie has some funny people!
When not filming 800 Words, Jonathan has also been developing his next solo show titled '191 years of Bullshit'. On top of that he is writing new works with a range of exciting writers and practitioners.
Be sure to check out What We Do In The Shadows directed by Taika Waititi (Boy 2010, Hunt for the Wilderpeople 2016) and Jemaine Clement (Flight of the Conchords, Moana 2016) and catch 800 Words Season Two TV1, Television New Zealand and stay tuned for Mega Time Squad by Tim van Dammen, released this year.