I don't envy the developers of EA's FIFA games. Once a year, the eyes of the gaming world focus on their digital representation of the planet's number one sport. One misstep and that's it.
I can only imagine the pressure EA Canada were under to produce FIFA 14, a game that for many will be the last that they play on the current generation of consoles.
EA Sports' usual smorgasbord of game modes is delivered via a tiled menu system that took a while for me to get to grips with. For the life of me I couldn't find the Tournament mode. I just wanted to play a season of English Premiership football. I spent a good half hour flicking through the Menus until I found it under the Extras Menu. Once started the Tournament mode was present on the front screen, the game adjusts the selection of modes according to your preference. Very clever, but come on why hide it, am I the only dude that likes to player football tournaments?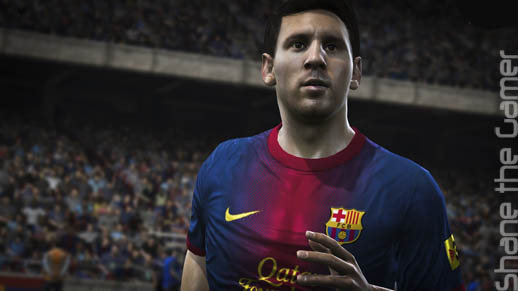 FIFA 14 is a game that it is easy to get lost in. So as to allow me to get this review out the door before FIFA 15 came along I concentrated my efforts on my Arsenal English Premiership Tournament and my Player Career, again, with Arsenal, but unfortunately on loan to Bradford City.
The Career Mode is split between a manager and player focus. As a player you get to experience a career as a footballer.  To succeed you must impress your manager in delivering a decent performance on the pitch. The idea of controlling just one footballer in a game isn't something that I'm interested in, so it is great that you can also choose to control the entire team as you would in the other game modes.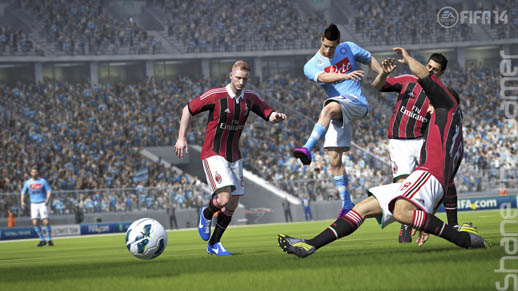 The Player Career is a bit cheeky in that you set up your player and select your favourite team. Then, after a few games, you end up being loaned out to some first division outfit for a year. From the glamour of Arsenal I found myself packing my bags and off to bloody Bradford City for the season.
Nevertheless, the Player Career is a great way into the game. It offers a more personal experience with career goals making it a bit deeper than a regular Tournament season, but without having to worry about Team management.
Whilst I didn't delve into it as much as I'd have liked, the Manager Career mode could almost be its own game. Not only are you playing the matches, you are also scouting for players, scouring the transfer market, negotiating contracts and completing challenges; which are basically demands from the club's Board of Directors. It's not for the feint hearted.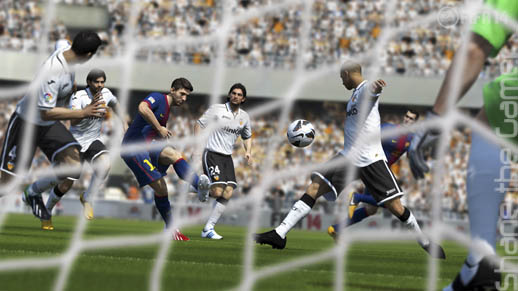 FIFA 14 is absolutely unrelenting when it comes to the variety of ways that it presents fans with a game of football. Seasons offers Head to Head or co-op online friendlies. For the more casual online gamers Head to Head provides easy access to unranked 1 vs. 1 online matches. For the hardcore, Pro Clubs has eleven gamers a side playing what must be the most authentic online football player experience you can get. There are a few more, but hey, you get my drift. Basically any way you could possibly want to play football, as a Team, a Manager, a Player, online or off, FIFA 14 has it for you.
Cutting through such a huge and varied amount of game modes designed to cater for all tastes we are left with what is perhaps FIFA's crowning glory, FIFA Ultimate Team. Part football management sim and part collectable football card game, FIFA Ultimate Team or FUT is an immensely popular game mode. It's easy to see why it has die-hard football fans positively salivating at the idea of creating their own team of footballing super-heroes.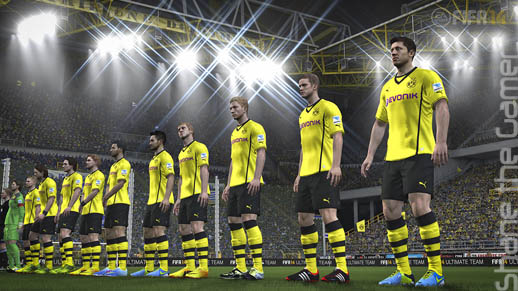 In FUT extra player packs can be purchased using coins earned during matches or using real money, micro-transaction style. Even a casual football fan like me spent a couple of hours doing nothing but tinkering with my squad trying to make the best out of what was essentially a team of left-footers. Super-squad or wannabes, you can test your team against single player or online opponents; building up their stats, earning rewards and enabling you to improve your team.
At FUT's heart, like all the game's different modes, we have the sublime on-pitch football matches. Everything else is just icing on such a perfectly baked cake that makes FIFA one of the best games you could possibly buy.
When I spoke with FIFA 14's senior producer, Aaron McHardy, earlier in the year he stressed the amount of work that had gone into removing cheesy moves, giving the players on the pitch more momentum and the player on the gamepad more control of the game.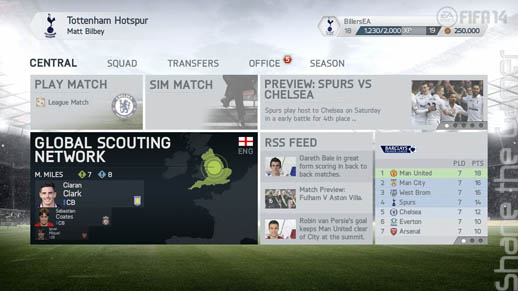 FIFA 14 is all about the midfield game, rather than the end-to-end play that we've had in the past. A few cheeky crosses aren't going to cut it, unless you are playing as Arsenal against the likes of Wellington Phoenix, that is. This adds a lot more craft into the game. Football isn't just about scoring goals; it's about the set-up, the lead-up, the opportunities taken and the opportunities lost. That's what makes football the most watched spectator sport in the world; that's what makes it so exciting.
This time EA seem to have nailed it. FIFA 14 makes you work for every opportunity and when you succeed the feeling is amazing. Even watching the game being played by others is something else, making those after-pub couch tournaments that have been a staple of the FIFA experience for decades even more fun.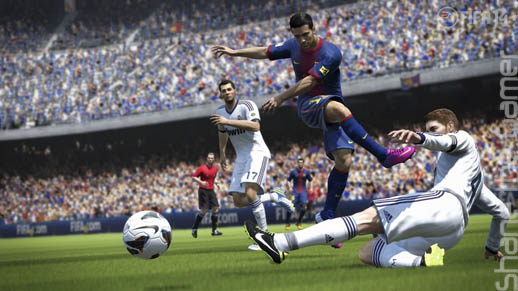 Whilst EA have been banding about phrases like "Pure Shot" and "Protect the Ball", the main thing that I noticed with FIFA 14 was how much more physical the game was over its predecessors. Coming almost straight from the brutality of EA's NHL 14 hockey game, it is exciting to see the same type of physical play in a football game. A well-aimed sprint into an opponent in possession and the ball is yours. But if you are too aggressive about it and both players will go down, the result being a loose ball ready for the fastest player to run with.
Over the years the FIFA series has evolved into a game with a complex array of moves and skills that can be a bit overwhelming. Fortunately the game provides plenty of opportunities to improve your FIFA skills. FIFA 14 continues the tradition of providing skill games during loading time. These mini-games are useful for practising your technique and can be quite addictive; to the point that you forgo pressing start to play the match, just for a few more practice shots.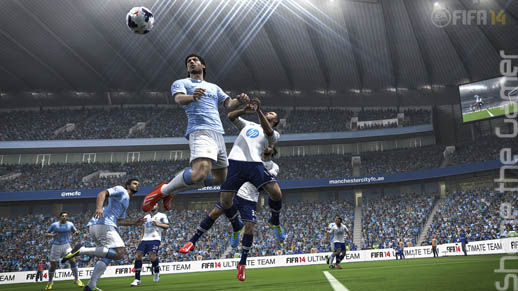 As well as the set drills in the skill games, for just a kick about or a bit of player vs. goalie, the practice arena does the job. A staple of the series from way back, it's the perfect way to try new passing strategies and techniques.
The on-pitch action really is second to one. Every challenge, tackle, pass, shoot and save look perfect. The players have weight and inertia. They stumble. They get intimidated. I tell you, we are not far off something that looks and feels like a real-life football match.
Visually FIFA 14 is a nicest-looking entry in the series yet, not only does the game's TV-style presentation look the business, but the on-pitch action seems to have been polished up as well. The player animations have also been tuned up with players taking half-steps as they approach the ball and are now able to kick the ball in the full 360 degrees.
The commentary has come a long way, but is still prone to the odd repeat. I loved the TV-Style results reading, took me right back to Saturday evenings in the 1970s as my dad checked the score draws. As you'd expect the game also features an eclectic soundtrack that accompanies the menus and inter-game moments.
FIFA 14 makes use of EA's internet-based Game Face tech to allow fans to create a player in their own likeness. I've got to say that over the years I've tried this with varying degrees of success, but this time I managed to create an effigy of myself that actually looked a bit like me and not like a mutant-zombie thing.
Being FIFA, the game has all the licences which means it is absolutely packed with authentic teams, player likenesses, stadiums and strips. Looking at the like of Carlisle United with their Eddie Stobart sponsored strips or Sydney FC and their Webjet sponsorship, it doesn't matter if you support English Premiership or your local team; you can guarantee that you are going to be accommodated (within reason). As shallow as it sounds, these little touches are the things that make FIFA a hundred times better than the likes of Pro Evo Soccer, no matter how good Konami's football game actually plays.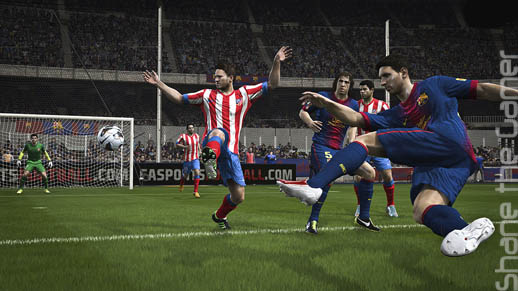 FIFA 14 may be as near perfect a digital portrayal of football as you can get right now, but it still has some kinks that need to be ironed out. The most annoying is the frankly ridiculous amount of offsides in every game. The more they happen the more you notice them.  I thought we had moved on from this. The other is the commentary. It's fluid enough, but as I mentioned previously it still suffers from repetitions.  Why they can't program this sort of thing out I don't know. How hard is it to stop the same thing from being said more than once in a game?
Neither of these is a show stopper. But it is worth noting that this is, kind of, FIFA 14 Lite. Excellent, but with a lot of the things that I've been hearing about held back for its next-gen brethren coming our way at the end of next month. If you have a PlayStation 4 or Xbox One pre-ordered you are probably best waiting for the next-gen version of the game. That being said, if you just can't wait or you are thinking of getting a next-gen console later, all your hard work in the current-gen version of FIFA14, your Ultimate Team etc., can be transferred to the next-gen version of the game.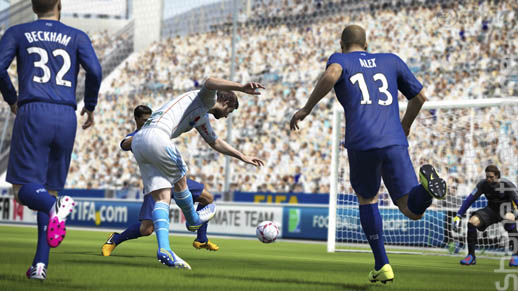 I could go on and on about FIFA 14 for ever. There's just so much here. It is the most fun that I've had playing FIFA in a long time; truly a desert island game. There's no doubt in my mind that fans get their monies worth with FIFA 14.
Of course a lot of it depends if you enjoy football and the FIFA match play. Personally I really can't see why you wouldn't. Whilst the multiple off-sides grate and the repetitive commentary could do with some work, the action on the pitch is more fluid and organic than it has ever been.
The midfield play is edge-of-your-seat stuff, making you work for the goal; with intense passing and volleys ending in well-earned success or heartbreaking failure. Whilst, of course it is just a game and not the real thing, FIFA 14 still manages to bring home some of the emotion and the magic that is football.
[jwplayer player="1″ mediaid="5428″]