NOW CLOSED – The ultimate 16 BIT if you can imagine it you can build it game that has become a global phenomena released on PlayStation 3 – and here's your chance to Enter to Win a Copy.
With Minecraft on PlayStation 3you can create your very own game world and explore, build and conquer. You can dig down into the unknown depths or build incredible structures, from humble homes to grand cityscapes (read our Review here)
Play on your own or bring your friends along for the ride in eight-player online multiplayer and four-player split screen modes.
Thanks to our good friends at PlayStation NZ, we are giving you the chance to go into the draw to win one copy of the highly anticipated title.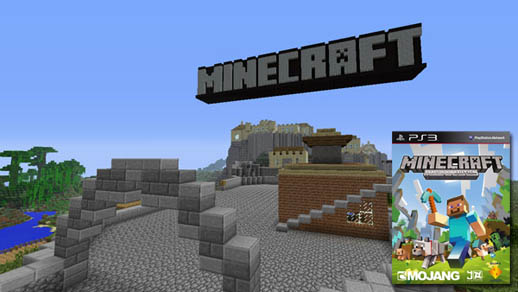 To Enter you need to correctly answer this Question – In Minecraft they are in dark places, you sometimes do not see them coming. What are they?
A: Creepers
B: Vampires
C: Demons
Get your answer to us now by posting a Comment below on this page, or via our Official Facebook Page, our Contact Page or Email Us.
*Winner will be randomly selected from those that Post / Facebook Comment / Email in accordance with the above question. The winner will receive a Full  Minecraft game for the PS3.
Competition ends the 20th of June 2014. Minecraft is Rated PG in New Zealand.