For many gamers the EB Expo is about, well, gaming. But, for some unique nerds, it's not just all about playing or watching your favourite characters; it's also about becoming your favourite characters.
They can vary from games, movies, anime and everything in between. Nothing is off-limits; and becoming them can go all the way from dressing up to even acting like them.
This year's EB Expo gave us the Just 'Cos cosplay competition, which allowed cosplayers of all levels to join in and have their 15 seconds of fame. From the experts, who spend about as much time gaming as they do creating these masterpieces, to the newbies who are just looking for some fun. For any one too shy to join in, there was still plenty of amusement watching novices and masters alike making fools of themselves.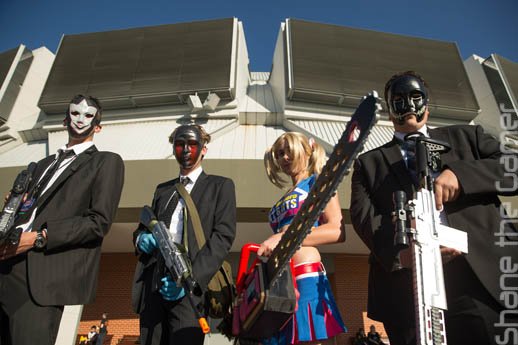 I love cosplay because it's not only about bringing out that inner child to play dress ups. It's also about the creativity and ingenuity of the nerd world. Perhaps picking a costume you can't find on eBay and then experimenting to discover ways to accomplish the outrageously ludicrous clothing that some of our favourite heroes and villains outfit themselves in.
This year's line up brought all kinds of people and imagination. One girl I found myself chatting to had never cosplayed before, she found her Final Fantasy X 2's Yuna costume on eBay and just wanted to get her geek on. While one guy said he had spent over a year manufacturing Halo's Master Chief Spartan suit.  Some even invented their own versions of characters. Two girls gave Jigsaw a run for his money, easily being the scariest costumes complete with chilling make up and bloody limbs dangling off saws. Another participant that chose to do a Psycho from the popular Borderlands series really went all out by giving a convincing performance to go along with the costume.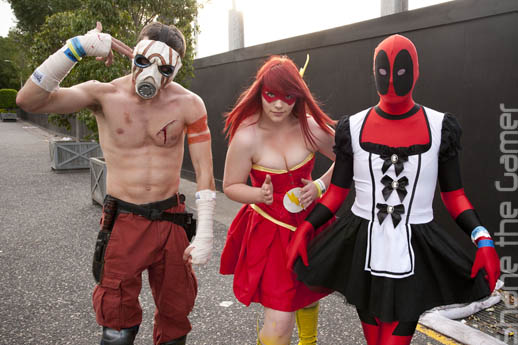 Being a cosplayer myself, I enjoy hearing how some of the outlandish parts of costumes and props where achieved. Some things really give you a sense of appreciation for some of the creations on display. Anything from using a water gun as the base for Master Chiefs pistol, using fiber glass and LEDs to make Psycho's mask to using tubing and a metal coat hanger to give a tail a spine to keep shape. When seeing the end result it's sometimes hard to even realise that some things were actually handmade and crafted.
So really one can describe this event of a mix between an art exhibition of the nerdy class and thrill seekers getting their bit of glory. All in all it's still full of fun and laughter and imagination. Hopefully with every year we will see bigger, better and livelier cosplay events.
I've already got next year's costume idea lined up. So if you missed out on the action there's always EX Expo 2014. You had better get your thinking cap on and let out the artistic side you never knew you had come alive. Even just finding that nerdy costume you've just been burning to try on and going for it.
See you there and happy cosplaying.