The Electronic Expo of 2013 was an important one. A milestone in gaming that we will not see again for a few more years. The new generation of gaming platforms.
Both Sony PlayStation and Microsoft Xbox were the obvious draw-cards as the world's media descended upon the City of Angels, Los Angeles for a full on week of gaming across several massive sized halls, in the local Convention Center.
Yet, even though this was the guts of the ceremonies, consoles are no good without games. And there was a mother load of digital goodness on offer!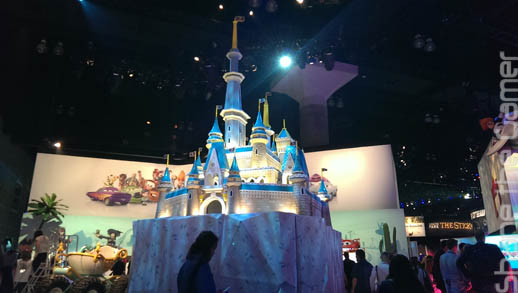 Day one saw us have a hands on with Disney Infinity.
This was actually very beneficial, as we thought Infinity was a clone of Spyro Skylanders (using a base to place in-game playable characters on), and while the similarities are there, it's definitely different enough to carve a path of it's own.
Ultimately – having game characters placed on the physical base does pop them into gameplay, however with the use of discs which you can stack upto three high transforms the entire gameplay world dynamically without interruption to play.
Disney Infinity is a sandbox type game, where it pits the characters from many a Pixar film against eachother for varying tasks. Can see this title having a very bright future.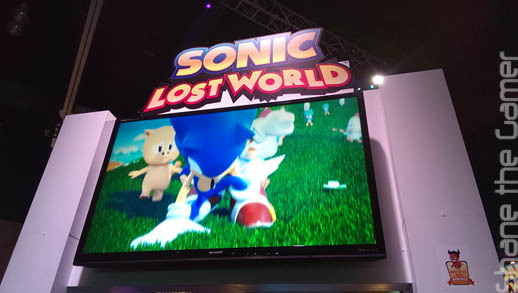 Then it was onwards to SEGA. The once console giants, now gaming legends biggest title on offer was Sonic: Lost Worlds. Being able to have a hands on with this one was not only a satisfying trip down memorylane, but also one that was hard to pull away from to go onto the next. Company of Heroes 2 was also another hands on experience, which revealed just how crap I am at playing a strategy PC based juggernaut.
Disney Fantasia – Music Evolved was demonstrated to us.
Both magical and brilliant, developed by Harmonix, it places you within the game via the new Kinect (Xbox One) and within select scenes from the movie, you navigate about looking for interactive environments aswell as portals.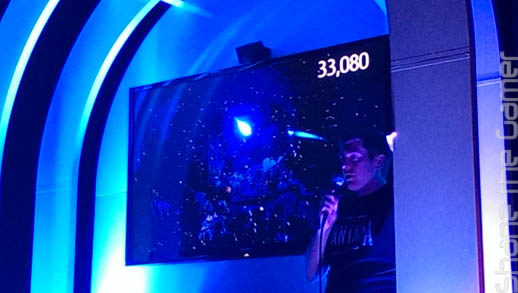 Before you know it, you will find a music track, couple that with some in-game characters, and then start a beat up, mash up mix of your own as you also complete gameplay directives. Still in development, it's a title that needs to be played.
On Day Two we experienced Destiny which was another eye opener – and as it turned out, not what we were expecting.
FPS and filled with actiony explosiveness fused with magic, it was pleasing and looks very promising for the next gen.
Nintendo had a large presence and we were able to have hands on time with Yoshi Story on 3DS, Bayonetta 2, a multiplayer Mario; Super Mario 3D World, where either solo or with upto four friends you can whizz through Mario-esque worlds collecting coins and helping eachother out.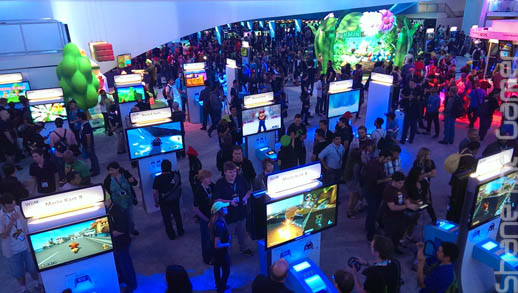 A couple of big deal moments for Nintendo is the HD Zelda: The Wind Wakers revamp which will be releasing to Wii U soon and Mario Kart 8, which is looking as though it will be the most complete MK title with the re-emergence of characters and racing initiatives that were left out of number 7.
Day Three gave us a hands on with the above from Nintendo aswell as Donkey Kong Country, another Wii U exclusive which promotes multiplayer and looks very similar to the newly released Donkey Kong on 3DS.
Pikmin is also heralding a comeback on the new console. Future looks good for first party titles for Nintendo.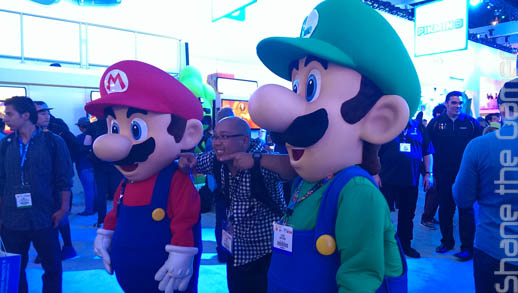 Assassin's Creed Black Flag also had a playable demo, where amongst all of it's other worldly goodness, exposed the lengths developers and artists went to in order to create a living breathing sea faring world and how the stealth mechanics and environments have been ramped up.
Black Flag is based on the real world events of Black Beard and his legion of Pirates and is releasing this year (2013) on all consoles.
Call of Duty: Ghosts is going to be the ultimate COD. The sheer attention to detail and depth of the visuals compliments the next gen and makes this an obvious contender for even those nay sayers of COD. On that theme, Battlefield 4 was as equally epic looking, we were not able to get a hands on for either title, unfortunately.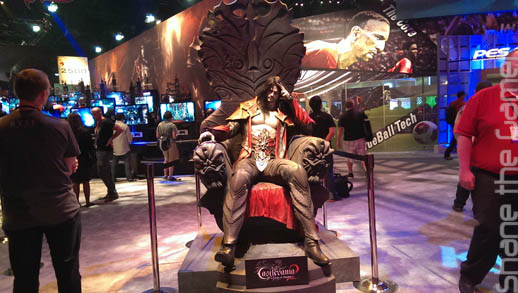 Konami had the (personally) much awaited Castlevania: Lords of Shadow 2, whereas Capcom and Square Enix had the new Pac-Man, Dark Souls II, Kingdom Hearts III, Final Fantasy XIV, Project X Zone, just to name a few of what we got our gamer fingers tapping on.
PlayStation, reveling in it's much deserved success from The Last of Us from our friends Naughty Dog, had a specialty hands on section for the much stressed media. (Thanks guys – really appreciated it).
Gran Turismo 6 retaining the 'Real Driving Experience', Drive Club – which socially scores you on how you play, whether good or bad. Drive Club is probably the only game that will allow you to be the best and being the worst driver and give you cred for it.
Knack was a playable and enjoyable launch title for the PS4, with Ratchet & Clank overtones. Oddly I found myself becoming obsessed with the new Invizimals title for Vita and PS3, which we can also expect a TV series and maybe down under, Collectors Trading cards with an A.R. element to them. Oddworld 2 (originally on PSOne and titles 'Abes Exodus') is being rejuvenated under the name Oddworld: New 'n' Tasty.
Xbox One had Forza 5, looking very tasty and as equally delicious when played. and as a first, will include F1 vehicles. Spartan Assault for Windows 8 was also an excellent mobile game that we spent quite a bit of time playing on. Halo for Xbox One was also announced but there was nothing shown of it, except a Trailer which didn't give alot away.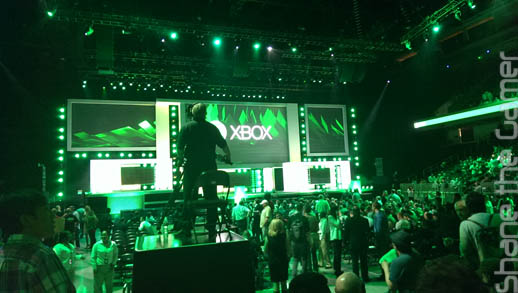 A big reveal for Microsoft was Plants vs. Zombies: Garden Warfare will be an exclusive. This is a re-adaption of the mobile based franchise, in HD and third person.
Murdered Soul Suspect was an awesome spectacle, and while this was a mere presentation for us, we were sold. Murdered Soul puts you in the third person role of a bad-ass Detective who is trying to solve his own homicide case.
Being within an ethereal state, he cannot interact with real world objects, but he can manipulate them, possess others as required and see other things that the living cannot.
The gameplay will have alot of side missions, aiding other lost souls and will also pit you up against demonic forces. Shane from Shane the Gamer cannot wait for this to release (he was a huge fan of the Suffering titles on PS2 / Xbox from Midway).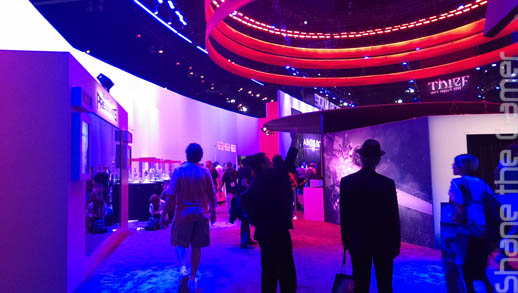 A lengthy play session on Blizzard's Diablo III was a much loved session. Basically the Diablo III that all PC gamers know and love is migrating over to console, with additions (which effects inventory, weapons, items and powers) and a controlpad free roaming based control system.
Diablo III. Love it.
Elder Scrolls Online; the massively insane gigantic world that it is, is also coming to the next gen of consoles.
The rejuvenation of Wolfenstein takes what made the original a classic and fuses that with both a modern look, gameplay and storyline.
Ultimately, instead of the Nazi's losing WW II they won it, and the game is set in a Nazi technology controlled 1960's.
Both trailer and hands on with this has raised our hopes for the comeback of this title.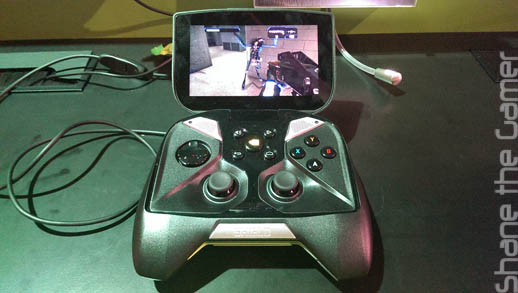 It was not ALL about games either. Or consoles. Gaming Gear also had a major presence. Turtle Beach demonstrating their audio prowess for gamers, Moga game controllers for Android based devices was kind enough to give shanethegamer.com a unit (expect a review on that soon).
NVIDIA is also taking on Android based gaming with the release of their own built in screen gamer-pad – which while unique and very, very cool, will set you back at almost the equivalent price of a next gen console.
There was so much of a gaming overload that not everyone could fit into the Halls (these halls are about the size of a modest American sports arena). Pay Day 2 was near the entrance to the West and Namco had a Pac party out the front of the South Hall.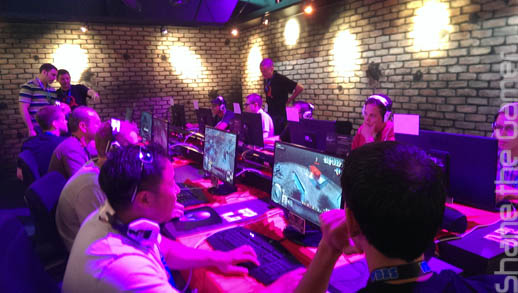 E3 2013 had an attendance of over 48, 000 over the course of it's three days and we would certainly agree with that figure as we had to body mash about to get from VIP event to VIP event.
One of the largest gaming events in the world and as gamers, us and you reading this, we have alot to be excited about as the next few months will see releases that we have been waiting for, and of course the next generation of gaming.
*Did you attend? If you were there hit us up on Facebook and tell us what you thought.