The first and official series of sessions of closed door presentations began today for the two giants; Microsoft Xbox and Sony PlayStation, both with little surprises and big reveals.
Each having alot of information to share with us gamers.
Microsoft revealed exclusive lineups whereas PlayStation revealed the same AND what the console will look like.
The Xbox One unveiled both gameplay and trailers for exclusive games to the console; Crimson Dragon, Forza 5, Dead Rising 3, Minecraft – Xbox One, Project Spark, Ryse; Son of Rome and a new gen of Halo.
Aswell as as a stellar lineup of third party titles, Battlefield 4 being the most prominent.
Xbox Live has had a couple of changes. It will now be abit more open so that those within a singular household can all enjoy the benefits of a Gold Live account (providing it is current and is not restricted). Your Xbox Live account will also follow you wherever you go.
Going to a mates place and have games on your account? No worries!
PlayStation Plus is following suit and ramping up their service. Your PSN account (including Plus) will naturally carry over to the newer console, and according to Sony PlayStation you can expect even more bang for your buck with PS4 titles already in the works as discounted or 'Free to Play' titles for Plus members, such as the exclusive DriveClub PS Plus Edition.
We also got to see a bit of of Gran Turismo 6, also a PlayStation exclusive (for PS3) and of course a whole swag of third party titles; Destiny in which we were shown gameplay footage, Diablo III (not shown), KINGDOM HEARTS III and FINAL FANTASY XV, Assassin's Creed IV Black Flag, Watch_Dogs, NBA 2K14, The Elder Scrolls Online and Mad Max.
Xbox also announced Twitch. This is a service where you can record and then upload your gameplay. This comes built in. You do need a Xbox Live Gold membership to use this social video service however.
Unfortunately the biggest announcement that we had hoped to hear was the pending removal of the 'second hand games' restriction, and not having to be online all of the time in order to play.
But this was not on the cards and is still in place, which PlayStation were quick to rebuff. Their console has no such restrictions, and is going to retail at around one hundred dollars cheaper than the Xbox One.
The price marks that were revealed today were;
Xbox One – $749.00 (NZD)
PlayStation 4 – $649.00 (NZD)
Xbox One announced as releasing this November (2013).
Both yielding computer spec'd processors, 8GBs of RAM and around 500GBs of data storage.
Interestingly both players tended to shy away from their respective camera peripherals.
Microsoft barely skimmed the surface of mentioning the new Kinect, whereas PlayStation made no mention at all of their lense'd device but both consoles are bundled with one.
Both consoles will make more of a substantial use of the cloud, for saving, sharing and downloading games as you play.
Whatsmore – although it seems completely unnecessary, Microsoft is giving the Xbox 360 a facelift and has designed a completely new look for it – which kinda makes it look like the Xbox One's little sister. This new look also coincides with a rather dramatic price drop.
Today was not all about the two big guns showing off their new wares, Electronic Arts also had a rock concert like show, where (as you would naturally assume) Battlefield 4 was shown, not just a trailer, but also gameplay – specifically multiplayer. The new Need for Speed and they also announced a Need for Speed movie that is in production right now and due for release in 2014.
Plants vs. Zombies by Pop Cap (a subsidiary of E.A.) is acquiring a third person makeover in a cartoony humorous tactical shooter.
E.A Sports also revealed that NBA Live was coming back in2014 and we would also see another chapter for FIFA 14, Madden and UFC.
There were a couple of surprises from Electronic Arts today. One was a full lowdown on a title called Titanfall.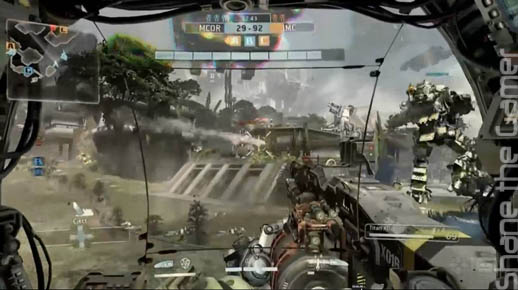 A game that is entirely multiplayer that combines fast-paced action with the heroic set piece moments traditionally found in a single player campaign mode. Set in a distant frontier torn apart by war, gamers will have the freedom to switch between fighting as elite assault Pilots or agile, heavily armored, 24-foot tall Titans.
And the second was that Dice are bringing Mirrors Edge back – to next gen.
This game looks promising indeed.
This wraps up day one, keep posted for day two, where we can report on a hands on, on not only some next gen games, but also on a Xbox One!