It's time for some booty shaking and arm waving as Kinect's Dance Central returns for a third round of bopping, crumping, foot banging and dance battling.
With just you in front of your T.V. you will work your body to the rhythm, using hand gestures and voice commands to control the game, turning your living room into a glitzy dance floor.
Scream out a name of a Song and almost instantly start rattling the floor boards with your fancy footwork.
You can either gyrate your body and flail your limbs about in Single Player mode, where you are scored, almost like a story driven Dance Off for Justice, mimicking the moves of the characters on the screen, to the amusement (or Horror) of your friends, or pets.
But, where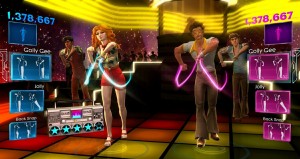 the real fun is Multiplayer.
Dance Central 3 has expanded upon this and now allows upto 8 Players.
Varying types of Dance modes are reflected per the track. You will be literally dancing through four decades of music with the Fro's and big hair to match.
The tracklist has over 40 songs and is very diverse; from now right through to the '70's you will come across Usher, Nikki Minaj, Village People, 50 Cent, Cobra Starship, to name a few.
This is all expandable by way of DLC song packs (at cost), the first releasing shortly, which includes Gangham Styles (no surprise there). you can also import the tracks from the first and second Dance Central games.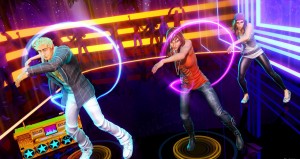 Currently there are 140 extra routines and songs available to buy from Xbox Live.
While Dancing is known to be a rewarding form of a Work Out, Dance Central 3 also has a Fitness Mode, where you are taken through varying routines that focus on general areas.
Developers, Harmonix have taken initiatives from the second game (Dance Central 2) and adapted. Some for the better, some not so good.
If you played the second title, you will recall a rather trancy coloured polygon short interval whilst in the throes of a routine.
This was where the Kinect camera was doing it's recording magic and snapping a not so glamorous shot of you being the household Dancing Queen (or King).
These family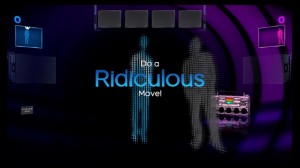 hallmark moments are still recorded, but you have no idea as to when it's doing it. Dance central 3 has done away with the trance segment altogether.
I feel that it removed some originality and diversity from the franchise.
Still, it doesn't lose points for this, as the inception of more gameplay options makes up for it.
Crew Throwdown is a new Mode where two teams of upto four dancers are to battle eachother to the death (well, sort of). Keep the Beat is a free-form style where you must have and keep up rhythm.
If you are feeling really adventurous, you can create your own dance moves, on the fly, in Make Your Move. Possibly a good way to try out that routine you've been working on for months before subjecting the public to your hip swinging, knee banging originality.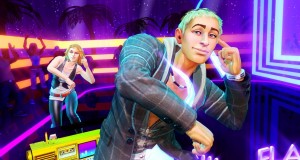 And then there's Party Mode, where Dance Central 3 will take the form of a Jukebox and wont stop the hits rolling. Luckily you can drop in and out of this, the game does not expect you to do a non-stop marathon. But you can if you want to.
Dance Central 3 also has a Mobile App, where you are able to queue up songs and then unleash them on your unsuspecting friends or family.
Social gatherings, in-home sibling or friend dance offs, even a public one person Flash Mob – is what Dance Central 3 was designed for.
A winner title for any holiday season.
[jwplayer config="STG Player" mediaid="2259″]
Genre: Simulation / Music
Platform: Xbox 360 / Kinect
Publisher: Microsoft Studios
No. of Players: 1 – 8